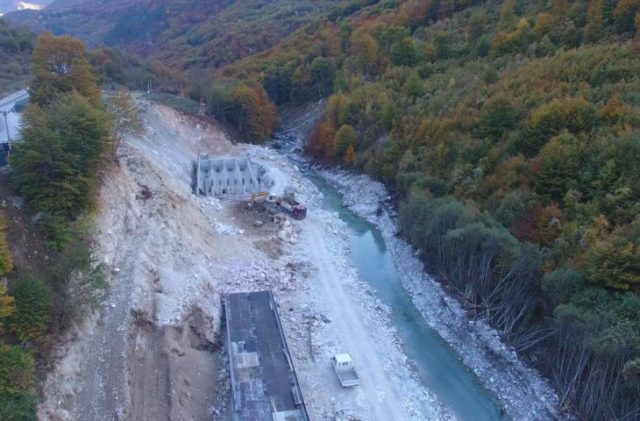 TOKA, the organisation that won the high court decision to suspend works and operations of two hydropower plants run by Dragobia Energy/Genr2 in Valbona, has received notification that the bailiff has annulled the requirement for them to cease.
In a letter dated 12 November, Kukes bailiff Satbere Shahu, drafted in after Tropoje bailiff Eduart Mrishaj allegedly refused to execute the court decision, states that as the HPPs have complied with the court decision, there is no further need to enforce the High Court decision.
The decision taken by the High Court in July 2021 states that all licenses and permits of the HPP projects are suspended, meaning any operation of the plants is illegal, pending the outcome of an administrative court case filed by TOKA and 27 residents. They are challenging the validity of the concessions contract, and the court cases are ongoing. Therefore, the validity of the decision by the High Court remains in force for the foreseeable future.
Albanian Bailiff Executes Court Order to Halt HPP Construction in Valbona
Shehu's decision to "order to terminate the fully executed decision" is not believed to be based on any law. No bailiff has the right to overrule the Albanian High Court.
TOKA has consulted its illegal advisors and is contemplating filing countermeasures, including to local and international offices.
They also said they would request information from OSHEE, the national electricity company, to see if the HPPs have been operational. Following reports from two local people that the HPPs were operating just a few days after the bailiff executed the decision, TOKA hopes to see if OSHEE has received any power from the company.
"Any evidence of the Dragobia Energy plants having produced and sold energy in contravention of the high court ruling will be followed by the strongest criminal charges," states TOKA president Catherine Bohne.
Genr2/Dragobia Energy HPPs Stop Operating in Valbona Following Lengthy Court Case