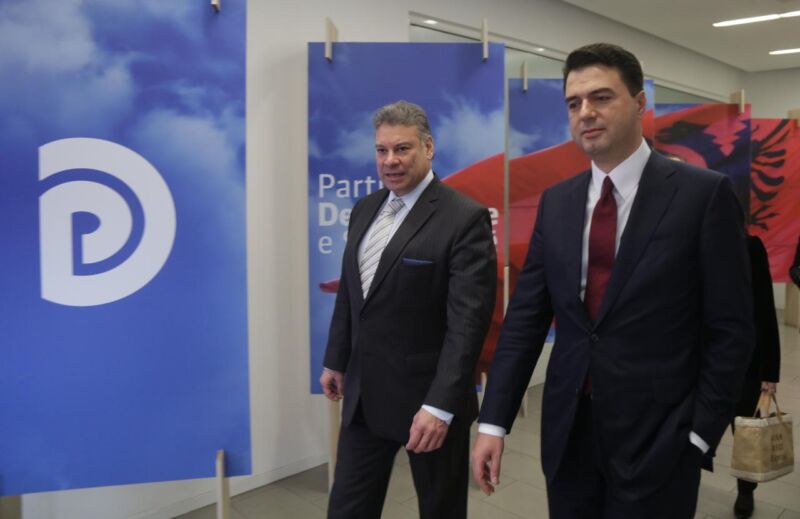 US Special Envoy for the Balkans Gabriel Escobar met with opposition leader Lulzim Basha in his first official visit to Albania on Thursday. 
In statements for journalists after the meeting, the two officials stressed that they discussed the fight against corruption as one of the US priorities in Albania, as well as other topics.
Escobar told journalists after the meeting:
"I was glad to be able to meet with the opposition and they expressed their commitment to NATO, their commitment to European integration, and the fight against corruption, and we are happy to be part of that with our strong efforts on corruption, including sanctions. But it will require continued commitment from the institutions of Albania to make that a reality. I look forward to more discussions this afternoon, and I look forward to continuing the relationship with the Democratic Party. I look forward to seeing Mr. Basha in Washington as soon as he can."
Commenting on Escobar's invitation to visit Washington, Basha said he was planning to do so soon:
"It's a repeated invitation and I gladly welcome it. I am surely planning a visit to Washington in order to advance […] the Democratic Party's political objectives."
The opposition leader said he is determined to fight corruption with the support of the United States as a priority for both countries. He stressed that the Democratic Party has consistently supported the drafting and implementation of the US-backed justice reform in Albania.
Asked whether they discussed the US designation of Sali Berisha, Basha said they discussed impunity and US policies against corruption.
Escobar's visit comes two days before an assembly of the highest body of the Democratic Party called by Berisha in an attempt to topple and replace Basha.
On December 11, over five thousand members of the assembly are expected to convene in Albania's national stadium to vote on statute changes that could result in the dismissal of Basha.
Berisha called an assembly meeting after Basha excluded him from the PD parliamentary group at the request of the United States following Secretary of State Anthony Blinken's designation of Berisha and his family over corruption allegations.
The current PD leadership has stated they will not recognize the assembly, calling it illegal. They have called another assembly one week later to vote on the party's political direction.
Escobar is expected to meet with Albania's foreign minister and prime minister.