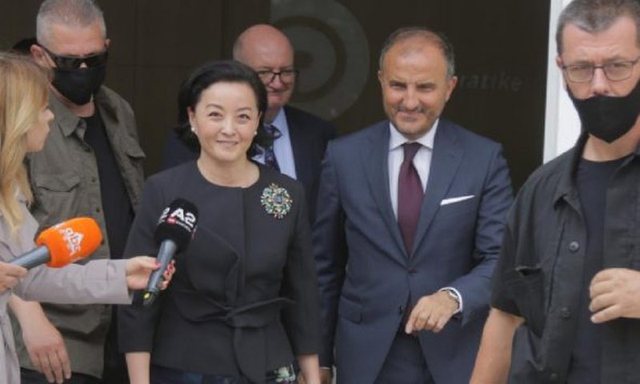 The ambassadors of the United States, European Union, Germany, Italy, France, and United Kingdom discussed the Democratic Party (PD) internal strife with chairman Lulzim Basha on Tuesday.
One day earlier, opponents of Basha, who were elected members of a steering committee to lead the party after a PD national convention dismissed Basha and the rest of the leadership, held their first meeting at the PD headquarters.
At the same time, Basha was also holding a meeting inside the building.
An internal strife within the PD started after Basha exluded Berisha from the party parliamentary group at the request of the U.S. ambassador following Berisha's designation by the U.S. State Department over corruption allegations.
Berisha then imbarked on a national tour with party members, successfully urging them to call a national convention on December 11 to dismiss Basha.
Today's meeting with the ambassadors was requested by both sides, Jorida Tabaku of the PD told News24. The diplomats met with the "official PD" to discuss the latest events within the party, she added.
"Ambassadors hold their stances on developments in the country, but it should be understood that in politics sometimes actions are more worthy, and this is what today's meeting showed," she noted.
Basha has called another convention on December 18, one week after the one initiated by Berisha that took place last Saturday. Convention member will be invited to vote on a proposed plan for the future political strategy of the party under Basha's leadership.
Last week's convention decided to hold a referendum with party members to approve its decision to dismiss Basha and the rest of the PD leadership on thr same day, December 18.
The Democratic Party National Convention has about 7,600 members, nearly 5,000 of which were claimed to have attended last week's convention that voted Basha out.
A quorum of more than 50 percent of members is required for a convention to open.