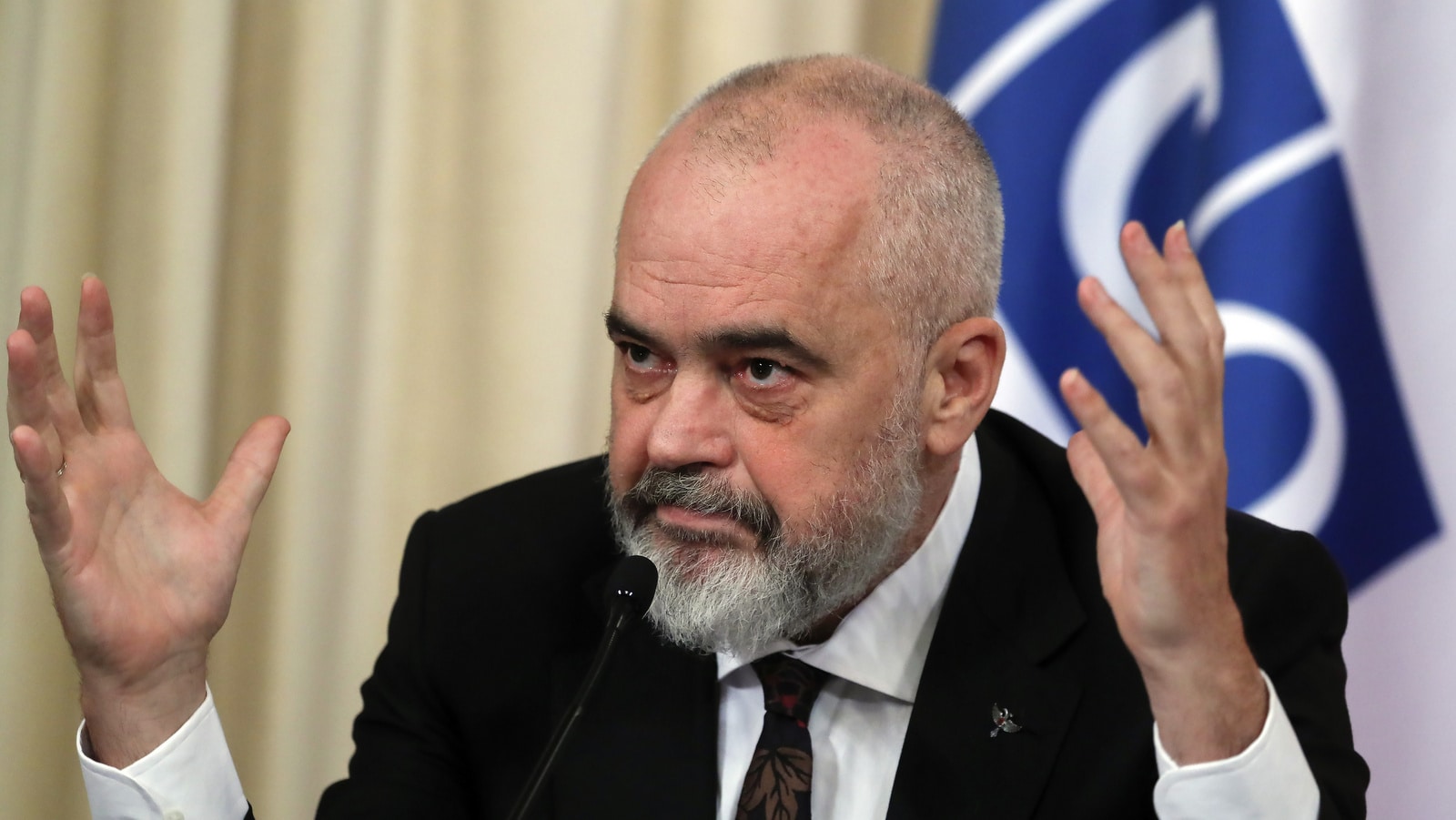 Albanian politicians and well-known figures are not known for holding their tongues, even in the public domain and 2021 was no exception. In this roundup, we gathered together some of the most outrageous, untrue, or dare we say it, ridiculous comments of the year.
Edi Rama
While giving the keynote speech at the OSCE South East Europe Media Forum, Prime Minister Edi Rama likened online media to paedophiles, Nazi's and terrorists.


"When you try to imagine what the Nazi propaganda machine did to the world with freedom of speech, it's breathtaking. When you try to assess what the damage occurring [from online media] in everyday life, including sources of evil in this world, terrorism, fundamentalism, paedophilia, diseases of modern society, freedom of reach [from the online media] can reach and touch a lot of human beings." You can read a running list of Rama's insults against journalists here.
At the COP26 Summit, Rama said "Albania is not a polluting country." Exit provides a rebuttal of the statement here.
During the election campaign, Rama put a photo of opposition MP Grida Duma, with her mouth open and a microphone near her mouth on the screen. He then proceeded to say "Gridare, Gridarre, Gridare, ohh, ohh, ohh," gridare being the Italian word for shout. President Ilir Meta called for a public apology for Duma.
On Euronews, when asked about the leaked prosecution wiretaps that appeared to show collusion between thee government, officials and criminals to rig elections, Rama said he had not listened to them because he was "disgusted". But in 2019, in a Tweet, he said "I confirm this conversation, and i would do the same again. Who has ears, let them listen."
Luljeta Bozo 
When asked about communism and dictator Enver Hoxha who was responsible for the deaths of tens of thousands of Albanians and the imprisonment, torture, and persecution of thousands more, Socialist Party electoral candidate Luljeta Bozo said, "If you balance it out, for me, there were more positives than negatives."
Evis Kushi
Following the news that a teacher in Berat was a convicted paedophile, Education Minister Evis Kushi said, "I immediately signed the change of instruction that prohibits the application and competition to work as teachers, for convicted people, who the court has decided on a criminal offense against minors or educational institutions."
Not only is this something that should have been prohibited previously, it also appears to stop short of prohibiting rapists, drug traffickers, and murderers from teaching children.
Gentian Zenela 
Journalist Gentian Zenela made comments inciting violence against the LGBTI community after STOP TV show entrapped a community member who said e had slept with younger boys, although not below the age of consent.
He said, "I'm asking very civilly, […] those boys that once in a while kill and beat up each other. Can't you all, in under one week, clean up Tirana [from LGBTIQ people]? Like athletes, take up your bikes or skates around these parts, go out and deal with them, and then return to your normal life. It's hard to ride a bike with a gun in your belt."
Saimir Kodra
Following on from the above conversation, the journalist Saimir Kodra said, "I know it is your choice but you [LGBTIQ people] disgust me no end, call me homophobic if you want, I do not care."
Vojo Bregu
Deputy Minister of Agriculture Vojo Bregu, when asked why livestock figures have halved between 2017 and 2021, said, "the reason livestock production in the country has halved is that in the animal registration system, there are cows that are 30-40 years old."
Cows live for an absolute maximum of 20 years, and the registration system is 11 years old, having been launched in 2011.
Sali Berisha
It was not so much what he said than what he did. In April of this year, ex-President and Prime Minister Sali Berisha shared a picture of American celebrity Kim Kardashian making a peace sign, the same sign used by Democratic Party supporters and members. 
Berisha then took it to a whole new level by adding the caption "the diva of the world".
Arben Ahmetaj
Deputy Prime Minister Arben Ahmetaj raised questions over whether he understands the economics of government when he declared that "the 'Becchetti fine' totalling EUR 110 million will not be paid by taxpayers but from the country's budget."
The fine is payable after an international court ruled in favour of Italian entrepreneur Francesco Becchetti after the Albanian government shut down his TV station Agon Channel and other businesses in 2015. Ahmetaj appears not to grasp that much of the budget comes from taxpayers.
Blerta Tafani
Journalist Blerta Tafani caused outrage in 2021 when she used homophobic slurs on live television. She said that same-sex couples "denigrate society" and that it "is a great misfortune if an LGBTI person gives birth to a child."
Not content with those slurs, she continued by adding that "an adopted child is not a healthy child" and stating that "life with two fathers does not work, life with a gay family ends, this is offensive."
Transformative Urban Mobility Initiative
Mayor of Tirana Erion Veiaj is a "wise leader" who in 2020 "looked to a new urban age of resilience, setting a clear mission to spur green projects that would alter vehicular dominance in favour of pedestrians and cyclists."
You can read Exit's rebuttal here.
Bora Muzhaqi
Following the kidnap and murder of an eight-year-old boy, the newly appointed Minister of State for Youth and Children, Bora Muzhaqi, refused to answer questions from the media.
When asked about the situation and how it could be prevented, she simply said, "I have things to do, I have to go."
Marsela Lekli
"Psychologist" Marsela Lekli, on the same TV show as Blerta, claimed that children raised by LGBTI people will turn out to be LGBTI.
"I think that a child will grow up with that spirit, having two mothers or two fathers…they will be like them in the future."
It then emerged that while Lekli did study psychology, she is not a psychologist and is not registered with the Order of Psychologists, meaning that presenting herself as one is illegal.
Erion Veliaj
Upon inaugurating a fleet of green busses, Mayor Veliaj said, "Today we take an unprecedented step and we are probably the first in the region with a green fleet. Something we have promised and we are glad we are making it a reality."
In fact, several cities throughout the region use electric busses. Sofia in Bulgaria, Belgrade in Serbia, Skopje in North Macedonia, and Athens in Greece. This means that Tirana is in fact late in introducing them, rather than being the first.
When approached by a journalist at a tree-planting event, Mayor of Tirana Erion Veliaj  called him "brainless", told him to "shuttup", accused him of "living off drugs", and told him to "go work for a drug trafficker", in reference to the owner of the TV station having his assets seized over links to drug trafficking.
Elva Margiriti 
Following the UNESCO World Heritage Committee's unanimous vote in favour of suspending all work on the Gjirokaster Bypass, which was published on their official website, Minister of Culture Elva Margiriti denied it and took a swipe at the media.
"I am sorry for all the abuse that has been done in the media regarding communication we have had with UNESCO. We have maintained communication with UNESCO from early stages as we do for any such project. We had a communication from them in June, and they have not expressed to suspend the works…they want to bring a monitoring mission of experts as has happened in many other cases."
The official document also clearly states Albania failed to respond to their inquiries.