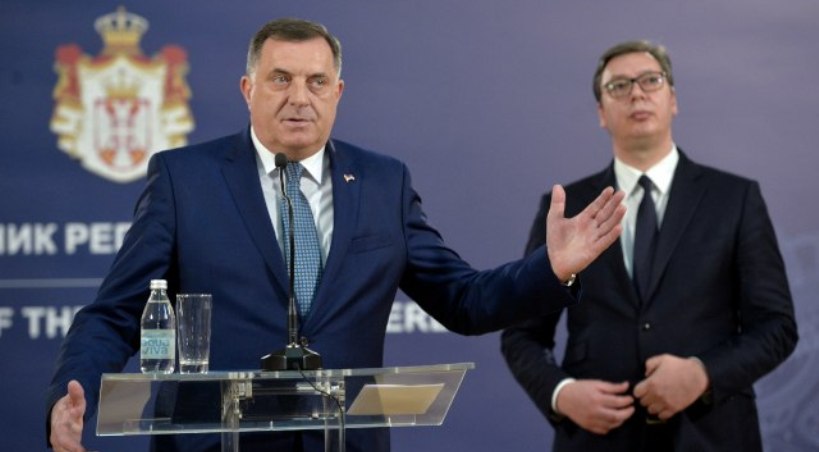 The international peace envoy to Bosnia and Herzegovina (BiH) has repealed a law on property passed by the parliament of Bosnia's Serbian-majority entity. The law was considered another attempt by Bosnian-Serb leader Milorad Dodik to dissolve the country.
On Tuesday, UN High Representative Christian Schmidt stated in a press conference that the law pushed by Dodik, with the aim to grant Republika Srpska the right to administer half of the country's real property, threatened the constitution and BiH's security.
By repealing the law, the right to distribute state property remains with the central state institutions, namely with the parliament of Bosnia and Herzegovina. 
The constitution grants the High Representative special powers to guarantee the implementation of the Dayton Agreement signed in 1995 to end the Bosnian War.
Bosnia and Herzegovina is composed of Republika Srpska led by Dodik, and the Federation of BiH where Bosniaks and Croats live. On a national level, the country is led by a tripartite presidency, a bicameral parliament and a government. However, most power at local level stands with local governments and parliaments in both entities.
In recent years, Dodik has intensified attempts to dissolve the country and create an independent state for Bosnian-Serbs.
The Serb-entity's local parliament passed a law in February separating the justice system from Bosnia's national system.
This was part of Dodik's plan to separate Republika Srpska's military, police, and tax administration from the central Bosnian government. All these moves are unilateral and violate the Dayton Agreement.
The property law was also part of the same objective, paving the way toward succession for Republika Srpska.
"I am not here to distribute happiness. I am here to distribute reality," Schmidt said in his press conference. "I have made use of my executive powers to bring the country ahead and to bring some people to reason," he added.
It is not usual for the High Representative to impose laws overriding legislation passed by any of the two entities.
In November last year, Schmidt's predecessor Valentin Inzko used his executive powers to criminalize the denial of genocide, shortly after the 26th anniversary of the Srebrenica Genocide committed by the Bosnian Serb Army of Republika Srpska.
The move infuriated Dodik, who announced a boycott of all major institutions in the country and vowed to intensify the dissolution of Bosnia and Herzegovina.
Christian Schmidt's taking over duty in August 2021 was met with Dodik's demand for the peace envoy post to be abolished.