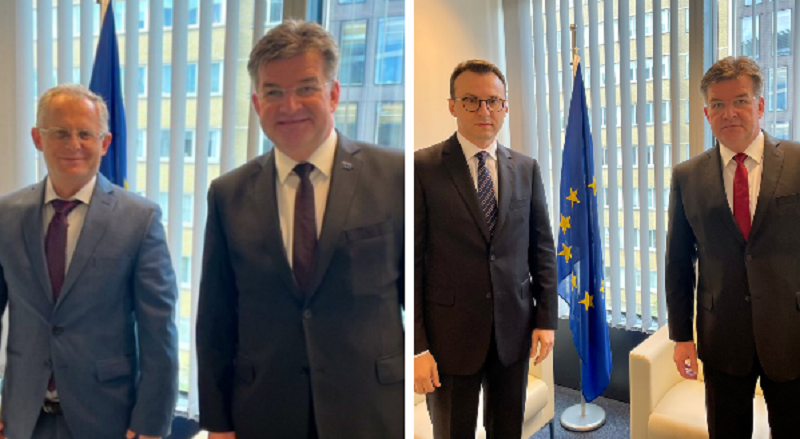 The chief negotiators for Kosovo and Serbia will meet in Brussels on May 13th to reach a permanent agreement on license plates.
Dialogue facilitator, EU envoy Miroslav Lajcak made the announcement on Friday through Twitter.
I am glad to announce that after my consultations with the two Chief negotiators yesterday and today, we agreed to continue our discussions on finding a permanent solution for the licence plates issue in Brussels on 13 May.

— Miroslav Lajčák (@MiroslavLajcak) April 29, 2022
The two countries failed to reach an agreement during the first round of negotiations which began in October 2021, and lasted until April 21st. Cars travelling between the two countries will need to place stickers on their license plates to hide flags and other markings of nationality.
In September 2021, Belgrade-backed Kosovo-Serb politicians rallied a number of Kosovo Serbs to block roads in the north, after a bilateral agreement expired, and Kosovo required Serbian-plated cars entering the country to use temporary plates purchased at the border.
Serbia had been implementing the same requirement on Kosovo-plated cars since 2011, in violation of an agreement expiring in September 2021. In addition, Serbia sent in troops and flew military jets right to the border, while at the same time demanding Kosovo to withdraw its police from the roads blocked by Kosovo Serbs and from border checkpoints.
Throughout the protests and road blocks urged by Belgrade, Kosovo government reiterated its willingness to lift the requirements if Serbia did the same, but was repeatedly refused and asked by Serbia to accept the latter's regime: only Kosovo cars have to replace their plates when entering Serbia, while Serbia-plated cars should travel freely in Kosovo. The reason being: Serbia does not consider Kosovo an independent country but rather part of its territory.
Ultimately, the two parties signed a temporary agreement in Brussels whereby cars traveling between the countries would be required to get stickers at the border to cover flags and country names – a measure treating both countries equally. Meanwhile, representatives from Kosovo and Serbia would meet on a periodical basis to deliver a permanent solution by April 21, 2022.
The last six months brought zero solutions. On Thursday, following meetings in Brussels, Kosovo's top negotiator Besnik Bislimi and Serbia's Petar Petkovic traded accusations about the impasse. Petkovic added that the sticker regime will remain in place until a solution is found by the two countries' leaders – President Aleksandar Vucic and Prime Minister Albin Kurti.
Bislimi said Serbia had refused all permanent solution options presented, as well as a proposal to extend talks for 30 days more. He stressed that Kosovo will implement the same measures as Serbia to cars crossing the border, according to Radio Free Europe.
EU envoy Miroslav Lajcak is expected to work with both sides on a meeting between Vucic and Kurti in the near future, which should include broader issues including the license plates one.
Kosovo and Serbia have been engaged in a dialogue facilitated by the European Union since 2011 aimed at "normalizing relations" between them. The dialogue has shown very little success, with parties trading blame for not implementing the more than 30 agreements signed. The crucial issue – Kosovo's recognition by Serbia – has never been on the table during the 10 years of dialogue.