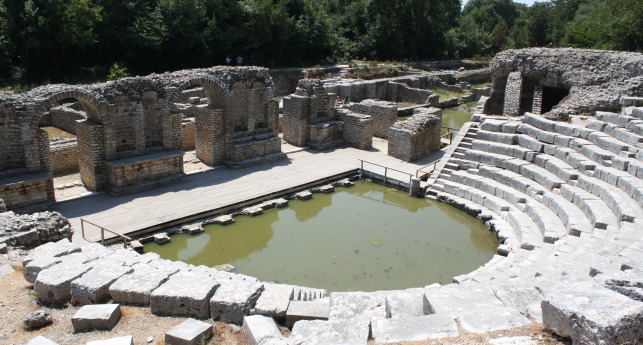 The Albanian parliament's Committee on the Economy approved in principle the agreement between the government and the Butrint Management Foundation which involves private entity, the Albanian-American Development Fund (AADF), regarding the management of Albania's most precious historical site.
In 2020, the law changed to allow Butrint to be controlled by the Ministry of Culture and a "strategic partner" as a part of the Integrated Management Plan for Butrint National Park." 
The plan was drafted by a British law firm, commissioned by the AADF.
The Ancient City of Butrint to be Managed by a Non-Public Entity
Now, it is confirmed that AADF will be part of the Butrint Management Foundation which will see the site partially controlled by a private entity for the first time in its history. They will be involved in managing it for a period of ten years in return for a grant of $5 million.
The agreement was approved following four hours of debate, but it still needs to be discussed in the Laws Committee and Education and Media Committee, where a hearing with independent experts was requested.
Present at the discussion were co-directors of AADF Martin MAta and Aleksander Sarpuli, as well as Minister of Culture Elva Margariti. They defended their involvement in the project and spoke of their "philanthropic intentions".
Mata said it will create a sustainable management model and that cultural heritage is an important part of the support the AADF provides to Albania. He said there will be full transparency and the project will be "in the sunlight".
The opposition however, were not convinced, and raised concerns over a lack of transparency. They also raised the issue of the conflict of interest as AADF funded the plan that led to the amending of the law, and are now involved in it.
Last week, Cafo Boga, a previous long-standing member of the AADF board wrote how he was dismissed for raising concerns over the project and the functioning of the entity.
He also said the board was not presented with all the facts and documents relating to the project, and said if they had been, the decision may have been different.
"Lack of transparency and misconception played a role in it," he said.
He also questioned the apparent close relationship between the AADF and the ruling party, including "close ties to certain political leaders".
Dismissed AADF Board Member Levies Criticism over Closeness to Government, Mismanagement