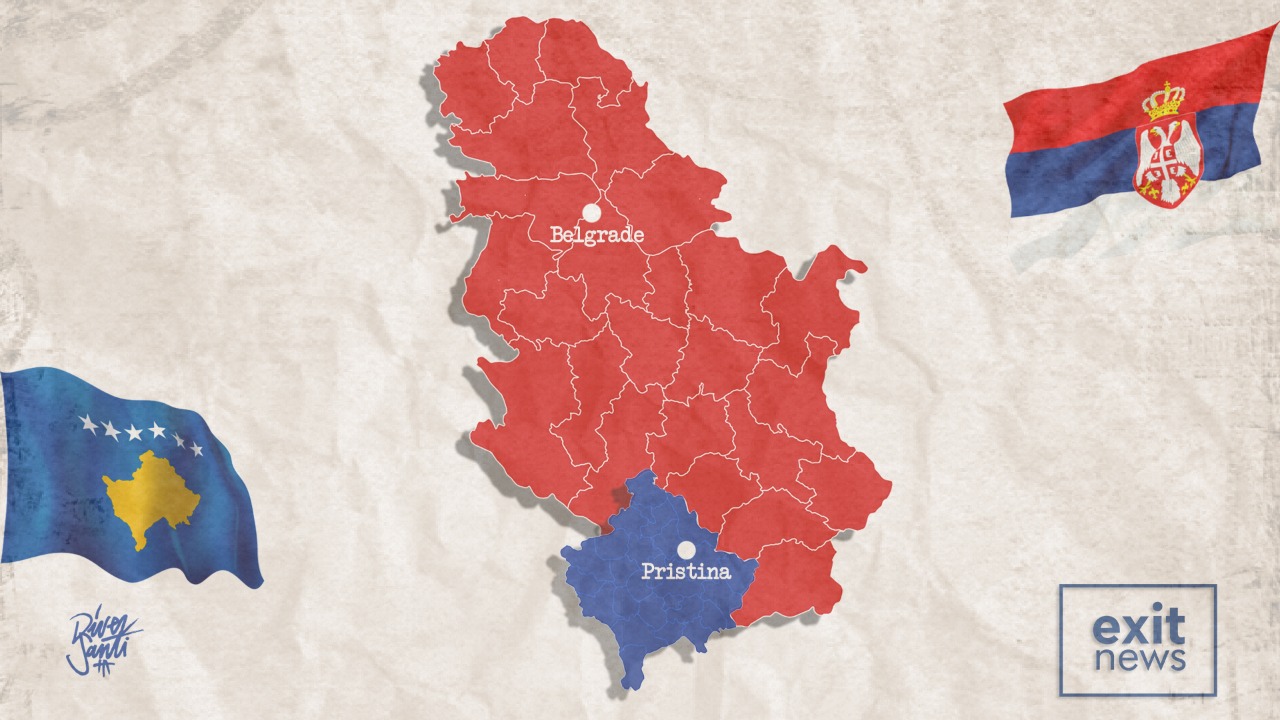 Two border crossings between Kosovo and Serbia were reopened on Monday (1 August) after NATO-led peacekeepers supervised the removal of blockades that Serb protestors had set up over the weekend in a region existing with a fragile peace since the end of the 1998-1999 war.
Tensions flared on Saturday and Sunday after Pristina introduced reciprocal measures, stating that all Serbian vehicles entering Kosovo must display temporary Kosovo plates, and those entering with a Serbian passport must fill out additional documentation. The decisions resulted in protests and blockades from Serbs and even shots being fired at the Kosovo side of the border.
Kosovo police said the removal of the barricades in the north of the country allowed two border crossings with Serbia to be reopened.
"Roads are now free for traffic to pass. Both border crossings are open now for people and goods to cross," the police said in a statement.
The removal of the barricades came after the Kosovo government postponed the implementation of a decision that would oblige ethnic Serbs, who are a majority in the north, to apply for documents and car license plates issued by Kosovo institutions.
The government's decision to postpone followed consultations with U.S. and EU ambassadors.
"Violence will not be tolerated. Those who use violence will be punished by the rule of law with the force of law," Prime Minister Albin Kurti told journalists on Monday.
Although delays in removing the roadblocks meant that Kosovo continued to implement its decisions, EURACTIV now understands that with blockades and crossings open, this will no longer be the case.
The situation remained somewhat tense throughout Monday evening, but as of Tuesday, no issues have been reported. Euronews journalist Kosovo Gjoci, however, was hit with a bottle on Monday while reporting from the Serb-majority town of Mitrovica.
Kosovo government postpones plan for volatile north after tensions with Serbia rise
60 days to comply
Fourteen years after Kosovo declared independence from Serbia, some 50,000 Serbs living in the north use license plates and documents issued by Serbian authorities, refusing to recognise institutions under the capital, Pristina.
Late on Sunday, protesters parked trucks filled with gravel and other heavy machinery on roads leading to the two border crossings, Jarinje and Bernjak, in a territory where Serbs form a majority. Kosovo police said they had to close the border crossings.
The government of Prime Minister Albin Kurti said it would give Serbs a transitional period of 60 days to get Kosovo license plates, a year after giving up trying to impose them due to similar protests.
Originally due to be in force from Monday, Kosovo leadership said it will postpone the rollout until 1 September after having "held contact and meetings with American and European international factors."
The government also decided that as of 1 August, all citizens from Serbia visiting Kosovo would have to get an additional document at the border to permit them to enter.
Belgrade authorities apply a similar rule to Kosovo Albanians who visit Serbia.
Last September
In September 2021, Kurti's government required cars with Serbian license plates to acquire Kosovo-issued plates when they crossed the border.
Serbia reacted strongly by sending troops to its border with Kosovo and galvanising protests among Kosovo's ethnic Serbs.
While the two parties signed a temporary agreement—with vehicles moving between the two countries requiring stickers on their license plates to hide country names and flags—they have failed to reach a permanent solution.
In June 2022, Kurti announced that from 1 August, there would be a 60 transition to having to replace the plates in lieu of another solution.
Albanian support
Albanian Prime Minister Edi Rama supported Kosovo's decision to implement reciprocity measures with Serbia during a press conference on Monday.
"The events of yesterday reflect the difficult relationship [between Serbia and Kosovo], but the implementation of the agreement reached in Brussels is the right and duty of Kosovo, and I support the government of Kosovo 100 per cent, just as I congratulate Prime Minister Kurti for his sense of self-restraint and for listening to allies who suggested a postponement," Rama said.
"The Government of Kosovo has the right and the duty to implement agreements and exercise its territorial sovereignty and independence," Rama said while calling on Serbia's President Aleksandar Vucic to restrain fueling dissent with ethnic Serbs in the region.