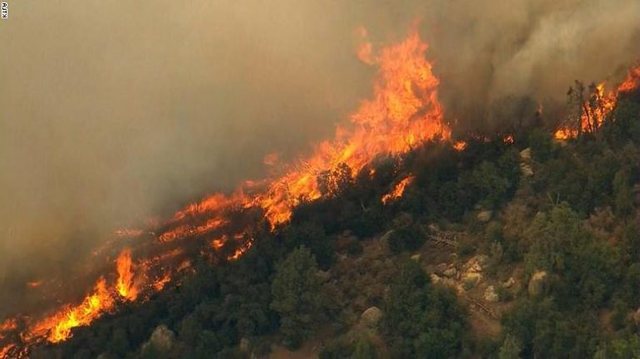 Several wildfires are currently burning throughout Albania, as President Ilir Meta said that the situation is "fluctuating" and that the Albanian authorities should turn to the European Civil Protection Mechanism for help.
Out of all the fires, the one on the Protected Area of the Peninsula of Karaburun is the most concerning. The situation is considered to be out of control as Albanian firefighters do not have the equipment to fight the blaze, particularly on difficult terrain. 
The blaze is being exacerbated by winds which are increasing the surface area of the fire, as well as its intensity.
Minister of Defense, Niko Peleshi met with the national Civil Defense Committee at midnight last night to discuss the situation on the Peninsula, but also in other areas.
He reported that the Pashaliman Base has been avoided, but work is underway to prevent the fire spreading to Dukat Mountain and Llogara National Park.
The Director of the Civil Protection Agency Haki Cako demanded international cooperation, echoing the calls of the President. He also noted that some of the fires had been started deliberately.
Peleshi said he has spoken to colleagues in Croatia and Kosovo, who have pledged assistance if needed. Italy has also said it will offer the use of three helicopters to help extinguish the fire in Karaburun.
A journalist asked Peleshi why it's taken 12 days to get to this stage. The Minister replied:
"It's not 12 days, this situation hasn't been [like this] for days. During these days that you mention there have been operations throughout Albania with hundreds of forces engaged. 200 in Vlora, 80 in Fier. We have had two very difficult situations in Ksamil and Permet, I would say they were very dangerous in terms of proximity to residential areas."
"We didn't delay action at any moment," he said.
The Minister added that Albania only has one helicopter that can carry 2000 liters of water.
On the topic of Karaburn and Llogara, he said:
"We can not speak without having conducted a professional review [of the situation]. Tomorrow in the early hours of the morning I believe we will be ready to do our projections but without visiting the area, the specialists can not say anything. As I said, the danger we want to avoid at all costs is the spread of fire towards Llogara Park."