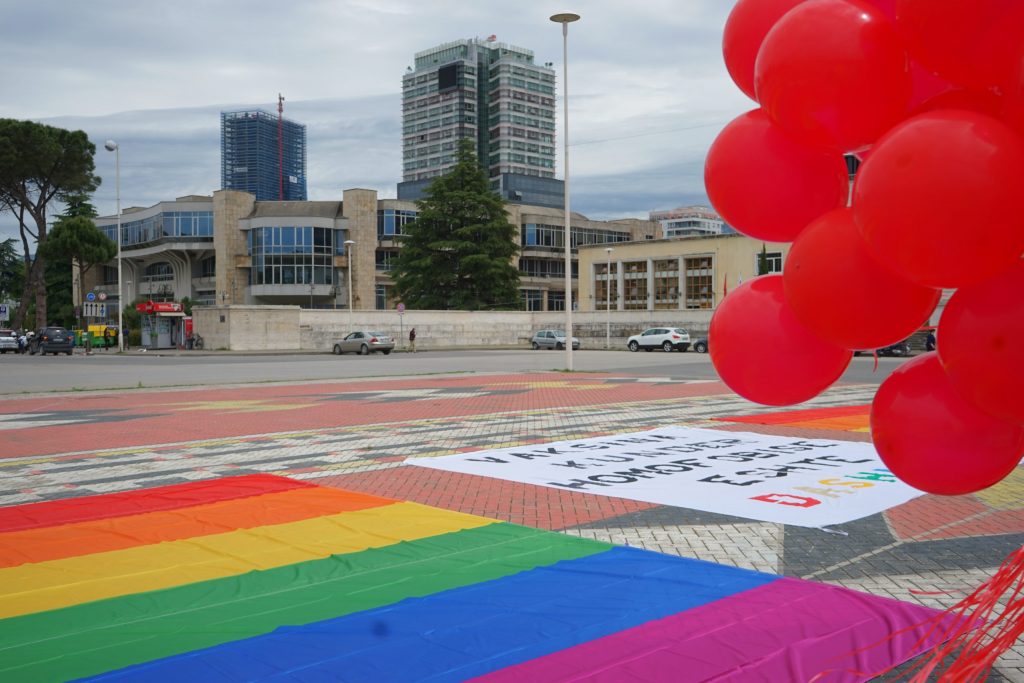 Albania has ranked 26th out of 49 European countries in terms of the rights and protections it affords to LGBTI individuals. This is according to Rainbow Europe, an umbrella organization comprising local and regional LGBTI NGOs.
It attained a score of just 33.2% out of 100% and was beaten by regional neighbors Kosovo (35.4%), Bosnia & Herzegovina (39.75%), Greece (47.20%), and Montenegro (62.77%). In the Western Balkans, Serbia (32.62%) came closely behind, followed by North Macedonia (27.31%).
The worst European countries for LGBTI individuals are Azerbaijan with just 2.33%, followed by Turkey (3.83%), and Armenia (7.49%). Surprisingly, a number of EU Member States were also ranked amongst the worst in Europe, including Poland, Romania, Bulgaria, and Italy.
The leading country in Europe for protecting the rights of the LGBTI community is Malta with an impressive score of 93.78%. The state is followed by Belgium, Luxembourg, Portugal, Norway, Finland, and Sweden, all scoring more than 65%.
Criteria analyzed as a part of the research process included the right to marry, adoption, parental recognition, laws adopted to tackle discrimination, gender recognition, policies on intersex individuals, and the level of risk faced by members of the community within that jurisdiction. 
While the situation for LGBTI individuals in Albania remains difficult, there were some progressive steps taken last year.
In May 2020, the Albanian Order of Psychologists banned conversion therapy. The decision is legally binding on all therapists in the country. 
Then in July, the Albanian Ministry of Health announced a new protocol to protect intersex individuals from unnecessary and non-consensual surgeries. It provides guidance for medical professionals and parents and essentially makes it illegal and unethical to provide such treatments.
The LGBT Alliance, a local NGO, also carried out training with police officers, holding a number of events and sessions in collaboration with the Helsinki Committee and COC Netherlands.
In October, Parliament amended anti-discrimination law to include sex characteristics and HIV status as protected categories.
Furthermore, also in 2020, a number of calls were made to Albanian authorities. These included providing legal recognition for same-sex couples, anti-discrimination protections in the Electoral Code, increased funding and implementation of the National Action Plan on LGBTI Persons, and further strengthening of the protocol to protect intersex individuals.
Despite the above, LGBTI individuals can not marry, adopt children, enter a legal partnership, change their gender marker, or change their name. 
They are also regularly discriminated against in the workplace, community, healthcare system, education system, and amongst the family unit. Members of the community are disproportionately impacted by sexual assault, violence, and verbal harassment and face barriers when reporting incidents to the police.
A number of LGBTI people also seek asylum due to attacks and other issues faced by their status.
The data by Rainbow Europe was released yesterday as a part of the International Day Against Homophobia, Biphobia, and Transphobia.
Yesterday, activists gathered in Tirana to call for better human rights and increased equality for their community.
In a statement, they said:
"We are here to promote diversity, equality, and love. We are here for a better society and for social justice. We are here, ready to start the fight in every social, state, and legal battle that will proceed the guarantee of our fundamental rights. We are here for resistance, we are here for ourselves, we are here for each other united and proud. Although under the condition of a prolonged pandemic, love and solidarity will always win. The only vaccine in this pandemic is love!"