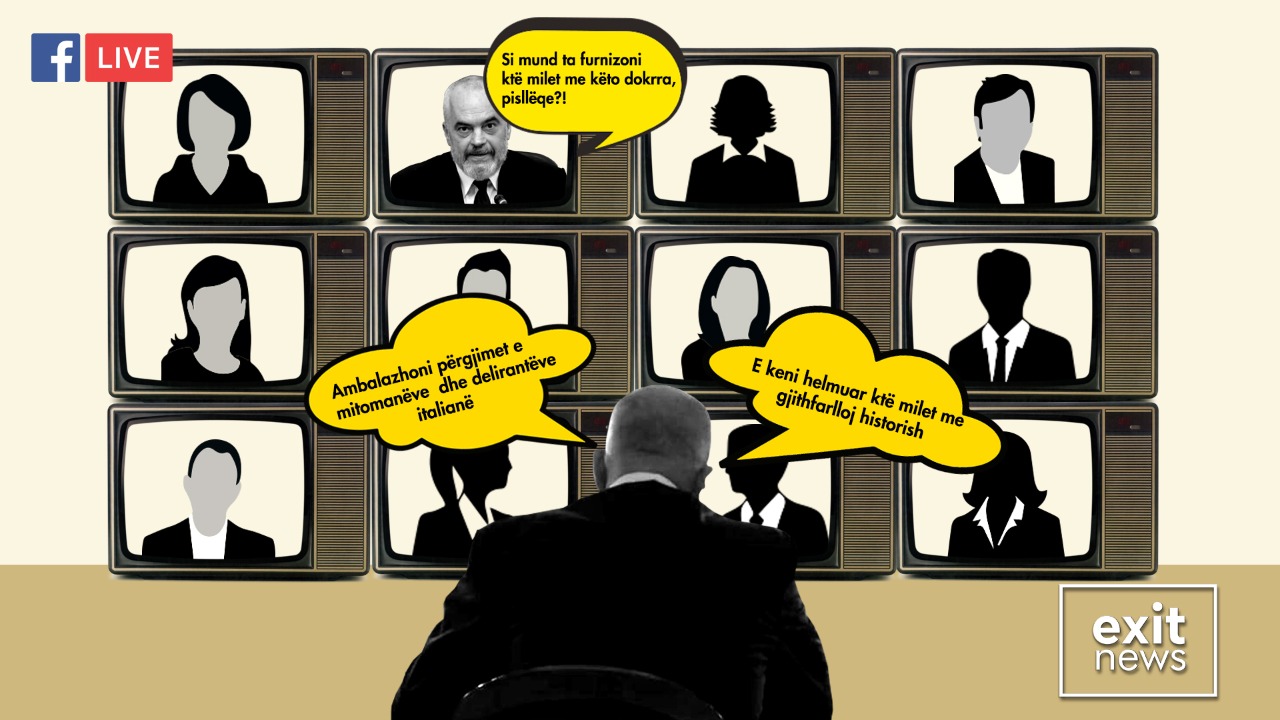 Prime Minister Edi Rama stirred criticism at the opening of the OSCE South-Eastern Europe Media Forum in Tirana on Monday (11 October) by comparing online media to Nazi propaganda and paedophiles. He was also criticised for his "anti-media rhetoric" and calling for limits to freedom of expression.
"I am perhaps not the best person to be invited here today for my opinions differ from the politically correct ones when it comes to how in the name of freedom of expression, so many things that go against the notion of freedom are happening," Rama said during his opening speech.
Rama criticised the online spread of fake news and defamation, which he said was "against the freedom of other people" and "common sense". He said it was a hard line to walk between respecting freedom of expression and respecting citizens' freedom. He aimed for the online media environment, noting that "freedom of reach has undermined freedom of speech."
"The two cannot be equal. It's easier said than done trying to find a way to regulate this chaotic space where truth and lies live together," he said.
"When it comes to facing this challenge, you have to face a whole wave of prejudices from the politically correct world."
Rama then continued to compare the online media to Nazi's, terrorism, and pedophilia.
"When you try to imagine what the Nazi propaganda machine did to the world with freedom of speech, it's breathtaking. When you try to assess what the damage occurring in everyday life from sources of evil in this world, terrorism, fundamentalism, pedophilia, diseases of modern society, freedom of reach can reach and touch a lot of human beings," he said.
"Online media, how many times you have to realize they are saying things you didn't even think, let alone say. Normal citizens, what harm it does to them, it's criminal and unbearable."
Rama explained that when you're an elected person, you can train yourself to survive it. Still, all ways to counterattack are dangerous as "you're immediately labelled as going against freedom blah blah blah," according to him. 
He said court cases are ineffective as they take years, and the damage has already been done.
"I don't have the answer; if I did, maybe I would have won the Nobel Peace Prize," he joked.
Rama then said it was unfair that broadcast and print media can be regulated, but online media cannot. "I hear clear and loud there is so-called self-regulation, but I am not sure it's the answer."
Blerjana Bino from Safe Journalists Network said that Rama was "positioning freedom of speech as antagonistic to freedom of citizens, confirming his anti-media sentiment and push for more regulations on online media."
PM Edi Rama positioning freedom of speech as antagonistic to freedom of citizens, confirming his antimedia sentiment & push for more regulations of online media @ #SEEMC2021 by @OSCE_RFoM We have alerted the risks to #mediafreedom in Albania @WBjournalists @AlbJournalists

— Blerjana Bino (@BlerjanaB) October 11, 2021
She also noted that attendees were not allowed to ask questions to the prime minister.
Flutura Kusari from the European Centre for Press and Media Freedom, who is also taking part in the conference, noted that he didn't express "a single world on state obligations to safeguard media freedom."
Why am I not surprised with Edi Rama's anti-media rhetoric during his opening remarks? Not a single word on state obligations to safeguard media freedom. Not a single word. #Albania #SEEMC2021

— Flutura Kusari (@fluturakusari) October 11, 2021
Ricardo Gutierrez, moderating a panel on the first day of events, noted that 80% of active alerts on the Council of Europe Platform for the Protection of Journalism and Safety of Journalists came from the state. He gave several examples, including Rama pressuring portals and journalists, the censoring of Kosovo journalists during a press conference, and six other alerts on the portal related directly to him.
Interesting data: if we look at the active alerts on #Albania on the @CoEMediaFreedom Platform, in 80% of the cases, the source of the threat is the state…#SEEMC2021 @fluturakusari @OSCE_RFoM @ediramaal https://t.co/DOeCIjxIqd

— Ricardo Gutiérrez (@Molenews1) October 11, 2021
Rama has publicly used a long list of slurs against journalists, including prostitutes, parasites, trashcans, ignorant, disgusting, enemies, dogs, and contented pigs.
On the topic of lawsuits, the Socialist Party filed 35 defamation suits in just two years. In a December 2020 parliamentary sitting, h said he would be happy to file "even 6000 cases" against those who speak out against him.
His government has also been accused of orchestrating multiple smear campaigns against journalists and members of the public. In February 2019, pro-government media, including Shqiptarja, Gazeta Tema, and Lexo.al, branded Exit journalist Alice Taylor a Russian spy. 
Ex-Interior Minister Sander Lleshaj gave false information to the media, and the state police leaked her personal information to journalists. They also withdrew the approval of her residence permit, which she eventually got back after successfully taking them all to court.
Meanwhile, attacks against journalists in Albania, including bombs, machine guns, and death threats, remain without convictions.
Lastly, Rama's government is still pursuing an anti-defamation package that would bring all online media under state control and supervision. This law has been criticized by the EU, CoE, and all local and international media freedom organizations, but it still sits on the agenda of parliament where it can be passed at any time.