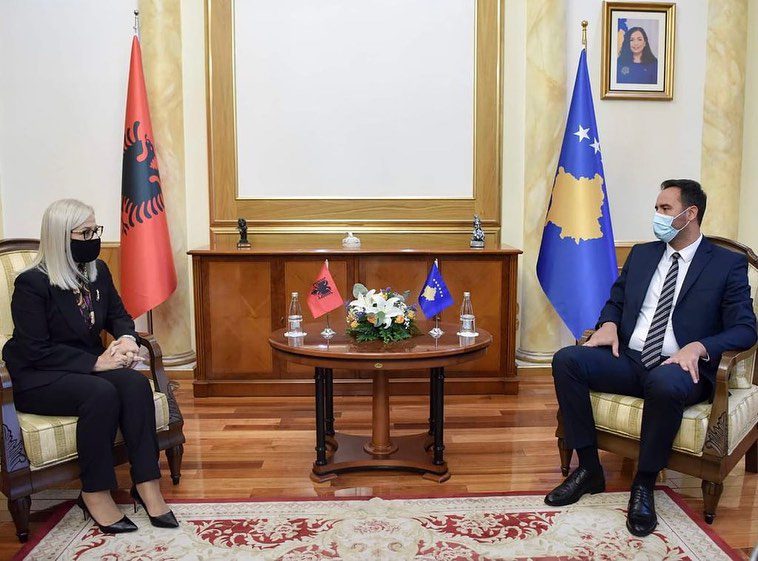 Albania's Speaker of Parliament Lindita Nikolla has pledged to cooperate with Kosovo for Serbia's crimes during the '90s wars in the Balkans to be presented again to the international public.
On Wednesday, Nikolla had meetings with her Kosovo counterpart Glauk Konjufca and prime minister Albin Kurti i Prishtina during her first visit abroad since she was elected to the post earlier this month.
"Serbia's crimes should be made known again to the world for it to see that Serbia committed crimes against humanity," Nikolla stated during a joint press conference with Konjufca. 
She shared the same message with prime minister Albin Kurti, and stressed the need for the two countries to strengthen cooperation in all fields.
The Kosovo government is working to file a lawsuit against Serbia for hat it claims to have been a genocide against the Albanian people during the Kosovo war.
Serbian troops killed at least 8,676 Albanian civilians, expelled nearly half of the roughly 2 million population to neighboring countries, and several hundreds of thousands more were internally displaced. They raped over 20,000 Albanian women and destroyed nearly 40 percent (92 thousand) of houses and half of the mosques (225) in Kosovo.
More than 22 years since the war ended in 1999, over 1,600 Albanians are still missing. A number of the missing people are believed to have been buried by Serbian troops in mass graves in Serbia. The dialogue between the two countries since 2011 has shed little light on the location of such mass graves.
Serbian President Aleksandar Vucic has denied one of the worst massacres Serbian troops committed in Kosovo when they killed 45 Albanians in the Recak village in January 1999, and has blamed the international community of "fabricating" it.
Vucic, who was a minister of information in the government of Slobodan Milosevic, "the Butcher of the Balkans", has never admitted that Serbian troops committed genocide in Srebrenica, where they killed more than 8,000 Bosniak men in a few days in 1995. This is despite the fact that the International Criminal Tribunal for Former Yugoslavia (ICTY) and the International Court of Justice (ICJ) have recognized the massacre as genocide.
Kosovo passed a fresh resolution to condemn the Srebrenica genocide, following repeated denials by Serbian politicians in the region that it didn't amount to genocide.
In July, 2021, Albania's opposition vowed to do the same during this parliamentary legislature, following a call by Kurti for parliaments in the region to do the same. The Socialist majority in Albania did not answer the call.
Nikolla, a former minister in one of Rama's cabinets, made the statement on denouncing Serbia's crimes in Kosovo at a time when the two countries, i.e. Kosovo and Serbia, are caught in an altercation regarding reciprocal measures imposed by Kosovo on Serbian-licensed cars to purchase a temporary number plate at the border.
It also comes at a time when the governments of Albania and Serbia have launched a regional cooperation initiative from which Kosovo and other countries in the region have excluded themselves. The issue has become a thorn in relations between the two Albanian prime ministers, Edi Rama and Albin Kurti. However, they have pledged to cooperate closely in all other issues.
Albania during the past two terms of Edi Rama's rule has successfully worked towards strengthening relations with Serbia. Pressuring Serbia by denouncing its crimes in Kosovo has not been among its priorities. However, Nikolla's statement at the start of Rama's third term in office could mark a change in attitude if it's followed by action.