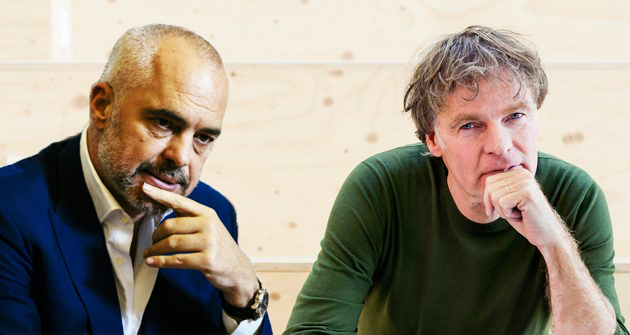 It is not only Danish architect Bjarke Ingels who has cashed in on his previous engagements with Prime Minister Edi Rama when he was still Mayor of Tirana, and who has now become an international propagandist for the Rama government.
Recently also Dutch architect Winy Maas of MVRDV has come out as an enthusiastic supporter, and as with Ingels, the reason is simple: an assignment "given" by the Albanian government, without any public procurement and through a completely untransparent process.
Just like Ingels's BIG, which won the architecture competition to the never realized new mosque project, MVRDV has a long history of (failed) engagements with Tirana. The first example is Tirana Rocks, the winning project in a 2008 competition for urban development next to the artificial lake of Tirana. The project was never realized, and Rama's successor, Lulzim Basha, exchanged the project, which was subsequently blocked by current mayor Erion Veliaj.
MVRDV's second large project was the Toptani shopping center, also the result of a public competition launched by Rama. This project indeed got realized, but not after the concept was considerably watered down after it was taken over (unbeknownst to MVRDV) by Rama's favorites Atelier 4. Instead of "facades [that] engage the city by providing a platform for advertising through on giant LCD screens," the outside of the building has been clad in simple monochromatic paneling. Instead of an open and public arcade, it became a closed-off mall.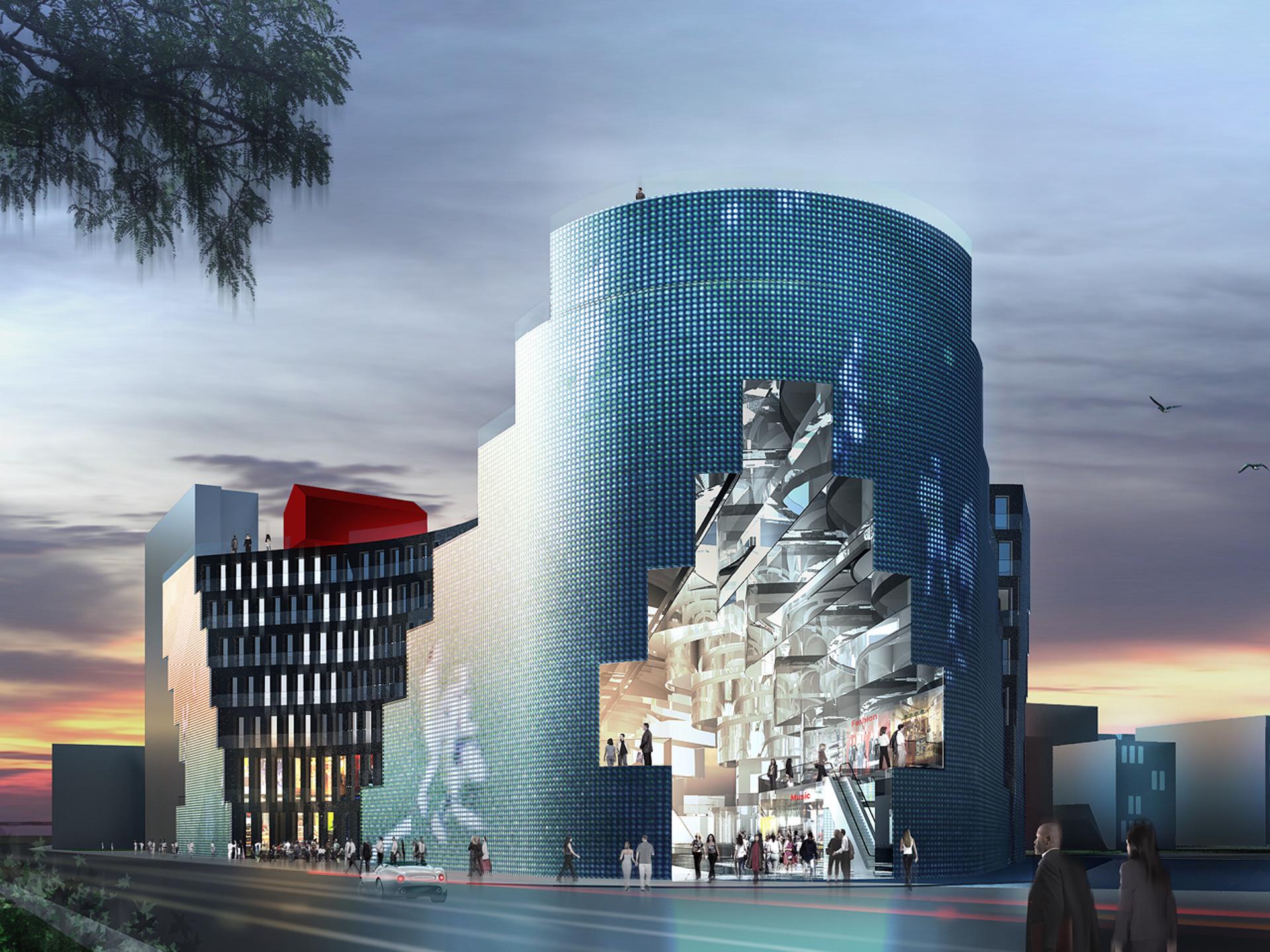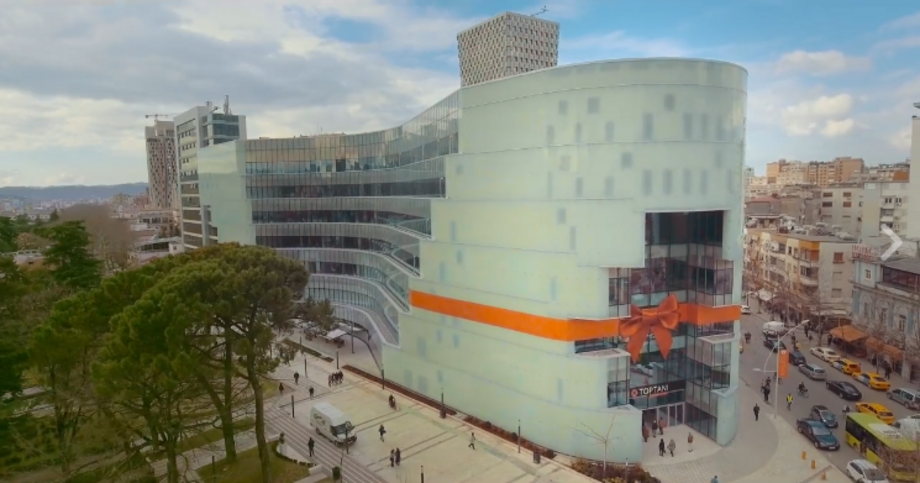 In fact, Winy Maas has been fishing for this opportunity for years. Already in 2013, just after the election of the Rama government, Maas flew into Tirana to take part into the government conference "Albania of the Next Generation."
And his lobbying has paid off. First, in April 2016, the Pyramid, the former Enver Hoxha Museum, was excluded from the monumental area in the historical center of Tirana, leaving the building unprotected for future development. In December 2016, the government transferred the property rights of the Pyramid to the Municipality of Tirana, making future projects a local rather than national affair. A month later, Maas appeared at the Pyramid together with artist Anri Sala (who collaborated with Atelier 4 on the Skënderbeg Square renovation) to discuss the "future" of the Pyramid.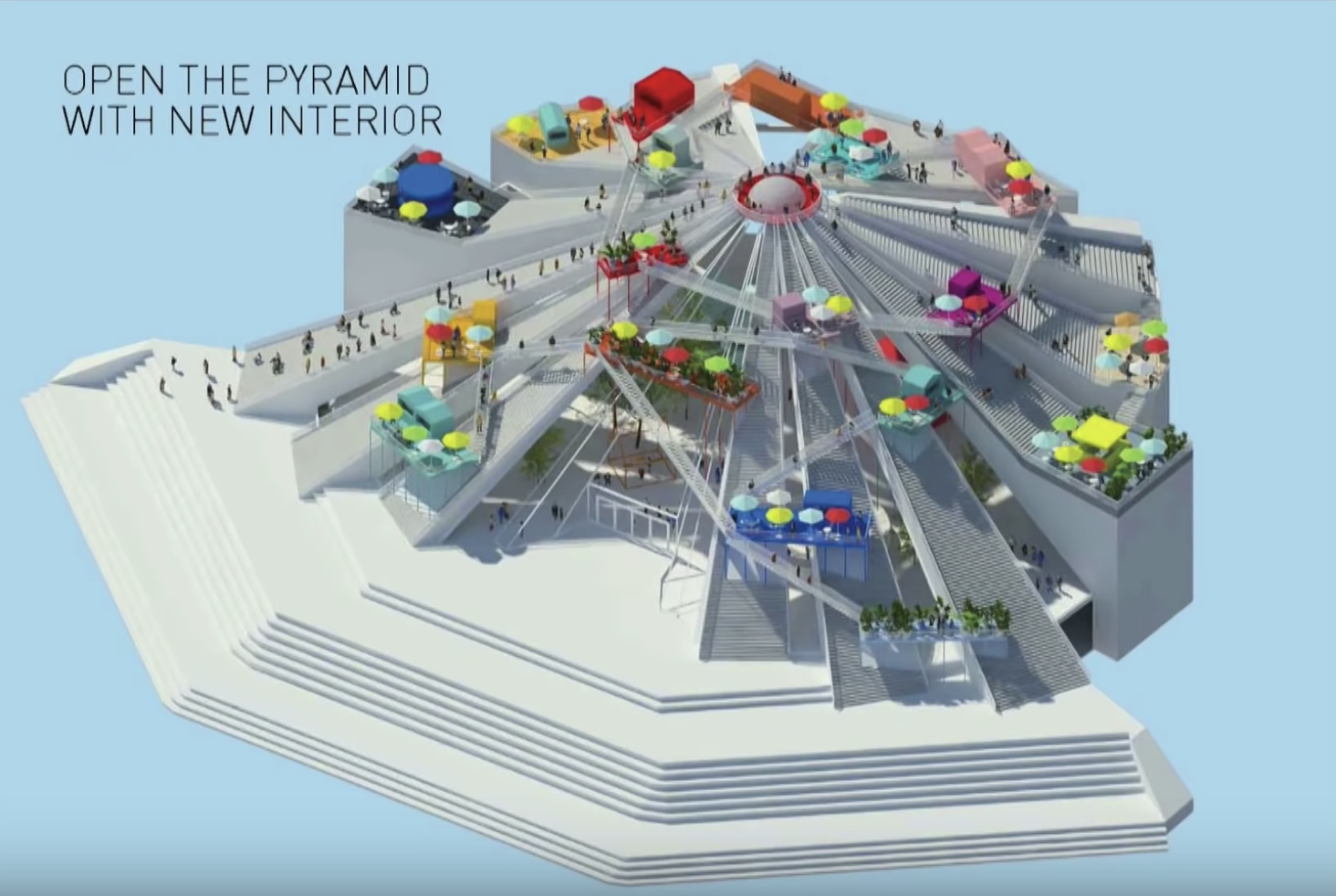 As a result recently it was announced that Maas will reconstruct the Pyramid – without any public discussion, procedure, or transparency. Just like Ingels's project for the National Theater, a top-down decision process which has ignored any form of public consultation.And what does Maas do in return for this lucrative assignment? Go around the world and celebrate the Rama government. Look for example at his recent lecture for the AA School of Architecture in London. He ends his lecture with Albania. Why Albania? Because it's "a country with no money, that drinks only coffee, and where there is nothing to do." It is as if you hear vintage Rama propaganda: "Now with a growth of 8%. How can you do that? It's like a mini-China, somehow, in a way, but then in a very democratic way." (NB: the IMF set growth in 2017 at 3.9%.)
His excursion to Albania starts with the embarrassing tale of how his firm designed the Toptani building, and then only discovered after a few years of silence that Atelier 4 had taken over the project. Maas says: "It is not my detailing at all, and it misses something, and how the interior is developed… ok, that's done. So what's next?" Instead of anger about how his ideas were stolen by another company, and wasted in the process, Maas continues with the other failed project, Tirana Rocks. But he quickly moves on.
Rama gets elected prime minister and then it gets interesting, because, as Maas says, "developers are getting richer." There is no critical reflection on how these developers got rich, and how that process of enrichment has destroyed the public space in Tirana and the Albanian economy. No, Maas sees an opportunity to build even more and for real.
We learn that he is actually the architect of the DownTown Tirana building (whose architect was until now kept out of the public discourse in Albania), again built on public land granted to a private investor under unclear terms and without any transparent procedure. The building, moreover, shows the map of Albania:
I had a discussion with some of the European politicians about that. Because can you do that? Is nationalism something good or bad? But Albania needs it, to show it's sexy in that way and that it's actually quite cool. This is a European project, I would like to say, because this could be fantastic. […] That is Albania. Coffee drinking on all the terraces.
It would be too much to unpack the intellectual vacuity of these statements, and their potential danger in the context of the Western Balkans and the EU today, where nationalism has grown into a cancer eating away at the rule of law and democrstic political systems alike. It would also go too far to investigate Maas's orientalist depiction of Albanians' main occupation as "coffee drinking," without interrogating the remarkable fact that certain Albanians – his oligarchic clients – have become marvellously rich from such waste of time.
One of the last projects discussed by Maas, which apparently has not yet been approved, is a response to a request of Prime Minister Rama: "Edi said: 'I wanted to do something with history.'" And then of course, Maas delivered immediately. A building in the shape of a giant head of Skënderbeg, built adjacent to the Tirana International Hotel.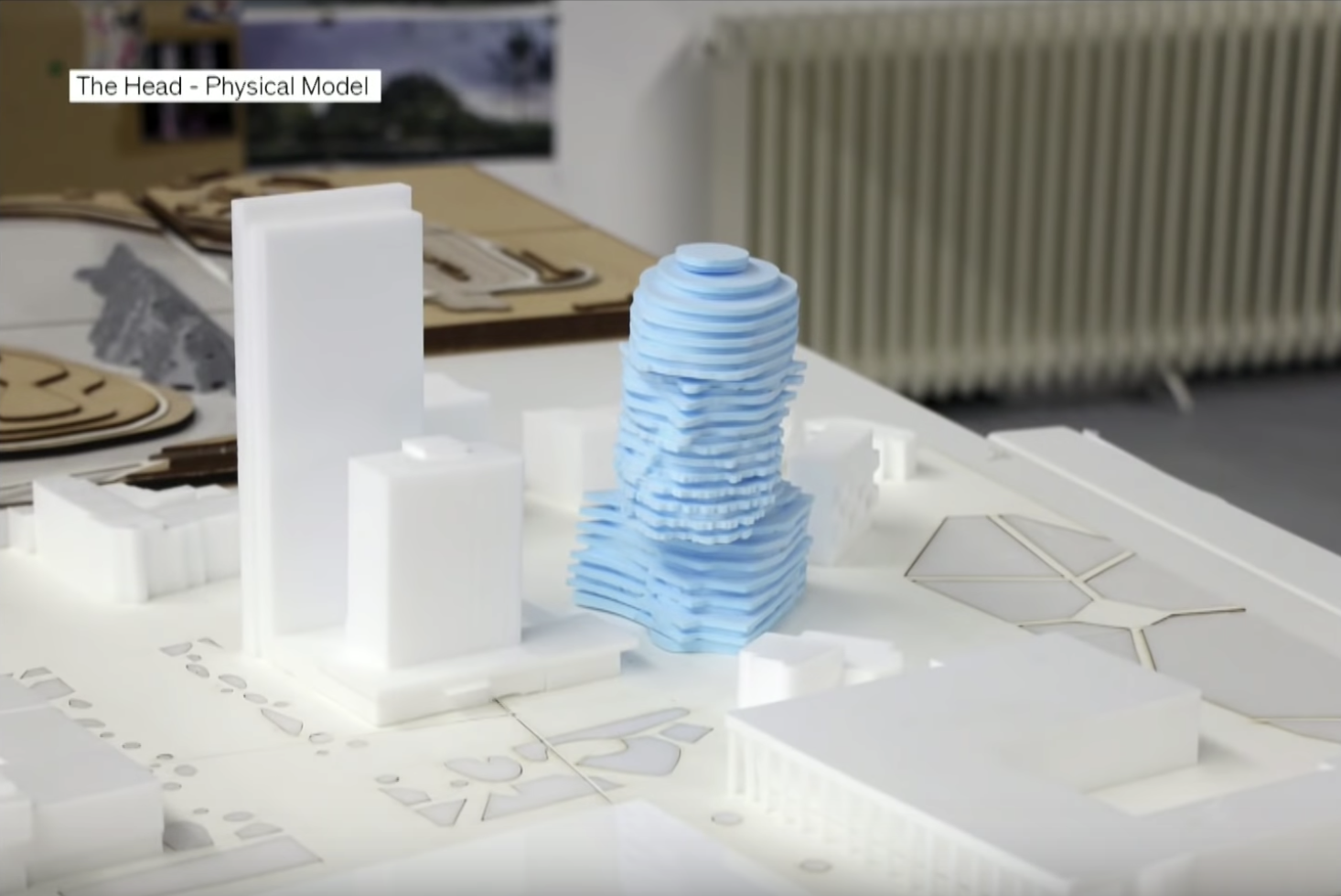 Somehow, both DownTown Tirana and the Head speak to a common rule of thumb in art. Whenever art devolves into court art, whenever it licks up to power and displays its sycophancy shamelessly in the open, it becomes kitsch. And there is nothing more kitsch than a building in the shape of Albania or a skyscraper formed like the head of Skënderbeg. The literalness and one-dimensionality of these projects speak not only an utter lack of imagination that can only be compared to the Skopje 2014 project of former Macedonia Prime Minister Nikola Gruevski, they also show how corruption and nepotism numb down the intellect and critical thinking.
Let me end a conclusive piece of evidence:
That's Albania at the moment. And it's funny, of course, to celebrate that with at this moment in Europe where on the one hand UK goes out and Albania comes in. And I want to stress that moment also that we can learn from that, I guess. From the energy from Albania that wants to go further, that wants to find a way to do it embedded in its own way.