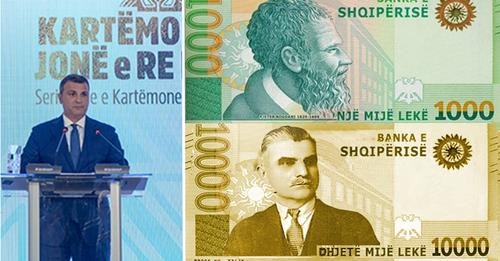 The Bank of Albania has announced it will issue a new 10,000 lek banknote on July 1. At the same time, a new 1,000 lek note will also be issued.
These notes are equivalent to approximately 10,000 lek = EUR 81.30 and 1,000 lek = EUR 8.31.
A presentation of the new banknotes was made today by the Bank's Governor Gent Sejko during a press conference.
"The introduction of these other denominations increases the efficiently of the BoE to administer stock and to cope with cases of unforeseen increase in market demand," Sejko said in relation to the issuance of the 10,000 lek note.
The 10,000 lek note will feature the portrait of Albanian poet Asdreni (Aleksander Stavre Drenova), the national flag, and a line of the national anthem.
The 1,000 lek note will have the image of author and writer Pjeter Bogdani and various numbers and letters.
Sejko stated that both banknotes would include elements allowing them to be recognized by the blind, as well as a hologram.
"Seeing the beauty and quality of these banknotes, I can say with full confidence that the work done for their realization has been quite valuable. Therefore, on behalf of the Bank of Albania, I would like to thank all those who have helped and are actively engaged in their successful implementation. In addition to the tireless work of the bank staff, here I would like to emphasize the invaluable contribution of many academics, historians, Albanologists, numismatists, and experts of the most famous companies in the world in the field of banknote production."
He added that the 500 lek and 2,000 lek notes are currently being redesigned and reproduced.
Sejko noted that despite increases in the use of electronic money, the demand for physical money has also increased during 2020. In fact, last year, the amount of money in circulation tripled when compared to 2019.