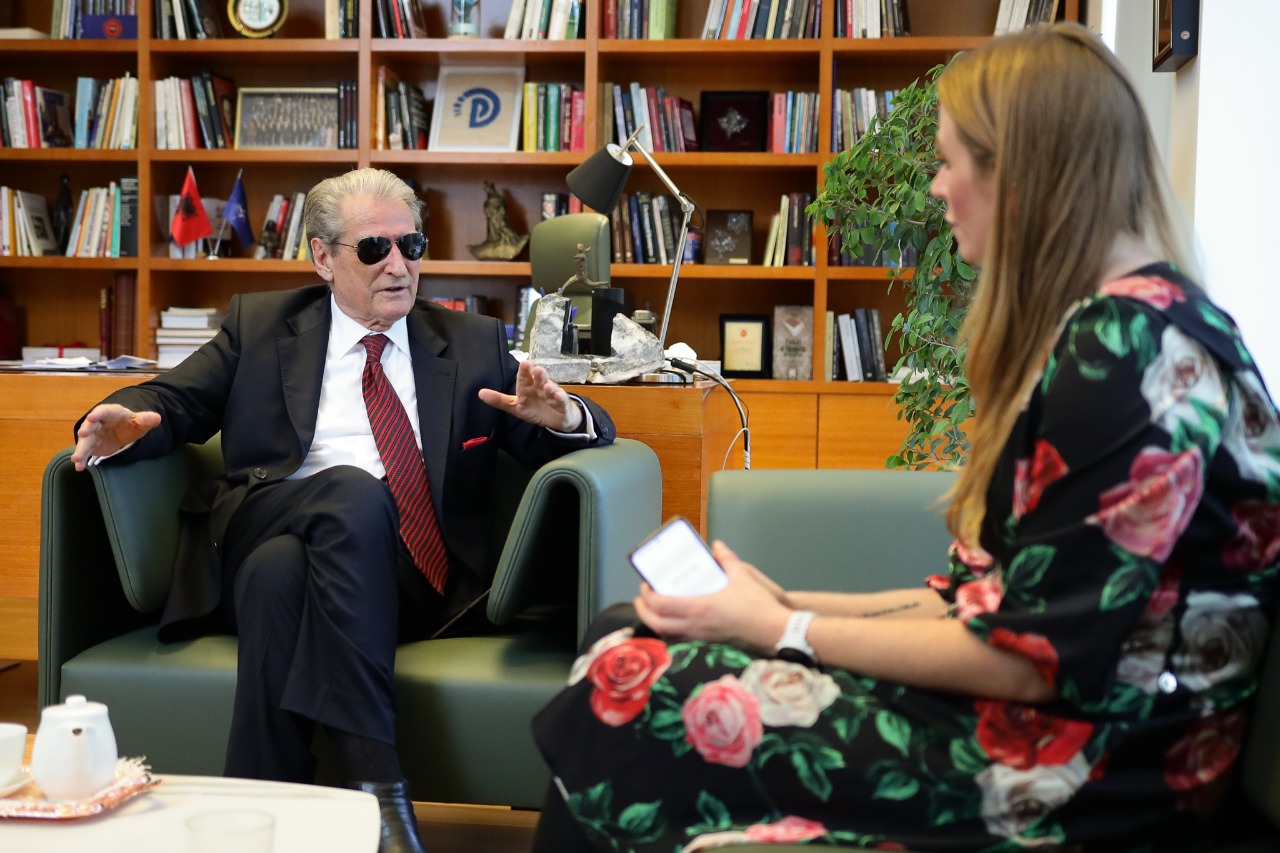 Turkey was never interested in the maritime border agreement between Albania and Greece and made a "really strong intervention" when it was signed, according to Albania's then-prime minister and president Sali Berisha who gave an exclusive interview to EURACTIV.
In 2009, Tirana and Athens agreed on the delimitation of their maritime zones and continental shelf, despite the difficulties encountered in the negotiations between the two sides. The deal, brokered by Berisha's Democratic Party, would see some 225 square kilometres of Albanian territorial waters handed to Athens.
Greek Prime Minister Kostas Karamanlis paid an official visit to Tirana in April 2009, accompanied by Foreign Minister Dora Bakoyannis, who signed the delimitation agreement with her Albanian counterpart Lulzim Basha, in the presence of then-prime minister Sali Berisha.
It was the most important agreement signed between the two countries since the Friendship Pact was signed in 1996, and while the ink was still wet on the agreement, Tirana formally applied for EU membership with the support of Greece.
"Our partner, Greece, in 30 years was very helpful for Albania. Supported Albania's road to NATO and Europe, serious investment in the country," Berisha said.
He added that "Greece signed it having six nautical miles of territorial waters for itself. Edi Rama was one which sued the agreement in the Constitutional Court. Turkey was never interested in that agreement and made a strong intervention."
The deal was not to be realised, and Albania's opposition Socialist Party, led by current Prime Minister Edi Rama, appealed to the Constitutional Court before the delimitation agreement was ratified by the countries' parliaments.
The court unanimously ruled the agreement invalid, citing procedural and substantive violations contrary to the Constitution and the Law of the Sea.
"The Constitutional Court rejected a very good agreement. After the Constitutional Court objected, I told the [Greek] government that I am obliged to respect the decision. But I said we should go to The Hague. At the beginning, they were hesitant, but later they accepted as they saw I was very transparent," he said.
The annulment of the Agreement and rising tensions over ethnic minorities and land in both countries, continued to sour relations which were hovering in a state of war in place from 1940.
In 2013, Rama was elected prime minister of Albania, while leftist Alexis Tsipras was elected in Greece in 2015. Foreign Ministers Ditmir Bushati and Nikos Kotzias already started contacts in the summer of 2015 to resolve bilateral disputes, including maritime demarcation.
"Edi Rama came into government and negotiated with the Greek government in full violation of the Constitutional Court decision, and they finished the agreement. Then Greece put the law in parliament and put it to 12 nautical miles as is their right under Montego Bay Treaty," Berisha said, adding "I don't know what The Hague will say."
With the rise to power of Kyriakos Mitsotakis, new efforts for demarcation with Albania were launched, following the demarcation achieved by Greece in its demarcation with Italy.
Then in 2020, Athens and Tirana said the matter would be referred to the International Court of Justice to "join the dots based on the court's expertise and international maritime law," according to Rama at the time.
'I don't accept Turkey's neo-Ottomanism'
Greece's enthusiasm over resolving the issue is likely driven by ongoing issues with neighbouring Turkey. Asked about the nature of the relationship between Albania and Greece and Albania and Turkey, Berisha said Athens is a close partner.
"Our partners, Greece have been very helpful for Albania. They supported the road to NATO and Europe and had serious investment in the country."
As for Turkey, while Berisha considers it a partner, there are reservations.
"Turkey is no doubt a friend, a partner, but with a doctrine of neo-Ottomanism that I will not accept," he said referring to the some 600 years of Turkish Ottoman rule in the region.
Turkey's influence in Albania has continued to grow over the years with significant investments in healthcare, education, and even housing following the devastating 2019 earthquake that killed 51 people and left thousands homeless.
Then in early December, Rama called Turkey a "determining power" at a conference in Istanbul.
"This puts Albania entirely under. The 'determining power' is EU, NATO, the US in security matters. I have never heard that Turkey is a determining power- regional power, I have no question, but determining-no," he said.
To date, no progress has been made on the signing of the pact, although the prime ministers of the two countries met in Tirana on 7 December 2022 on the sidelines of the EU-Western Balkans Summit.
A EURACTIV interview with Rama, published the day of the summit caused a stir between Athens and Tirana after the Albanian premier said that EU accession is "not an exam you can cheat on" like some neighbouring countries had done.
When asked to name names, Rama said "Greece". He apologised for the comment the following day.
"I'm sorry for something I heard, that I said some strange things about Greece, about how it achieved some things – we'll go back to the time of Troy perhaps – but it's not something that concerns the present, and it didn't in any way concern today's Greece," Rama told Mitsotakis.
Meanwhile, Rama's government signed on Monday a deal with Turkey to buy three Bayraktar drones, which are widely used in the war in Ukraine.
"We signed an export contract with Albania, a country where we have walked for centuries and share strong historical, cultural and humanitarian ties", the CEO of the Turkish drones company said in a statement.
Albanian media reported that Rama thanked Turkish President Recep Tayyip Erdoğan for his help to make this deal happen.
"The three drones that will come first will be armed and ready for any occasion, when and where they are needed, and I hope it never happens, but we don't live in very safe times," Rama noted, adding that in the event of a national security threat they would they are prepared.
Mitsotakis is also expected to visit Albania on Thursday to visit the Himare region of the country where a Greek minority lives. He is expected to be accompanied by Rama for some of the meetings.