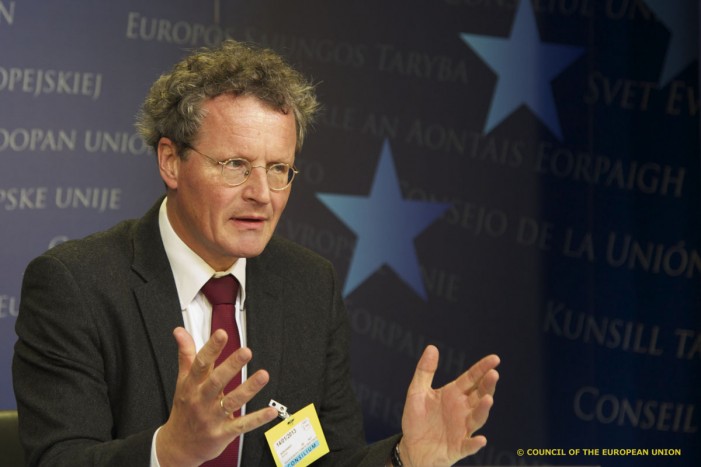 During his first television interview since arriving as head of the OSCE mission in Albania, Bernd Brochardt spoke about the risk of more than €2 billion of drugs money to "buy" the upcoming elections.
Cannabis has been produced in Albania since the early '90s. In 2013, the Guardia di Finanza would fly over Albania and estimated that the production is 1,000 tons. […] That's a street value of more than €2 billion. When you take the figures published by the Ministry of Interior about destroyed plants you can see that even more has been planted in 2015. […] Every other week we have the capture of thousands of seeds. That means that there is more dirty money involved. More than €2 billion euros in street value. This is a risk for the elections, because it can be used to buy deputies. All of this is a big risk and a bit dangerous. That is why we advocate changes in the Electoral Code, to avoid, or to much more limit and contain vote buying.
He also expressed that the OSCE is not against electronic voting, but that the government has left not enough time to implement such voting in a timely manner.
The electoral reform, one of the key issues that need to be addressed within the context of opening the EU accession negotiations, has been dragging on for the last months. The reform, which ought to bring full transparency to political party financing and possibly limit the influence of dirty money on the election campaign has still not been brought to the parliamentary plenary session. The reform is supposed to be based on a series of recommendations of the the OSCE.
The absence of electoral reform, and the risk of drugs money capturing the elections has been one of the main motivations of the opposition protest organized in front of the Prime Ministry.
Prime Minister Edi Rama had denied that there was any evidence that the elections were at risk. OSCE Ambassador Borchardt, however, now appears to claim otherwise.