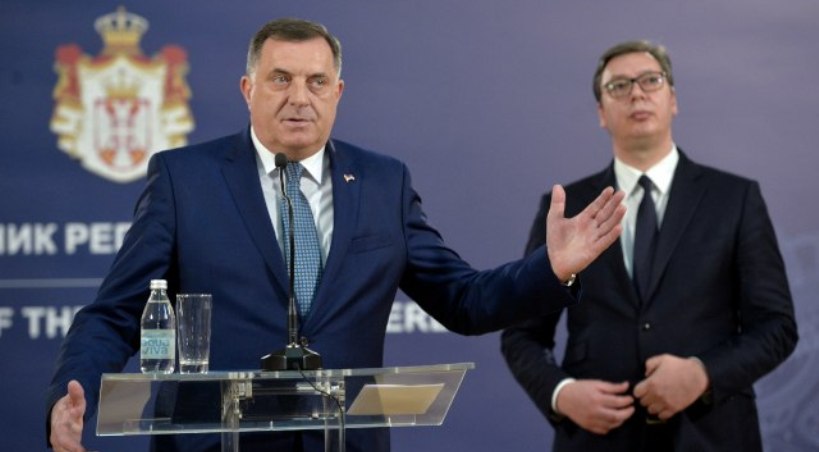 Republika Srpska will continue to weaken the state of Bosnia and Herzegovina of which it is a part, by transferring central government competencies to local institutions, despite pressure by the United States.
Following a meeting with US Deputy Assistant Secretary of State Gabriel Escobar on Monday in Sarajevo, Republika Srpska leader Milorad Dodik, who is also one of the three members of the Presidency of Bosnia and Herzegovina, reiterated that Serbs will stick to their decision to abandon Bosnia's army, courts, prosecution, and tax authority. 
"Republika Srpska will continue to take care of itself, as the only way to save Bosnia and Herzegovina," he stated after the meeting, RFE reported.
Bosnia and Herzegovina is composed of two entities: Republika Srpska governed by Serbs of Bosnia, and the Federation of Bosnia and Herzegovina governed by Bosniaks and Croats. The state constitution is based on the 1995 Dayton agreement which brought the Bosnian War to an end after more than 100,000 people were killed in just 3 years.
Dodik has repeatedly threatened to dissolve the country by declaring Republika Srpska independent.
After separate meetings with all three Bosnian presidency members, Gabriel Escobar assured that no war is going to repeat in Bosnia, a statement that was also supported by Dodik, who said that the Serbs' decision to withdraw from institutions does not harm the territorial integrity of Bosnia.
Bosnian and Croat members of the presidency, Šefik Džaferović and Željko Komšić, said they got US support for the country's territorial integrity, fight against crime and corruption,  and its EU integration.
Bosnian Serbs have boycotted institutions since July 2021, when the country's UN High Representative banned genocide denial.