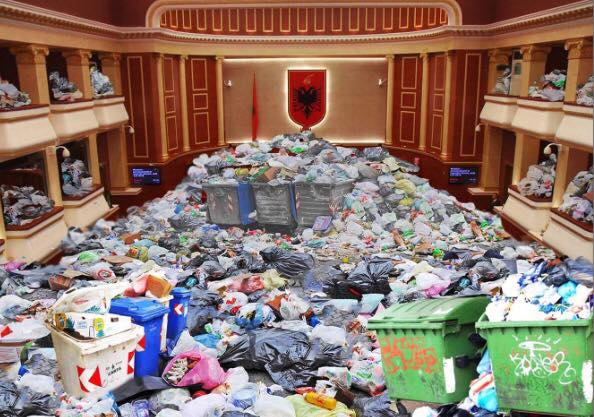 In an article for Reporter, Gjergj Erebara writes that in response to a letter from Ministry of Integration sent on November 7, the European Commission for Environment has stated that the European Union has not imposed the condition on Albania to allow the import of waste. The same letter states that the law regulating waste imports conforms to "European regulations."
The answer of the Commission stresses that the regulation 1013/2006 on waste shipments on the one hand allows the import of waste into a member state, even for profit, and on the other gives the government of any member state the right to decide on a case-by-case basis, in accordance with the national waste management plan.
Protests
The Albanian government tried to receive an approval from Brussels for the waste management law after President Bujar Nishani decreed the return of the law to Parliament on October 14, hoping that a positive answer would strengthen its argument in favor of allowing waste imports.
President Nishani's decree is expected to be discussed in the plenary session of November 24. Civil society organizations have announced a full day of protests in front of Parliament, seeking a complete ban on waste imports.
EU requirements
Albania faces a number of requirements with regard to waste management in the context of the EU accession process. In the 2016 Progress Report chapter on "Environment and Climate Change," the European Commission stated that the implementation of waste management regulations require that
Albania develops the necessary infrastructure, institutions and a system for monitoring control and reporting of waste movements. […] Rules on the control of ship-generated waste from marine transport need to be enforced. Waste segregation is non-existent and waste collection for recycling purposes is largely informal. The institutional capacity to manage waste still remains weak at all levels. Waste disposal remains largely noncompliant with environmental protection standards. Industrial waste management is poor due to lack of investments and weak law enforcement.