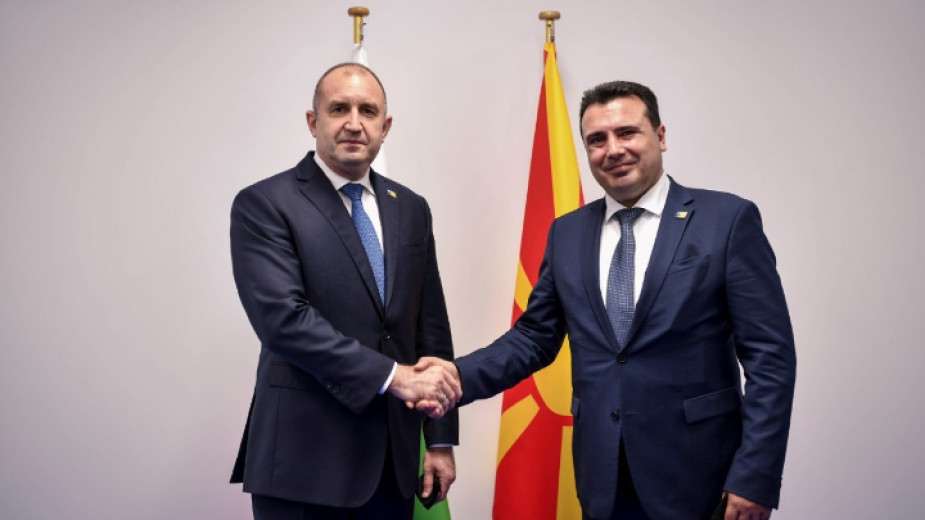 Bulgarian President Rumen Radev confirmed that his government does want North Macedonia to continue on its EU accession path, noting "it's not complicated" but that certain conditions must be met first.
Radev gave a statement following two meetings with Prime Minister Zoran Zaev, one mediated by EU Enlargement Commissioner Oliver Varhelyi and Slovenian Prime Minister Janez Jansa, and the other on the initiative of outgoing German Chancellor Angela Merkel and French President Emmanuel Macron.
The two meetings, undertaken in quick succession, took place on the first day of the EU-led Western Balkans Summit in Brdo, Slovenia.
"This is neither a veto nor a halt to the process; we want no more than what each of our European partners wants, to respect the basic European principles and interests of each EU member state," Radev said.
He detailed some potential steps that could be undertaken to overcome the crisis. Bulgaria has vetoed the opening of formal EU accession processes over issues to do with culture, language, and the alleged treatment of Bulgarians in North Macedonia.
Radev said that the identities of Bulgarians in North Macedonia are being "subtly erased".
"As long as our compatriots are subject to a subtle erasure of their identity until their fundamental rights are suppressed, and they are not fully integrated into the Republic of North Macedonia along with other parts of the population, there is no way for us to say 'yes' to starting negotiations," the Bulgarian president said, as reported by Euractiv.com.
The three demands laid down by Radev are that Macedonian Bulgarians are included on an equal footing in the constitution. Currently, Serbs, Albanians, Turks, Bosniaks, and Roma are mentioned, but Bulgarians are not.
Secondly, for the Macedonian census to reflect the self-identification of Bulgarians. Thirdly, he said that North Macedonia must recognise a "historical truth" and that textbooks in the country's schools should not include hateful language.
Bulgaria and North Macedonia will now work on a bilateral protocol that could see the veto lifted by November. However, upcoming elections in Bulgaria could pose a problem unless a caretaker government is willing to sign.