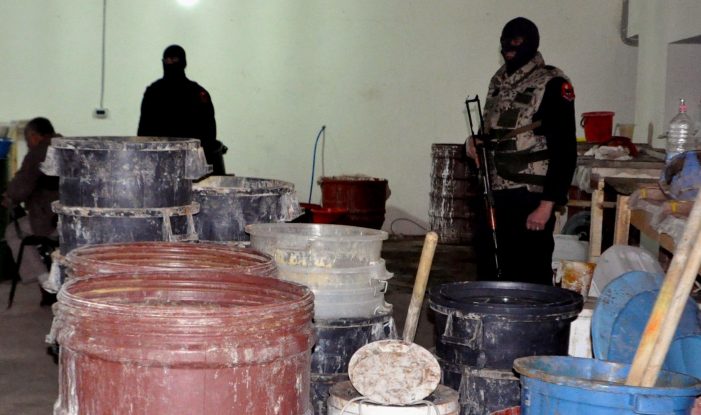 Today, the Has police discovered a heroin and cocaine processing lab in Has.
So far, we know that the police has confiscated about 150 kilograms of processed heroin that was ready to be sold, and an amount of opium, the main substance used for the production of heroin.
The police arrested ten people, and is still searching Has and the surrounding villages.
This is the fifth drug processing lab to be discovered in the country since 2015.
In January 2015, a cocaine processing lab was found in Xibraka, Elbasan. 121 kilograms of cocaine were seized, alongside €200,000, and two Colombians, as well as nine Albanians, were arrested.
On April 12, 2017, a drug laboratory for the processing of cannabis was discovered in Skrapar, including around 2000 pots wit cannabis plants. A few days earlier, a magazine with 1.2 dried, market-ready cannabis plants was found nearby.
On April 15, 2017, a drug processing lab was discovered in a Fier apartment building. In 6 rooms with a total surface of 220 sq.m., 2784 cannabis plants and 2820 pots with saplings were found. Additionally, 167 plants were found in the process of drying.
On April 14, 2017, a drug laboratory was discovered 5 km from the center of Tirana in one of the tunnels of the former Tractor Factory. Within the tunnel, isolated and outfitted with strong electric lamps and all the necessary infrastructure, a considerable amount of planted cannabis was found.