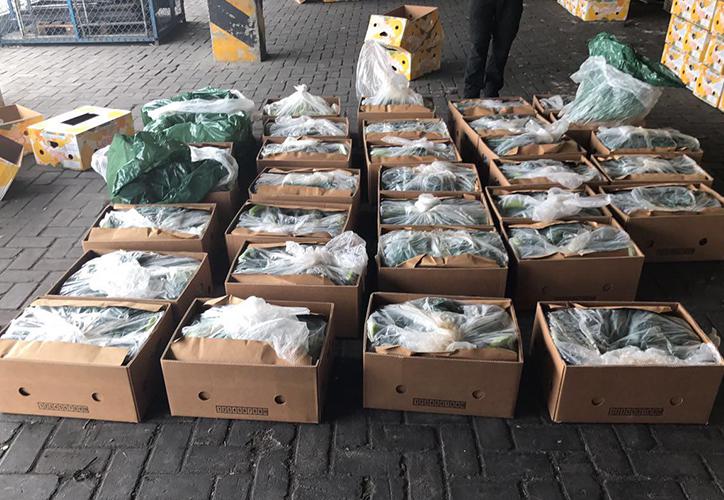 According to the official Mexican news agency, Notimex, the interception of 613 kilograms of cocaine in the port of Durrës was made possible through a combined effort of the Colombian National Navy, international agencies, and Albanian police.
The Colombian Navy's official statement attributes ownership of the cocaine to neo-paramilitary criminal group Clan del Golfo (the gulf's clan) and places its value at around 37 million dollars, estimated according to international black prices.
This estimate is nearly 5 times lower than the one given by the Albanian police. The latter seems to have calculated the value of the cocaine assuming it would be mixed with other substances that would increase its volume 3 or 4 times.
This statement, furthermore, seems to refute those of the Prime Minister, the Minister of Minister of Interior Affairs and the State Police who claim that the operation was solely the merit of Albanian Police and Customs with no cooperation with international agencies whatsoever.
The statement of the Colombian National Navy reads as follows:
In a coordinated operation in which the Colombian National Navy, international agencies and the Albanian police participated, 613 kilograms of cocaine were seized in the Albanian port of Durrës.

The confiscated drugs were found hidden under the floors of a container that left Colombia in mid-January, loaded with bananas, on board of a ship that had a few stops at various European ports before arriving in the Albanian one, where the container was unloaded.

The cocaine was seized thanks to the accurate information supplied by participating agencies that allowed the Albanian police to plan how to properly monitor the route taken by the container owned by an Albanian company from the moment it disembarked in the port until it arrived at the company warehouses near Durrës, at which point the police intervened to confiscate the container with the drugs.

Two persons were arrested in the operation: the vehicle's driver and an employee of the company.

At the same time, Albanian police delivered a Search and Confiscate order to the owner of the company and opened an investigation with their European homologues to uncover the identities of other persons involved with the drug shipment, indeed, the biggest one to have ever been seized in that country.
The police action has been claimed by different government officials to be a purely Albanian affair.