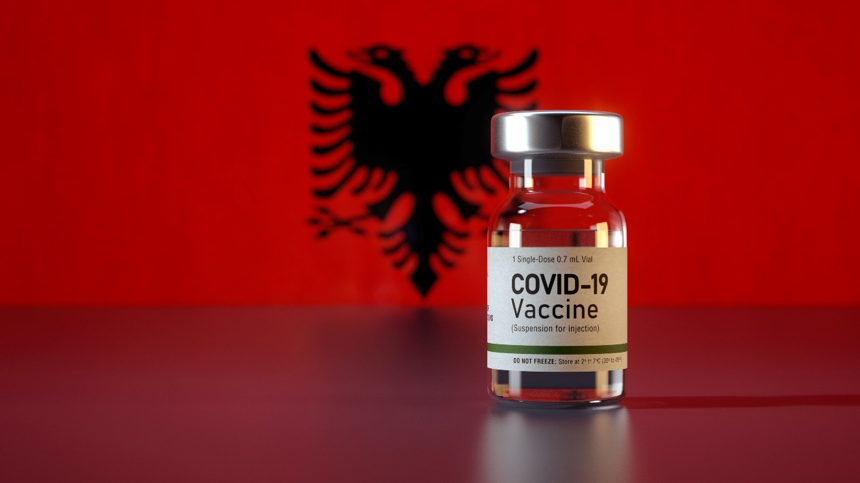 While June had seemed like the moment Albania had turned the corner, with infection rates dropping in the single digits, by the end of July (after a record number of visitors had entered Albania, surpassing pre-pandemic numbers), the tide had turned. In August, the number of daily cases reached just shy of 1,000.
Sometime in mid-August 2021, I finally surrendered to the supremacy of the Albanian summer sun and hailed my first taxi since the beginning of the pandemic. When I got in the car, I found myself in the middle of a conversation between the driver and his sister-in-law, thankfully conducted over speakerphone. After a thorough rundown of their family's various health issues and vacation plans, the discussion between the two turned to the pandemic with the sort of tiring, but inevitable momentum that characterizes everything regarding COVID at this point; the consequence of a global catastrophe having transformed into another fact of life.
"Yeah, I'm waiting for my family doctor to come back from the beach, so she can approve me for Pfizer," I remember the driver saying. His sister-in-law endorsed his plan—she was hoping to do the same.
The Albanian government is currently using three vaccines to immunize the population: Pfizer, AstraZeneca, and the Chinese-produced Sinovac-Coronavac. But while vaccination has been open to anyone over 18 since August, Pfizer vaccines (and to a slightly more limited extent, AstraZeneca) have been set aside for "priority groups," i.e., health workers and people with pre-existing conditions.
I didn't ask my driver why he was waiting to get a Pfizer vaccine when Sinovac-Coronavac was widely available at every vaccination centre. Anecdotal as they may be, I've heard plenty of family members and acquaintances who have postponed their vaccines in the hope of snatching a Pfizer jab when the next batch arrives.
Some are waiting on Pfizer because they see it as the vaccine preferred by the "West" and thus inherently more reliable. But it is also true that a certain subset, especially young people, are rolling the dice on Pfizer because the Sinovac-Coronavac is not recognized by most EU countries. Oftentimes this means that those wishing to travel abroad may be subject to stricter quarantine requirements, or may be barred entry if travelling for "non-essential purposes."
A Conventional Tale of Mismanagement and Misinformation
When it comes to explaining the resurgence of infections in Albania, the narrative practically writes itself. On the one hand, when the tourist season began in June, the Albanian government made the decision to ease all pandemic measures, becoming the only country in the region to allow entrance to foreign visitors with zero requirements; not even a negative COVID test.
At the same time, while all public events had a 30% capacity cap, in reality, summer festivals were packed, and pictures of participants shoved together like sardines, unmasked, abounded on social media. These pictures sometimes featured politicians and even foreign officials.
And while June had seemed like the moment Albania had turned the corner, with infection rates dropping in the single digits, by the end of July (after a record number of visitors had entered Albania, surpassing pre-pandemic numbers), the tide had turned. In August, the number of daily cases reached just shy of 1,000.
The government reversed this particular policy in September, once tourist season was over. It also extended curfew by one hour, and reiterated its mask mandate in indoor spaces. But the damage had already been done.
Infections have also been helped by Albania's spotty record when it comes to vaccination. Per the latest official numbers 754,020 Albanian citizens are fully vaccinated, or roughly 28% of the country's 2.8 million people. Vaccination uptake has slowed down despite vaccines being widely available to everyone over 18 since August 2021. This puts Albania on par with its neighbours, and far behind European Union numbers—an uninspiring picture considering that Albania was one of the firsts in the Western Balkans to begin administering vaccines.
In a sense, it is easy to see what is happening in Albania as merely a replication of global trends in the rise of anti-vaccine sentiment that precedes COVID, and has exacerbated since.
But it has been trickier to gauge the situation on the ground given the lack of hard data on Albanians' attitude towards vaccination at large and COVID-19 vaccines in particular. There are no national or international surveys that measure anti-vaccine sentiment in Albania. A quick search conducted in English and Albanian yields very few results, the most notable being an University of Minnesota survey showing that only 26% of Albanians think that vaccinating children is important.
Local journalists have nevertheless produced reporting that seeks to place Albania within the larger framework of how misinformation and the spread of conspiracy theories online have propelled forward a dangerous anti-vaccine movement. For example, a BIRN profile on notorious anti-vaxxer Alfred Cako highlighted how Albanian broadcasters have gladly given Cako and many of his ilk a large platform to spew misinformation about the debunked dangers of the vaccine, as well as the well-known anti-Semitic conspiracies that see the vaccine as a plot by the global elites to assert their domination.
The Louis Vuitton of Vaccines
Still, it is important to make a distinction here between those who fall prey to outlandish conspiracy theories, often couched in the language of personal choice, and those whose resistance to vaccination is grounded on a more complex constellation of reasons. I would argue that two interconnected elements have also played a significant role in slowing down the rate of vaccination in Albania. First, it's Albanians' reliance on the European Union—and the United States—as a behavioural and informational compass. And secondly, a pervasive fear among Albanians about permanently losing their freedom of movement.
Although on a steady decline, Albanians continue to trust the European Union and its bodies at high rates, especially when compared to the trust they place in local institutions and the Albanian government. It would not be far-fetched, therefore, to extrapolate that the EU's attitude towards certain vaccines may, in turn, influence how Albanians feel about them.
To give just one example, in March 2021, several EU countries temporarily suspended use of the AstraZeneca vaccine over health concerns, despite scientific consensus to the contrary. And this sense of doubt spilled over into Albania where, according to local and international media, teachers—one of the first groups to be vaccinated—grew wary of the vaccine.
In a similar vein, Albanians' hesitancy towards the Chinese produced Sinovac-Coronavac is likely to have been exacerbated by the European Union's attitude toward this latter. More specifically, while Sinovac has been authorized by the World Health Organization (and included in the COVAX scheme), the European Medicines Agency has yet to do the same. This despite clinical trials showing that it protects against hospitalization and death at a rate that is on par with Western-produced vaccines.
While the EMA's recommendations are not binding, EU member states tend to follow them closely. As a result, the majority of European Union member states do not recognize of the Sinovac-Coronavac vaccine, thus limiting the opportunities of those vaccinated with it to travel to the EU.
It is not hard to believe that for Albanians, many of whom have family abroad or have grown fond of the freedom afforded by the hard-won visa liberalization agreement since 2010, the idea that their vaccine may not be recognized, is enough to make them hesitate. They'd much rather hope that in the future, they'll manage to convince their family doctor to sign them up for a Pfizer jab instead. Indeed, interviews conducted by Euronews Albania in June showed that even those who did turn up at the free vaccination centres said they would have preferred Pfizer precisely for travel-related reasons.
The Albanian government has done little to assuage these concerns. In doling out Pfizer (and AstraZeneca) to a limited group of people, and especially by saving them for those considered "at risk" because of underlying conditions, they are spreading a message that there is something better about Pfizer. It is no wonder that I heard a friend jokingly refer to Pfizer as "the Louis Vuitton" of vaccines.
Things may change. In late September, official numbers began to decrease, even as fatalities have remained high. And while vaccines are not mandatory for everyone, they are required for university students, teachers, health workers, and now even members of parliament. Albania just reached another deal with Pfizer to purchase another half a million doses, which might solve one issue.
Yet, reversing this trend will require a multipronged approach that tackles disinformation and misconceptions. The government's forgettable "Albania Smiles" vaccination campaign has landed with a dull thud compared to the feverish and simplistic appeal of viral conspiracy theories. But it will also require good faith collaboration from those states and institutions whose refusal to recognize certain vaccines belies a preference for competitive politics and profit over human lives.
Until that changes, with vaccine rates still low, and pandemic restrictions that remain largely unheeded, Albania may need to prepare for a harsh winter ahead.
The blog was created as part of the "Tales from the Region" initiative led by Res Publica and Institute of Communication Studies, in cooperation with partners from Montenegro (PCNEN), Croatia (Lupiga), Kosovo (Sbunker), Serbia (Autonomija), Bosnia and Herzegovina (Analiziraj.ba), Albania (Exit), Slovenia (DKIS) and Greece (Macropolis), within the project "Connecting the Dots: Improved Policies through Civic Engagement" with the support of the British Embassy in Skopje.