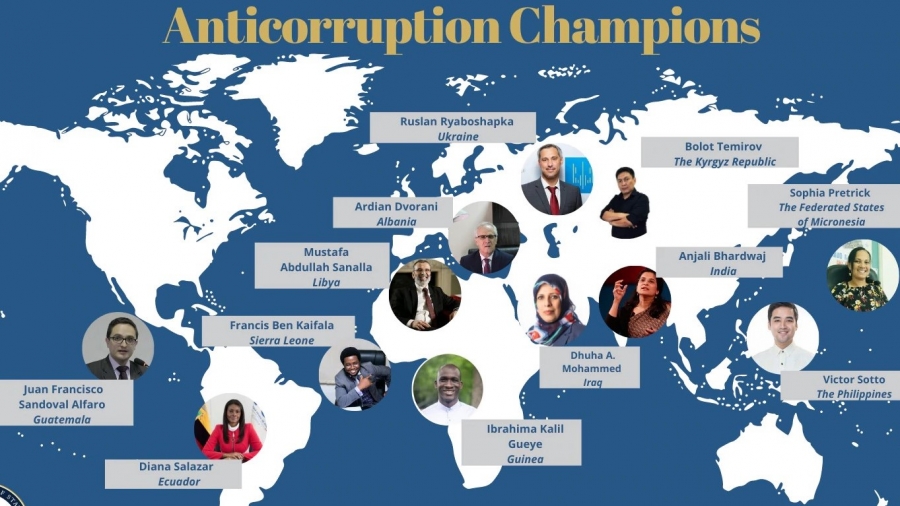 Whereas the US State Department signaled a radical break with the inglorious policies of former State Secretary Pompeo and his sidekick Richard Grenell by urging Serbia to recognize Kosovo unconditionally, its attitude toward Albania appears instead to show a sad and, frankly, worrying continuity with the previous government. In a move that is a slap in the face of not only the Venice Commission and those few civil society actors who have critically followed the meltdown of the Justice Reform, but also the victims of the communist dictatorship, the State Department decided to honor Ardian Dvorani, former head of the High Court and Justice Appointments Council (KED), as "anti-corruption champion":
Ardian Dvorani, Judge and Member of the Justice Appointments Council, is a key proponent of reforming Albania's judicial system. Judge Dvorani developed mechanisms to reduce political and criminal influence in the justice system, steps that contributed to the EU's decision in March to open negotiations for Albania's accession. Judge Dvorani was also an essential member of the group of experts who developed the vision and legal provisions for Albania's justice reform, helping to combat corruption and protect Albania's nascent judicial institutions after sweeping constitutional changes to Albania's justice sector in 2016. His insight led to constitutional protections for Albania's new anticorruption body, the Special Structure Against Organized Crime and Corruption.
First of all, the text contains a blatant error, as Dvorani is no longer a member of the KED. Otherwise, the praise here is remarkably vague, especially compared to other recipients of the honor, such as Diana Salazar, who "prosecuted some of the Andean region's highest-profile corruption cases," Sophia Pretrick, who "almost single-handedly raised the profile of anticorruption activities,"and Juan Francisco Sandoval Alfaro, who "was instrumental in the investigation and conviction of former President Alfonso Portillo and two ministers on charges relating to money laundering and the embezzlement of $15 million." Dvorani is mainly heralded for his legal vision underlying the Justice Reform, which, for anyone who has followed my writings since 2016, is clearly one of the most miserably drafted pieces of legislation ever to be adopted in Albanian parliament, under huge international pressure, and with little regard for real-world implementation. It was a massive legal experiment, without any substantial guidance, control, or evaluation.
There is indeed very little concrete evidence that Dvorani was such an "anti-corruption champion." Starting his career as prosecutor in Shkodra under the communist dictatorship, where he hunted down political opponents of the regime, his tenure as one of the senior figures in the Justice Reform was marred with problems from the start. Even though his mandate at the High Court had officially ended in February 2014, he used a legal loophole to stay in power, passing the vetting despite discrepancies in his wealth declarations that for other judges had been grounds for dismissal.
As head of the High Court he also presided over the KED, where he floated damaging proposals such as skipping the vetting for candidates for the Constitutional Court. I am not sure if this should be called "insight." He personally started a battle with President Ilir Meta over the election procedure for new Constitutional Court judges, escalating the conflict until eventually the Venice Commission eviscerated Dvorani's arguments.
In all of this, Dvorani was openly supported by Prime Minister Edi Rama, EU mission EURALIUS, and the US Justice Department's OPDAT mission, all of which have played questionable, if not to say detrimental roles in the actual implementation of the Justice Reform – which now broadly, if silently, is considered a failure. These are the very same supporters who now celebrate the US State Department's announcement. Prime Minister Edi Rama immediately heralded Dvorani's recognition, praising him, and therefore indirectly himself, for his fight against "Evil" (the infamous, and imaginary, Grab-What-You-Can mafia cartel), whereas EU Western Balkans Chief Genoveva Ruiz Calavera, who was recently "promoted away" to the EU's translation service after allegedly improperly intervening in the Venice Commission's consideration of changes to the Albanian constitution, celebrated the "courage of citizens & representatives of institutions," a humble brag lined with the blatant hypocrisy we have become all too accustomed to.
It requires little effort to imagine how the Albanian government, EURALIUS, and OPDAT collectively lobbied for Dvorani's recognition by the US government after his stranglehold on the KED and High Court was finally broken, not only as a way to "thank" Dvorani for his service to a mafia-supported government, but also as an indirect repudiation of his public critics, including President Meta. If Dvorani is indeed an "anti-corruption champion," anyone who criticizes him must be on the side of those who are corrupt.
The State Department's recognition of Dvorani is nothing for Albanians to be proud of, but will no doubt serve its propaganda purpose in the months leading up to the elections, one that Prime Minister Rama will milk for all its worth.