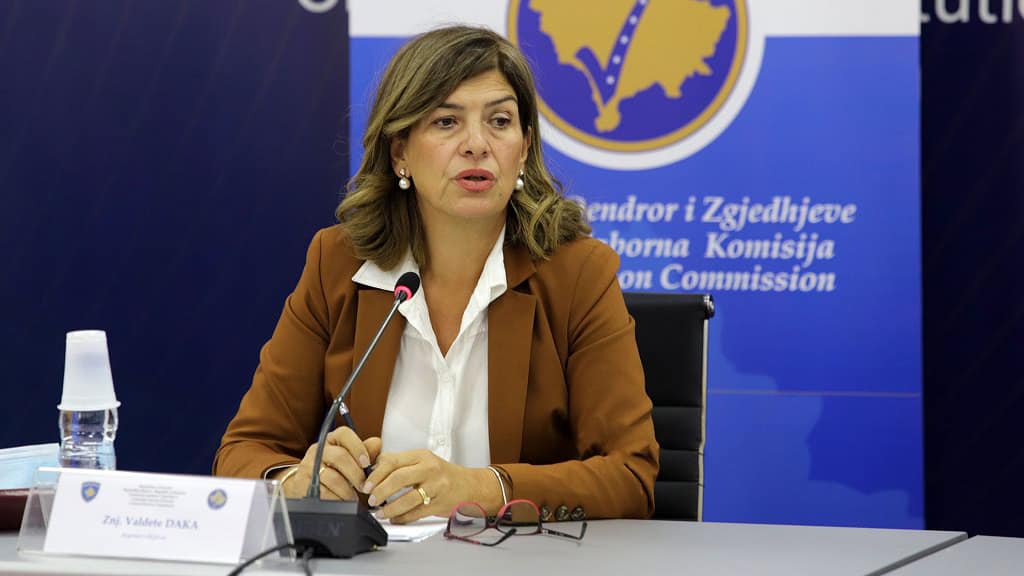 More than ten non-governmental organizations, including the Kosovo Democratic Institute, the Kosovo Institute for Political Studies, and Democracy for Development, opposed the decision taken by President of Kosovo, Vjosa Osmani, to dismiss the chairwoman of the Central Election Commission (CEC) Valdete Daka.
"This decision is politically motivated as a result of a change of power after the last elections," reads the NGOs' statement.
Following a ruling of the Constitutional Court stating that no person convicted with a final verdict by a Kosovo court in the last three years may be sworn in as an MP, which banned Prime Minister Albin Kurti from running, Daka stated in January that accusations by political parties interfere with her work.
She also said that public threats against her and the concerns they cause to her family are "dangerous and unprecedented."
At the time, Glauk Konjufca, current speaker of parliament from the ruling Vetevendosje, accused Daka of wanting to "politically eliminate" Kurti.
Osmani's dismissal decision states that "[t]hrough her actions, the head of CEC has violated the independence and integrity of CEC, particularly during the early elections on February 14."
The head of the European Union office in Kosovo, Tomas Szunyog, said that it is important that all procedures be in line with Kosovo law.
"[The CEC's] independence [must be] safeguarded to ensure professional and timely preparation of municipal elections and electoral legislation reform," Szunyog wrote in a Twitter post.
Abelard Tahiri of the opposition Democratic Party of Kosovo (PDK) said that legal experts of his party are reviewing Osmani's decision, as well as options to contest the decision before the Constitutional Court.
"The decision is unacceptable," Tahiri commented, adding that "the decision was taken by [Prime Minister Albin] Kurti and was only approved by Mrs. Osmsani."
Officials of the Democratic League of Kosovo (LDK) said that the party has received the decision with great concern, as Daka has exercised her duties independently and professionally according to them.
Daka was appointed as chairwoman of the CEC in 2010. Kreshnik Radoniqi was assigned to the position after her dismissal.