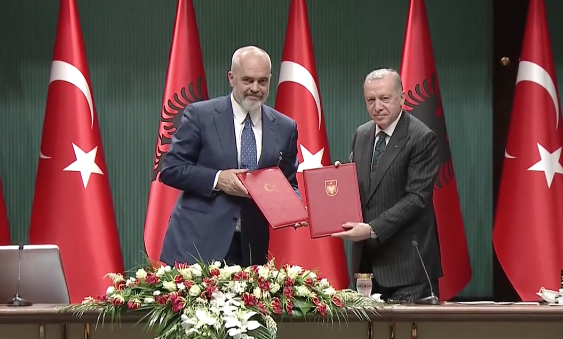 President of Turkey Recep Tayyip Erdoğan will address the Albanian Parliament on Monday, January 17.
The Albanian Parliament will convene on Monday at 5 p.m. for its first session for 2022.
According to sources at Euronews Albania, Erdoğan, who will be on a visit to Tirana next week, has been invited to give a speech at this inaugural session.
During his first two terms Albanian Prime Minister Edi Rama has built close ties with Erdoğan, establishing a High Council for Strategic Cooperation in January 2021.
According to Turkish parliamentary speaker Mustafa Sentop, Turkey has invested some $3.5 billion in Albania and more than 600 companies operate in the country.
Rama has also aided Erdoğan's pursuit of exiled Turkish cleric Fethullah Gulen and his followers.  These cases, involving more than 100 people, were described by United Nations rapporteurs as "extraterritorial abductions", "forcible return", and "enforced disappearances."
Read More