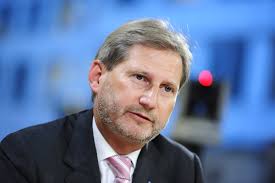 European Commissioner for European Neighbourhood Policy and Enlargement Negotiations, Johannes Hahn urged Ministers of Foreign Affairs from EU Member States to support opening EU accession negotiations with Albania and Macedonia.
A day before the Foreign Ministers' meeting, set to take place on June 26 in Luxembourg, Hahn stated:
We are all conscious – and I hope this will finally be the case – how important it is to give a positive signal to the region.

If this [Macedonia and Albania's attempts] is not rewarded comprehensively, I think there will be extraordinary and immediate consequences for the region's stability.
So far, most of the Member States have supported opening negotiations, however some, like France, the Netherlands, and Germany, have demanded further reforms and tangible result in the fight against crime and corruption.
The final ruling on the opening of accession negotiations will be decided during the 28-29 June EU Summit. The decision must be unanimous.