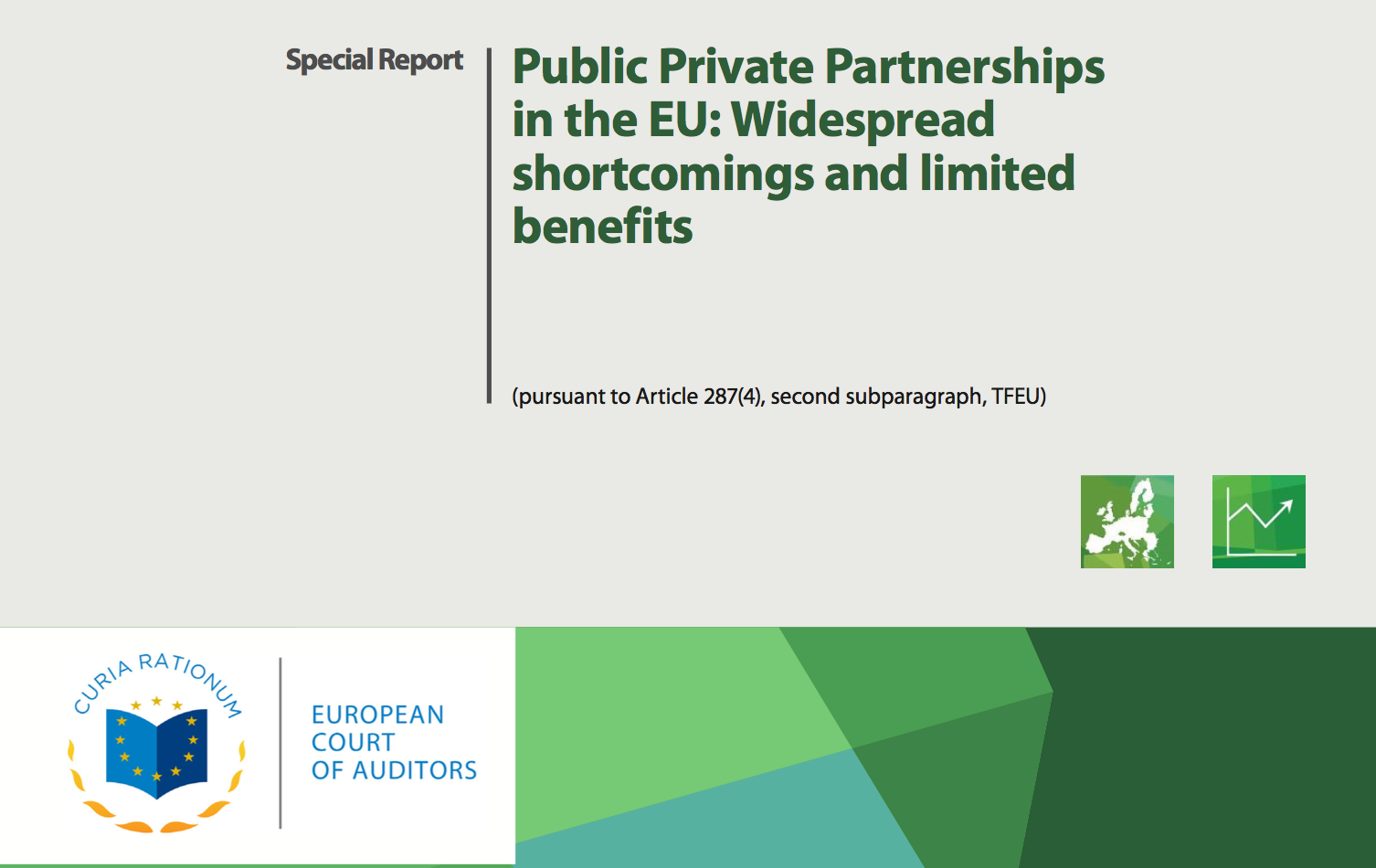 In a report presented yesterday, titled "Public Private Partnerships in the EU: Widespread shortcomings and limited benefits," the European Court of Auditors (ECA), an official EU institution that audits the finances of the entire EU, states that:
EU co-financed Public Private Partnerships (PPPs) cannot be regarded as an economically viable option for delivering public infrastructure […]. The PPPs audited suffered from widespread shortcomings and limited benefits, resulting in €1.5 billion of inefficient and ineffective spending. In addition, value for money and transparency were widely undermined in particular by unclear policy and strategy, inadequate analysis, off-balance-sheet recording of PPPs and unbalanced risk-sharing arrangements.
For the report, the ECA assessed 12 EU co-financed PPPs in France, Greece, Ireland, and Spain, focusing on infrastructure and ICT projects. It concluded that in seven of the nine projects already completed, delays of up to 52 months had occurred, as well as major cost increases. In most cases, "prior analyses had been based on overly optimistic scenarios."
In Albania, PPPs have become the preferred mode of investment of the Rama government, funding anything from schools, healthcare, and airports to roads, landfills, and theaters, already amassing a bill for the Albanian people of €70 million in 2018 – all of which, the government claims, should not be counted as public debt. All of the concessions under the Rama government have been given to companies close to it, with minimal competition, often by granting "bonus points" to "unrequested" proposals.
The ECA report concerning inefficient spending and "unbalanced risk-sharing arrangements" echoes earlier warnings of the IMF in Albania, recently even calling for a complete stop on PPPs.
The new report from the ECA suggests that however they are formulated, pubic–private partnerships are simply not a financially and economically sound way to manage public investments and risk. The ECA recommends EU member states that they should
– not promote more intensive and widespread use of PPPs until the issues identified have been addressed;

– mitigate the financial impact of delays and re-negotiations on the cost of PPPs borne by the public partner;

– base PPP selection on sound comparative analyses of the best procurement option;

– ensure the necessary administrative capability and establish clear PPP policies and strategies to implement successful EU-supported PPPs;

– improve the EU framework for better PPP project effectiveness, so that the choice of the PPP option is justified by value-for-money considerations.