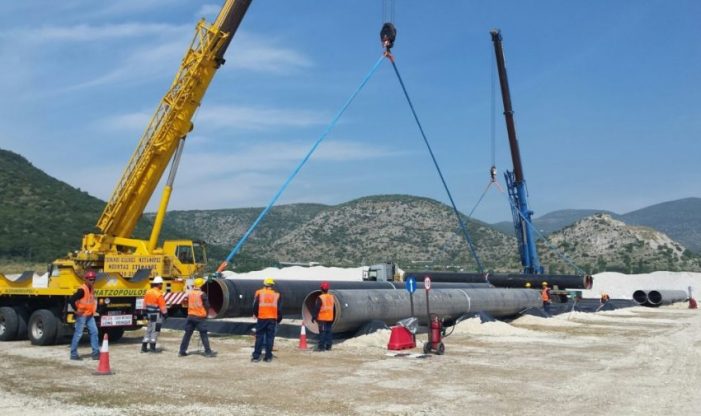 As the EU talks of 'freedom' from Russian gas for central and eastern Europe and the Balkans, brought by increased imports from Azerbaijan, sceptics warn it comes at a cost: increased reliance on a country engaged in a conflict and with a recent history of bribery and corruption in Europe.
At the opening of the Greece-Bulgaria gas interconnector on Saturday, European Commission President Ursula von der Leyen said the link, which will see increased Azerbaijani gas deliveries to Sofia and the region, is a "game changer" bringing "freedom from Russia" to the region.
On Friday, following a proposal from Bulgaria, Romania, Hungary and Slovakia to ship more Azeri gas into the EU, with EU funds, Azerbaijan's President and the Organised Crime and Corruption Reporting Project (OCCRP) 'Person of the Year 2012' said: "I am certain that it would allow not only Azeri gas to come to Bulgaria but also to Europe in bigger volumes and will support the energy security of the European continent as a whole."
However, sceptics warn of risks associated with increased reliance on a country engaged in a conflict and a recent history of bribery and corruption in Europe.
Unclear deal, increased Azerbaijani presence
Azerbaijan currently transits 16 billion cubic meters through TANAP annually for Turkey, Greece, Bulgaria and Italy. However, there are plans afoot to double this capacity to 20 billion cubic meters a year. At the same time, Hungary, Romania, and Slovakia also want to adapt their networks to bring in Azeri gas, with the EU footing the bill. But there is no doubt this would significantly increase Baku's influence and power in the region.
Czech Pirate party MEP Markéta Gregorová is doubtful about the gas imports memorandum signed between the EU and Azerbaijan for increasing imports. According to her, the EU should learn from its previous experience with Russia and not increase its dependence on dictatorships.
She said the deal envisages long-term cooperation with no time limits and misses any control mechanisms, which she calls "a dangerous precedent."
https://www.euractiv.com/section/politics/short_news/czech-mep-eu-azerbaijan-gas-deal-was-mistake/
Moreover, the politician sitting with the Greens in the European parliament said the presence of Azerbaijani politicians and ambassadors in Brussels and Strasbourg has "certainly intensified over the past few weeks".
In a meeting with them, she said, rather than discussing recent escalation with Armenia, "to my shock, they wanted to start addressing gas and strengthening cooperation."
"I made it clear to them that as long as they shed blood, I did not care what memorandums of cooperation they signed with the Commission. They will not get automatic acceptance in Parliament," she told EURACTIV about the ongoing conflict with Armenia.
The European Commission has not replied to EURACTIV.cz's request for comments regarding the lacking control mechanisms in the deal with the South Caucasian country by the time of publication.
Earlier this summer, when asked if the EU will have a specific mechanism to ensure that the increased flow of EU money to Azerbaijan will not be used for conflict or human rights violations, an EU official said, "the EU does not exercise control over the spending of trade revenues of the third country from legitimate commercial oil and gas operations with the EU Member States.
Fidanka McGrath, Strategic Area Leader at Bankwatch, told EURACTIV, "one has to question the wisdom of the European Commission and EU governments when substituting their dependency on the oppressive and war-raging regime of Vladimir Putin with increasing reliance on authoritarian and bellicose Azerbaijan."
The organisation also noted that Azeri gas is not a real alternative to Russian gas due to links to Lukoil, which extracts gas in the country and has various interests in its gas sector.
History of corruption
Much has been said about human rights issues present in Azerbaijan, but there has been little in the way of column inches on the risk of corruption, not just in the country but in the EU as well.
In 2017, the European Commission approved a deal between Malta and Azerbaijan that would see Maltese taxpayers lose tens of millions of euros every year, according to a leaked tranche of documents given to investigative journalist Daphne Caruana Galizia who was then assassinated before she could publish it.
The more than €1 billion deal would see Malta import gas from state-owned Azerbaijani company SOCAR, for the next ten years, at a cost of twice the market rate. SOCAR would buy gas from Shell for $113 million before selling it to the Electrogas consortium (also including SOCAR) for $153 million while making a $40 million profit. The Electrogas consortium would then sell it to Enemalta, which supplies households and businesses in the small EU-member state.
The Electrogas consortium includes a company owned by Yorgen Fenech, who is currently on trial for ordering the assassination of Caruana Galizia in 2017. Furthermore, Maltese police and the journalist's son, Matthew, believe the motive for her assassination was linked to her investigation of the power plant and the deal.
The deal was struck in 2014 when SOCAR had zero experience in producing or trading LNG and was subsequently slammed by the Maltese National Audit Office over irregularities, significant risks, and a lack of fraud, bribery and corruption controls.
The "sinister" Azeri gas deal was also condemned by a Council of Europe (CoE) assessment authored by Special Rapporteur Pieter Omtzigt, looking into the murder of Caruana Galizia. His report noted that the "facts have given rise to widespread suspicions of corruption and money laundering" and that government officials were "instrumental" in arranging for certain parties to illegally profit from the deal.
On the news of the EU-Azeri deal, the Daphne Caruana Galizia Foundation told The Shift News, "The EU's decision to sanction Russia and then sign an agreement with another state run by a kleptocrat is questionable, as it is partly replacing energy reliance on one kleptocratic state with a long-term reliance on another."
Maltese European Parliament President Roberta Metsola had also previously told Lovin Malta the EU should steer clear of autocratic regimes when looking for gas partners.
Azeri bribing of EU politicians
But the history of Azerbaijan's corruption in EU gas deals must also be looked at through the context of the 2017 investigation, the Azerbaijani Laundromat. The OCCRP, in collaboration with many European media, revealed that between 2012-2014, the government in Baku funnelled almost $3 billion to launder their reputation and buy support in Europe.
Politicians found to have been corrupted by the scheme involved those from Germany, Slovenia, Bulgaria, Belgium, Italy, Denmark, Estonia, Hungary, the UK, figures within the Parliamentary Assembly of the Council of Europe, and allegedly, UNESCO. Money was also shuffled between sports stars, journalists, musicians, and media tycoons.
Back in 2017, NGO Bankwatch condemned the EU for its growing business ties with Baku in relation to the scandal. In particular, they pointed at the Southern Gas Corridor, a joint project which saw a record sum of EU money loaned, with SOCAR as a key shareholder.
The Southern Gas Corridor, which consists of Azerbaijan's Caspian Shah Deniz 2 gas field, transports gas to Europe first through the South Caucasus Gas Pipeline, then through the Trans-Anatolian Gas Pipeline (TANAP), and Greece using the Trans-Adriatic Gas Pipeline (TAP). The gas pipeline system became fully operational on December 31, 2020.
The project is seen as a key element in reducing Russian supplies to the region, which will be replaced by Azeri pipeline gas and liquefied natural gas via terminals in Turkey and Greece.
As of 1 October, Bulgaria and Greece launched the operations of a new gas connection between the two countries with a capacity of 3 billion cubic metres, a third of which is Azeri gas. Through connectors in the region, Romania and Greece are also looking at upping imports. At the same time, Albania and North Macedonia are also interested, meaning they could soon become Baku's clients.
While many countries that supply gas have concerning human rights records, few have such a long rap sheet, including the recent billion-dollar bribery and illegal lobbying of EU politicians and a corruption scandal in a member state linked to the murder of a journalist.
The need to keep Europe warm this winter is great, but the cost of this in relation to corruption risk and the fundamental values of the European Union, watchdogs warn, keeps rising.