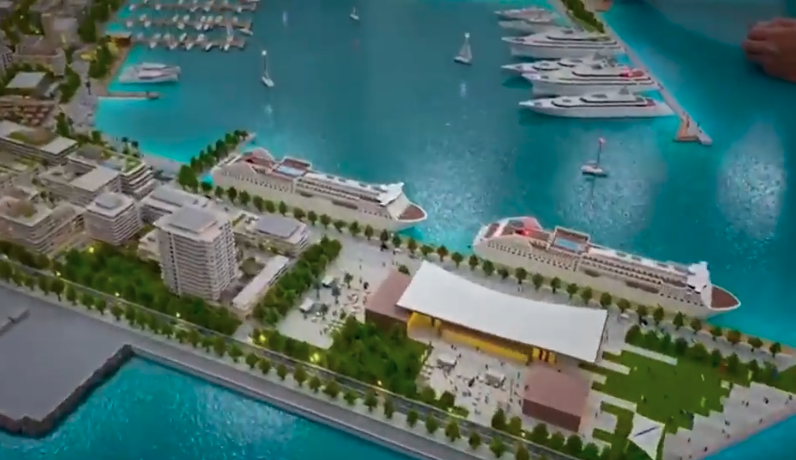 The European Commission is closely monitoring a deal to turn the Port of Durres on Albania's Adriatic coast into a tourist attraction with luxury apartment complexes and a yacht marina in collaboration with United Arab Emirates stakeholders.
The agreement is between the Albanian government and the companies Eagle Hills Real Estate Development LLC, Albanian Seaports Development Company sh.a and Nshmi Development LLC and has been defended by the government amid significant criticism from the opposition over a lack of competition, transparency and possible violations of the Association Stabilisation Agreement with the EU.
"As for the trade agreement between Albania and the United Arab Emirates, the EU will continue to monitor the importance for the SAA and compliance with it, in dialogue with the Albanian institutions," said the office of the EU Delegation in Tirana when asked by BIRN.
The delegation confirmed they had cancelled a planned investment of EUR 27 million into a previous iteration of the port project due to "modification of the project and change of use of the current port".
"We are also consulting with government representatives about investment priorities in this direction," added the EU office in Tirana.
Back in March 2021, the delegation said the same thing- that they were requesting clarification from authorities over the deal.
"The EU is aware of the agreement concluded in November last year between Albania and the United Arab Emirates, which includes a major redevelopment of the Durres port.
The EU has asked the Albanian authorities to provide clarifications in order to assess the compliance of the agreement with the Stabilisation and Association Agreement between the EU and Albania," they told Exit at the time.
The law on the development of the Port of Durrës provides for the free transfer of a land area of ​​812,600 m2 in favour of investors. The agreement was approved by an accelerated procedure in the Assembly, while the government kept secret a part of the agreement relating to the identity of one of the beneficial owners behind the investment.
The government dismisses the criticism and insists that this project serves the economic development of the coastal city and will transform it into the Dubai of the region.
BIRN asked the government whether the project could endanger EU accession prospects.
"The agreement for the port of Durrës does not endanger any integration process…Obviously, withdrawing from this development is not an option, especially since no one is asking for such an absurdity," said a spokesperson.
The opposition claims that the planned development violates several articles of the SAA that require open competition and the non-discrimination of EU entities.