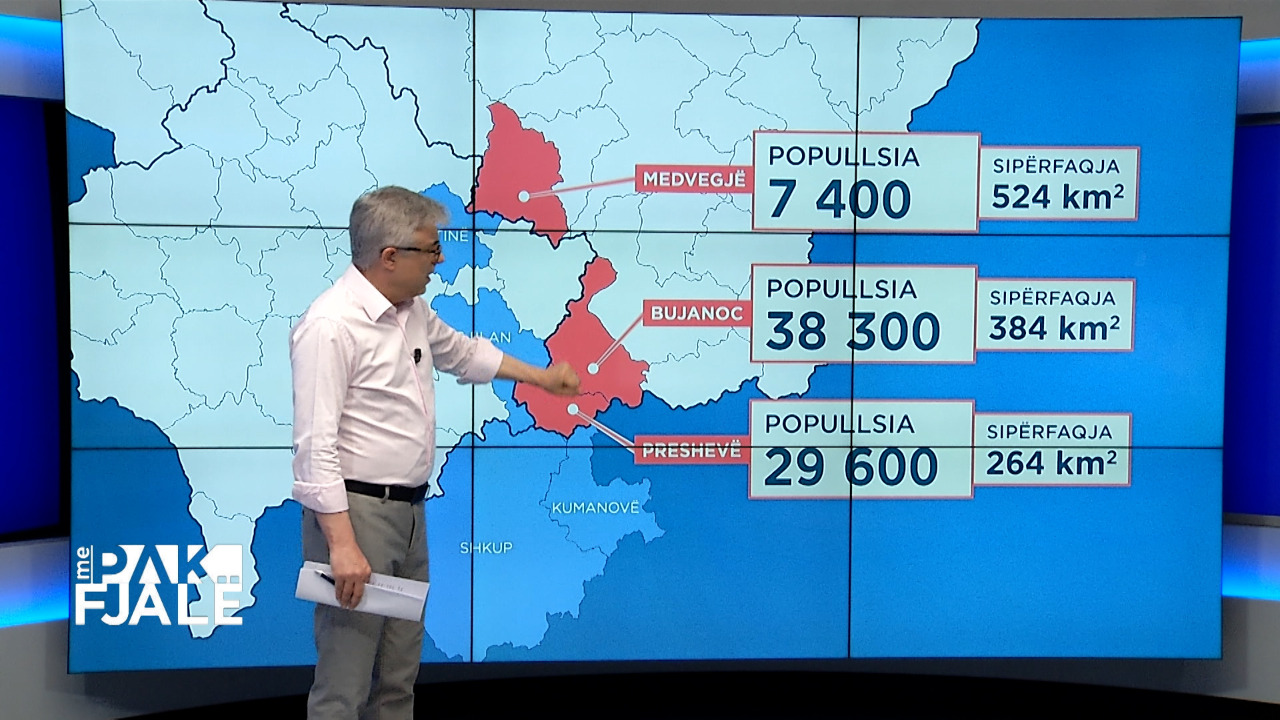 On Tuesday, on his "Me pak fjale (In a few words) show on Euronews Albania, Neritan Sejamini co-founder of Exit addressed the situation of Albanians living in Serbia and the efforts of local authorities to move them away from these areas.
Ethnic Albanians of Serbia have been under pressure from the state to leave their home, through what they claim are provocations, harassment and violence since Kosovo declared its independence in 2008.
Amnesty International and Human Rights Watch, Helsinki Committee, etc have reported extensively on this issue.
These citizens were left in poverty, which was used to make them to leave their properties and move to Kosovo,  North Macedonia or elsewhere.
The latest move by Serbian authorities to encourage the depopulation of Albanian-majority areas is de-registering them from their addresses.
In November 2011, Serbia adopted the Law on Residence of the Citizens which gives the authorities the right to physically inspect houses where citizens live. According this law, authorities must verify if the persons are living at the address they declared. If it is concluded that the person no longer lives there or lied about the address, then this address is "passivated".
After being notified, the person has eight days to complain or they are de-registered as a resident of that area.
De-registered citizens have no right to renew their documents and are excluded from several rights, such as the right to vote, receiving public services such as health, education, etc and their properties can be taken over by the state.
Around 50,000-70,000 ethnic Albanians live in the territory of Serbia.
Flora Ferati-Sachsenmaier a Research Fellow at the Max Plank Institute for the Study of Religious and Ethnic Diversity, said that there are at least 4,000 ethnic Albanians de-registered during last years and have therefore lost their rights.
Most of Albanians in Serbia are from Presevo Valley, which is located on the border with Kosovo and comprises of the Municipalities of Presevo and Bujanoc where the majority of the population is Albanian. Also politically, Medvegja Municipality is part of the Valley. Other ethnic Albanians are from Novi Pazar and present in several other areas.
Tirana and Prishtina Neglected the Issue, Researcher Says

Accusations were made public by Flora Ferati-Sachsenmaier for Exit News through her article "Serbia is Depopulating Presevo Valley from Albanians at Alarming Levels" published on May, 2020.  
Ferati-Sachsenmaier told "Me Pak Fjale" that the passivitzation of the Albanians in the Presevo valley began to be applied on an alarming scale when an idea for territorial exchange between Kosovo and Serbia was being discussed.
"Prishtina and Tirana did not react in time […] It is not that Tirana and Prishtina did not know about it. We have had total negligence for a long time," she said.
The European Parliament called for an independent investigation into these allegations.
"[The European Parliament] Is deeply worried about the allegations that the Serbian authorities are abusing the law on the residence of citizens and the 'passivization' of residential addresses of citizens of Albanian ethnicity living in southern Serbia in a systematic and discriminatory manner; calls for independent and thorough investigations into these allegations and on the Serbian authorities to cease all discriminatory practices and targeting," reads EP's resolution adopted on March 25.
"There are over 3,000 ethnic Albanians removed [from the civil regiser] in Medvegja […] Albanians [form Serbia] who married Kosovo Albanians women have been denied access to documents in Serbia, wives and children are also denied," Ferati-Sachsenmaier said.
According Ferati, Serbia's aim is to change the ethnic balance in the Presevo Valley, in order to get a Serb majority in local councils.
"Due to passivity from 2015-2020, 4,000 people have been removed from the lists [in Medvegja]. In 2015 there were three [Albanian] municipal councilors and now there are only three left […] The current Serbian mayor was elected with 65% of votes, which is 2764 votes, at a time when over 3094 Albanians have been inactivated," the researcher said.