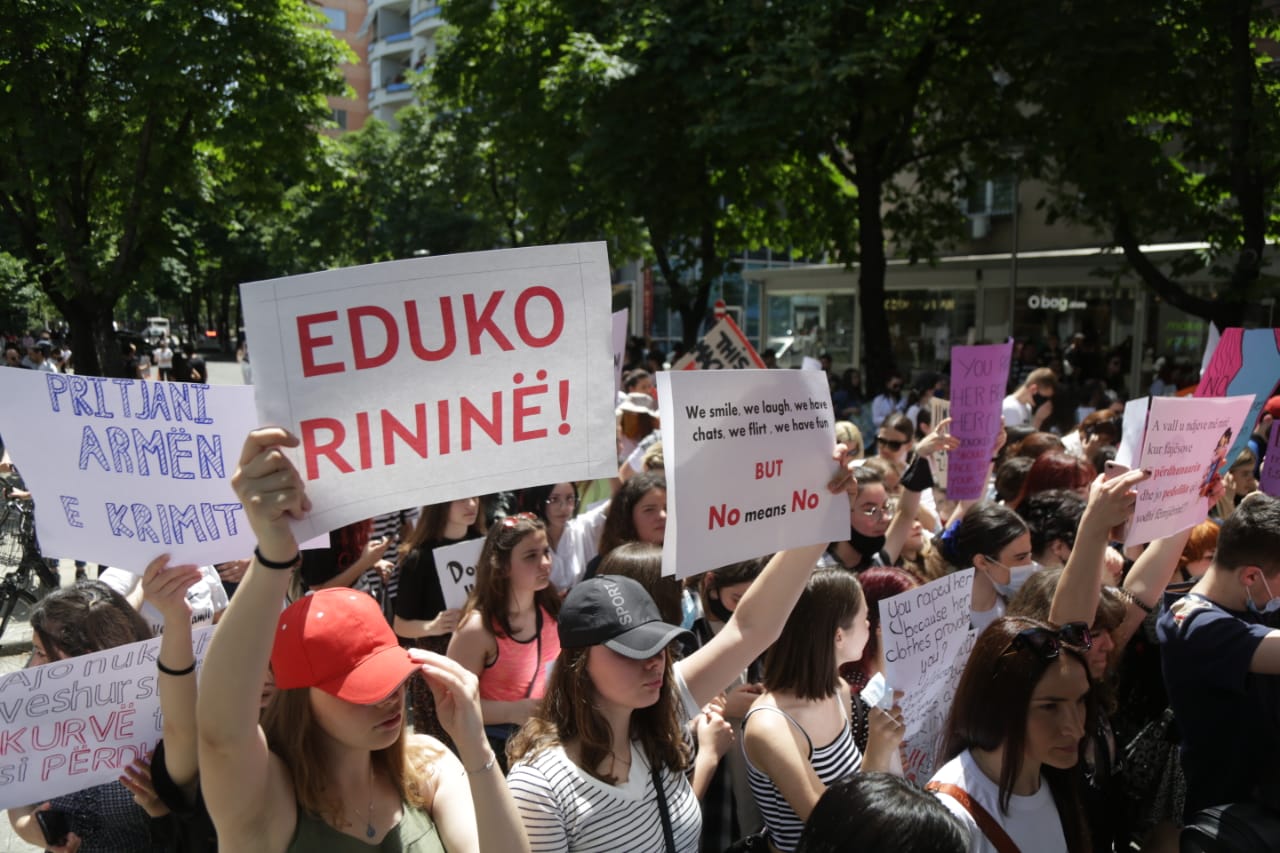 Feminist activists interrupted an event organized by the Ministry of Education to demand comprehensive sex education in Albanian schools. 
On Wednesday, the Ministry of Education held a public consultation to discuss a draft of their National Education Strategy for 2021-2016. Activists invited to the event disrupted the presentation holding a banner with the demand "Sex Education in schools, Now."
Activists highlighted that the discussion made no mention of recent cases of sexual violence that have swept the country, mainly against young girls. 
"The Ministry of Education continues to be silent about the fact that over the last 30 years, the education system in Albania has not prioritized an adequate education on gender and sex issues, socially acceptable behaviors, respect for each other, acceptance of diversity and other core values of developed societies," Klaudina Kuçi, an activist, said.
Over the past week, the Feminist Collective, an activist group, have sprayed graffiti over the walls of the Ministry of Education, writing, "When are we going to talk about rape,"  "Sex Education in Schools," and "Ministry of Education, wholesale silence on sexual assault."
In addition to comprehensive sex education in middle and high school curricula, the Collective has put forth demands for the opening of Departments of Gender Studies in public universities, measures to transform schools into safe spaces for children, women, and LGBT+ individuals, and reduction of university tuition fees, especially for girls and women.
The Ministry's draft proposal addresses gender inequality and the problem of sexual assault in their report, stating that students will receive information on gender equality, gender stereotypes, gender-based violence and domestic violence in schools. Details about how such lessons will be drafted will be forthcoming, according to the report.
The report already foresees training for teachers, social workers, school psychologists and recommends textbooks on gender issues to reduce gender-based violence.
During the next five years, the Ministry foresees an increase in the number of social workers/psychologists in schools, from 1 per 700 students, to two for the same amount of students.