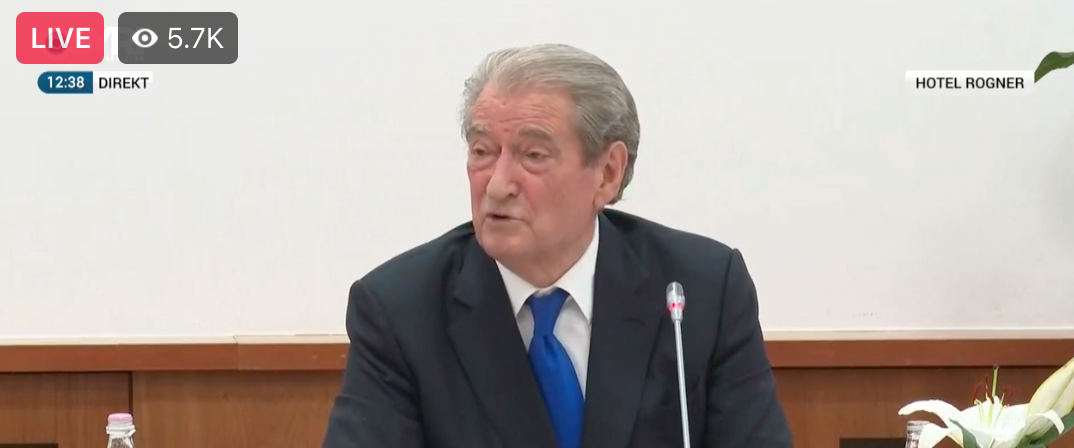 Sali Berisha will be a member of parliament with the opposition Democratic Party parliamentary group, he announced on Thursday, despite demands by the United States for PD leader Lulzim Basha to exclude him from the new legislature in September.
"There is no force on earth, except God, to prevent me from exercising the mission I was trusted with by Albanian voters. I will enter parliament, according to Albanian voters' will. I have no other parliamentary group apart from that of the PD. Even if only one [deputy] remains there, that will be me," Berisha told journalists during a press conference on Thursday.
During the conference, the former leader announced he had filed a defamation lawsuit against US Secretary of State Anthony Blinken, following a ban on the Berisha family from entering the United States on grounds of "significant corruption."
Last week, US Ambassador Yuri Kim publicly called on Basha to exclude Berisha from the parliamentary group of the largest opposition party.
On Thursday, Berisha said Basha had told him about his meetings with Ambassador Kim, in which the current PD leader had asked for evidence against Berisha. Kim had replied that the US has the evidence, but they cannot provide Basha with it, he said.
Berisha repeated calls on the US administration to release all evidence against him, and denied all allegations of involvement in corruption.
Asked whether elected members of parliament from the PD could demand his departure from the party, Berisha warned he would then rally opposition supporters against party leadership and government.
"I would fight against any decision that would opt for dictated orders instead of transparency, in alliance with every democrat and every Albanian in a final battle against this regime. I could do this from within the PD," Berisha stated.