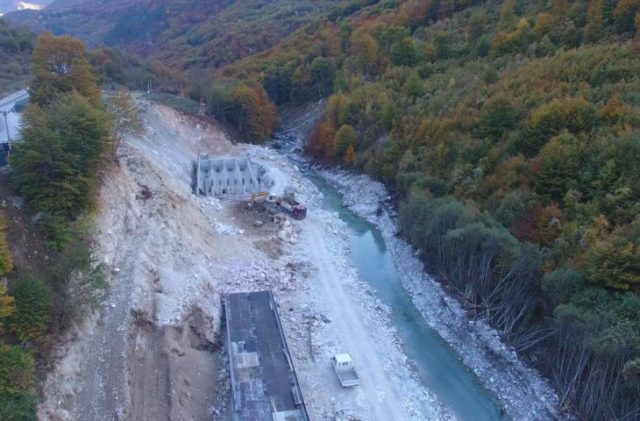 Following yesterday's High Court decision which stated Gener2 and Dragobia Energy must suspend all construction on two hydropower plants in Valbona, the companies spokesperson has remained silent.
Exit contacted their official spokesperson by email and WhatsApp to ask for comment on the ruling and if they intend to comply with it. The message remained read, and no response was forthcoming despite a second prompt which was also read.
Yesterday, the High Court accepted the Valbona Valley residents' request made by residents of the Valbona Valley that the Gener 2 and Dragobia Energy companies suspend construction of their 2 HPPs in one of the most popular tourist attractions in Albania.
The residents of several villages in Tropoja, alongside the TOKA association, the Association for the Preservation and Protection of the Albanian Alps, initially filed the request with the Administrative Court, but it was refused in March 2021. The High Court has now ruled that work must stop, while another lawsuit set to decide on the legality of the concession contract is concluded.
The suspension will be valid until the Administrative Court rules whether the construction of the HPPs was done in compliance with the law.
The whole process could take several years as TOKA has said they are prepared to handle all cases to the High Court. This means that Genr2 and Dragobia may not complete or operate their HPPs for an extended period of time.
Speaking to Exit, Catherine Bohne, the founder of TOKA and a leading voice in the conservation of Tropoje and the Valbona River, said there is only one problem.
To enforce the court's decision, a bailiff must be found to inform the companies of the decision formally. They then have ten days to stop working, or the police will be sent to shut them down.
As Bohne explains, it's not that simple as they will likely struggle to find a bailiff to go up against Genr2.
"In 2018, we had a similar ruling, but we found it hard to find a bailiff that would challenge such a company. One private bailiff said he could shut the work down for a price of EUR 36,000 but that he could only guarantee it for 24 hours."
She added, "What does that say about the Albanian justice system?"
When TOKA eventually found a public bailiff, he carried out his duty, but Gener2 filed a countersuit in Tropoje Court and managed to get it dismissed on a legal loophole.
Bohne said she believes it will be much harder to wriggle out of a High Court ruling, although she remains unsure that there will be any bailiffs willing to execute the decision.
"I am super happy, but it's not the end. We have to find a bailiff who will enforce it. The company will try to pull something, but if there's enough attention on it, we will find a way,"  she said.
You can read Exit's in-depth report on HPPs in Valbona and Tropoje and the impact it will have on local communities, here.
https://open.spotify.com/episode/5JSSrxLtjINYtI4V6vwVB2