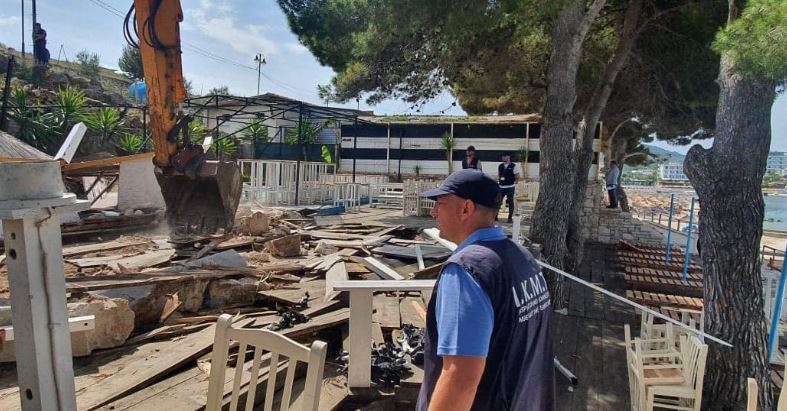 The Albanian National Territory Protection Inspectorate (IKMT) has begun the demolition of illegal buildings along the Albanian coastline, as announced by Prime Minister Edi Rama earlier in June.
On Monday, IKMT demolished a swimming pool near a hotel in Ksamil, in southern Albania, and an illegally constructed extension, as part of the operation called "Our Coast."
Both owners of the constructions in question were arrested on Friday by the Saranda police for illegal construction in Ksamil. It's not yet known what criteria are being used to sort out abuses in tourist areas. Currently, IKMT is demolishing not only those constructions built illegally from scratch, but also the properties of those who have abused their construction permits.
The Ministry of Interior announced that over 35 illegal buildings have been demolished in Ksamil, Saranda, and Velipoja in the first 6 days of the demolition operation.
In 10 cases, it was the citizens themselves who demolished their buildings following IKMT's inspections. So far, there have been no incidents with residents, per the IKMT's announcement.
"Business owners who have built illegally will pay the cleaning costs as well," Prime Minister Edi Rama warned one month ago.
Recently, IKMT demolished 10 buildings in Velipoja, near the beach known locally as "Rana e Hedhun."
Meanwhile, state police have arrested 5 people, and prosecuted a number of others. One person is still wanted.
Rama has stated he will prioritize tourism development during his third term in office, hence why the demolition of illegal buildings will start in the country's coastline.