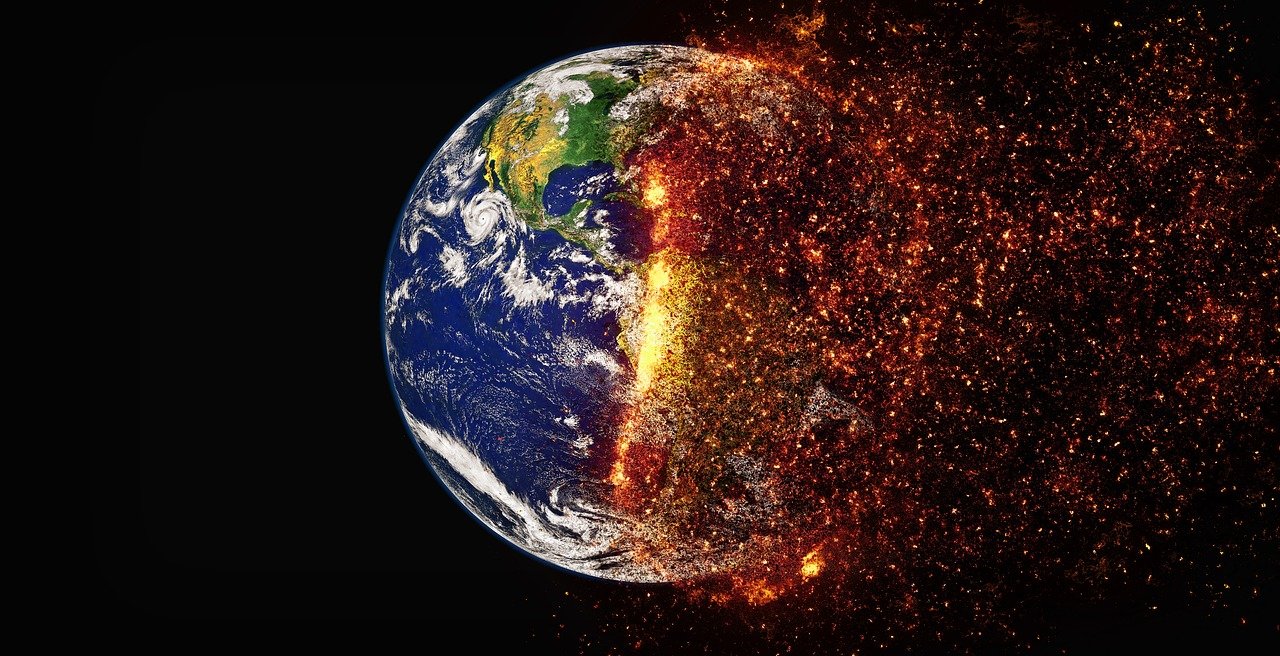 The Intergovernmental Panel on Climate Change (IPCC) has issued its starkest warning to date, stating that human activity has changed the Earth's climate in "unprecedented" ways, some of which are "irreversible."  
They've also warned that temperatures will likely rise by more than 1.5 degrees above pre-industrial levels within the next 20 years. This smashes through the Paris Climate Agreement projections and would render all current efforts obsolete and not enough to prevent widespread devastation and continued extreme weather.
Scientists and experts agree that only drastic reductions in greenhouse gasses will prevent such an outcome over the next few years.
The report is the sixth issued by the IPCC since 1988 and took eight years to compile. It brings together the work of hundreds of experts and includes countless peer-reviewed studies. It constitutes the most comprehensive and accurate body of information on the world's human impact on climate change. The studies and conclusions touch sea levels, melting polar ice caps, floods, droughts, and heatwaves.
This year, governments from 197 countries will meet in Scotland for UN climate talks called Cop2. Each government has been asked to bring new plans to reduce gas emissions to a level that will support an increase in temperature of no more than 1.5C.
António Guterres, the UN secretary-general, warned: "[This report] is a code red for humanity. The alarm bells are deafening, and the evidence is irrefutable: greenhouse gas emissions from fossil fuel burning and deforestation are choking our planet and putting billions of people at immediate risk."
The UN chief called for an end to new fossil fuel exploration and coal plants and for governments and businesses to put their efforts into a low-carbon future.
"This report must sound a death knell for coal and fossil fuels before they destroy our planet," he concluded.
Even if the world commits to limit global warming to 1.5C, the impact will still be severe. These include rising sea levels, melting of ice, warming the oceans, and the increase of adverse weather events, including flooding, drought, and high temperatures.
The effects of climate change are already being felt. This summer, Germany, and parts of Belgium experienced severe flooding resulting in almost 50 deaths. The UK experienced freak floods in central London, resulting in widespread chaos. Across Europe, similar disasters were reported in Austria, Czech Republic, France, Italy, Romania, and Switzerland.
Europe has also experienced the worst season on record for wildfires. Large parts of Albania, Turkey, and Greece have been devastated by fires, fuelled by winds and soaring temperatures. Most of the region has experienced prolonged and higher than usual temperatures since June.
Almost 170 fires have been reported in Albania during the last few weeks, with one death and several injuries.
Following wildfires across the world in recent weeks, more than 343 megatonnes of carbon have been released into the atmosphere. This is not only the highest amount on record, but it's a fifth more than the previous high recorded in July 2014.
Meanwhile, in Albania, the government has taken no steps towards improving the climate situation. There is no official recycling service in the country, with the state preferring to incinerate waste instead. The government has increased the number of incinerator concessions, issuing an additional one just weeks ago.
Furthermore, there have been no steps taken to curb emissions from vehicles. Public transport remains limited and inefficient, leading many to rely on cars.
Albania has also allowed Shell to continue exploring for oil and other fossil fuels in and around the Vjosa River in the south of the country. This continues despites the protest of local people and international activitsts.
Most recently, Albania violated one of the terms of the Paris Agreement by failing to provide its plan on emissions to the Secretariat of the United Nations Framework Convention on Climate Change.
Patricia Espinosa, the Executive Secretary of the UUNFCCC, said that this is far from satisfactory and that "NDCs embody national climate action plans that each country designs to address climate change."
These reports are integral because, when combined, they create an accurate record of global climate change action. Each country is supposed to publish them every five years.
Espinosa said that the level of ambition shown by signatories needs to be enhanced.
"One of the key findings in the initial version of the synthesis report showed that collective efforts fall far short of what is required by science to limit a global temperature rise by the end of the century of 2C, let alone the desired objective of less than 1.5C. I truly hope that the revised estimate of collective efforts will reveal a more positive picture, "said Patricia Espinosa, Executive Secretary," she said.
She added that recent heatwaves, fires, droughts, and floods constitute a "dire warning that much more needs to be done and much more quickly."
Espinosa called on Albania and other non-compliant countries to double their efforts and honor their commitment to the Paris Agreement, which is legally binding.