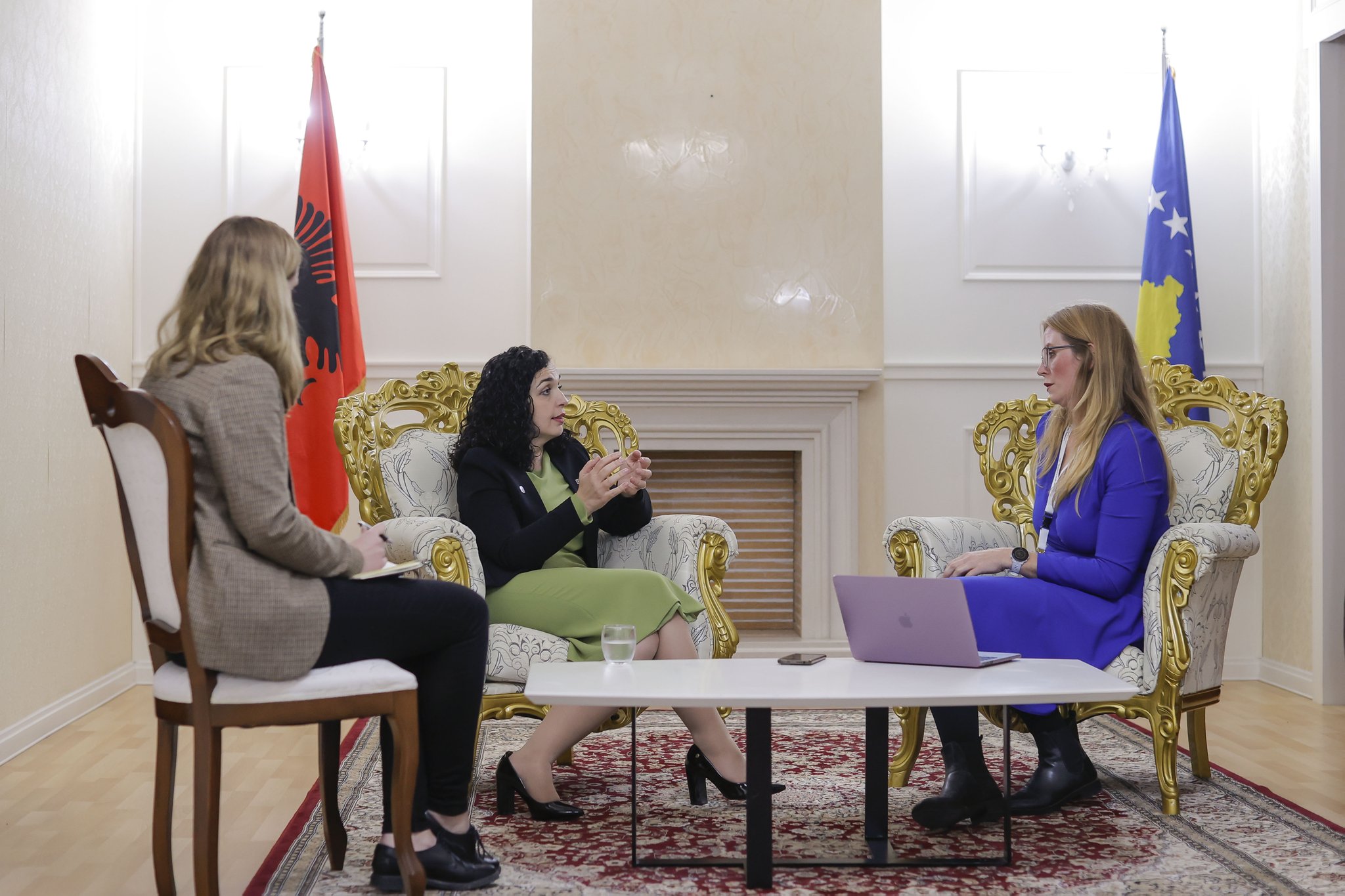 At the EU-Western Balkan Summit in Tirana, Kosovo's President Vjosa Osmani confirmed plans to apply for EU membership before the end of the year, and in an exclusive interview with Exit, she said positive progress is being made with the five member states that currently do not recognise her country's independence.
Cyprus, Greece, Spain, Romania, and Slovakia do not recognise Kosovo's independence from Serbia, declared in 2008 following a brutal war fought between 1998-1999, which saw 13,000 people killed and up to 1.4 million ethnic Albanians displaced.
For Kosovo to be granted EU candidate status and membership, it requires the unanimous approval of the 27 member states, something which is not possible today.
"But we want to use these years in two fronts, one, in making sure that we push forward for important reforms in our country that would bring us closer to the European Union. And secondly, in convincing all European Union members to support Kosovo's membership and give us a candidate status," she said.
She explained that they chose to file the application in December to coincide with the Czech Presidency of the European Council as they have given a lot of support to Kosovo and the region and because of the hopes that visa liberalisation date will be finalised by the end of the month.
In terms of the EU-Western Balkan Summit, she said she saw a shift in the language of the declaration signed as it talks about "the EU membership perspective for all six members of the Western Balkans" rather than just the "EU perspective" or membership for five states. This reflects both the possible candidate status to be granted to Bosnia and Herzegovina, to be decided next week, and Kosovo's intentions to apply.
When asked if there are any specific strategies or approaches being used with the five non-recognisers, she said that a step-by-step approach is being taken and progress has been made.
With some, Osmani said there is a high level of economic cooperation, recognition of documents, connections, tourism, and culture meaning all that is left is the matter of formal recognition.
"So we're gonna continue with this approach with the other non recognisers as well, some of which had more of a rigid approach towards to Kosovo but I think we're we're getting there, we just need to be patient."
While many of those who do not recognise Kosovo have their own territorial disputes on a domestic level, Osmani was quick to explain that there is no similarity with Kosovo's situaiton and, for example, Spain.
"In the case of Kosovo, it was also remedial consequence of what Serbia did against the people of Kosovo, which was the commitment of genocide, war crimes and crimes against humanity," she said, noting an International court of Justice judgement which found that when one country commits heinous crimes against the citizens living in that territory, they also lose the argument of territorial integrity and sovereignty. 
"So Serbia [according to the judgement] had no way of using the argument of territorial integrity any longer after having committed genocide and war crimes against the people of Kosovo. And that's one of the many reasons that makes the case of Kosovo so different," she said.
As for states that are giving the most support, Osmani refused to be drawn and expressed her gratitude to all of those who are partners and allies. But she said the EU as a whole should understand that mixed and vague messages are no longer appropriate in the current geopolitical context.
"I think this is one of those inflection points in history where the European Union should understand that mixed messages, vague messages do not, do not get things done any longer. They have to be clear towards members of the Western Balkans clear with support towards members of the Western Balkans that have taken a clear position on Ukraine, a clear position against Russia."
Rising tensions
Since the end of the Kosovo war, tensions have steadily simmered between the two neighbours, despite some 11 years of EU-facilitated dialogue. But following Russia's invasion of Ukraine and Serbia's refusal to align with the bloc's foreign policy line, coupled with sabre-rattling from Belgrade over license plates and the mass resignation of ethnic Serbs from institutions, have led to renewed concerns that conflict could erupt.
Intensified efforts from the EU and the US to get all parties to the negotiating table have yielded a slight diffusion, but Pristina has criticised the EU for its appeasement of Serbia, instead thanking the US for its involvement.
When asked why she thinks this attitude of appeasement towards Serbia exists, Osmani said this is historically how the EU has behaved, particularly in terms of the Balkan region. She drew parallels to the rule of Yugoslavian strongman Slobodan Milosevic who was "seen as a peacemaker" by the EU in the 90s.
"We know where that approach took us,"she warned, "it led to horrendous wars that resulted with the killing of 150,000 civilians, the rape of thousands, massive graves all around Serbia, still with innocent missing persons who were forcibly disappeared. That is the result."
But Osmani was clear that when she criticises the EU's stance towards Serbia, she does not mean member states but rather "some diplomats, some EU institutions. We should all understand the basic principle that history can repeat itself if you do not learn lessons from it."
Another issue, she said, is that many of those working in the region or on dialogue for the EU do not have first hand knowledge of the Balkans during the 90s.
"Many others that are now involved kind of believe that the world started in 2011, with the Kosovo Serbia dialogue, but we should not forget that there is a context to that dialogue. There's a reason why we are in the situation today and you cannot just ignore the context of the 90s," she explained, referring to the genocide and war crimes committed by Serbs during the break up of Yugoslavia and the aftermath.
A particular bone of contention between Pristina and the EU is the stance from some stakeholders that both sides is the 'bothsidesism', in calling for refrain from antagonising the situation or escalating tensions.
Osmani said it is important that observers do not ignore the reality on the ground which includes Kosovo police being shot at from the Serbian side as they conduct checks at their own border.
"How can we say both sides when on one side you have an aggressor shooting at you and on the other side, you have the victim people who are being shot at. We never attack. We never violate the territorial integrity of others….We are at our own home within our own country doing our own job protecting our own citizens, no matter their nationality, and territorial integrity," the president said.
She continued that it is only rational that Kosovo expects the EU to be fair, not ignore the reality on the ground and tactics being used by Serbia such as instrumentalising minority communities, making them leave institutions, and creating false flag operations, These are also straight from the Russia playbook used before the annexation of Crimea in 2014, Osmani said.
"So we should be very vigilant and careful in not ignoring these actions and words by Serbia, because we need to prevent the escalation of the situation. But you cannot achieve prevention. If you blame the victim, the same way as you blame the aggressor. Whether we're talking about Russia and Ukraine, or whether we're talking about the Western Balkans."
The president was quick to point out that the actions and alliances of Serbia, plus its refusal to align with the bloc's foreign policy line, is putting the whole region and the EU's stability at risk.
"Serbia continues to be the only risk for the peace and stability in the Western Balkans and beyond because this stability in the Western Balkans is destabilising the entire European continent. So we should know that there is one source of instability, there are not many. There's only one and that source serving as a Russian proxies, unfortunately, also serving Russian interests," she said, adding that this issue cannot be considered solved simply by coming to an agreement on license plates. 
New proposal for dialogue
Just before the summit, stakeholders recieved an updated proposal for Belgrade-Pristina dialogue. While Osmani did not want to reveal any details, or her opinion of the document, she said it is now in the analysis stage.
She said the prime minister, her office, the speaker of parliament and the foreign minister will sit down to go through the document, analyse it in detail, and then take a common and coordinated approach.
However, Osmani explained that mutual recognition is the only solution that will guarantee lasting peace and stability in the region.
"So we're working to get that done. When it will get big, maybe achieved, it's, it's a different issue. But that's our aim, always keeping in mind that we have to protect and preserve customers territorial integrity, sovereignty, as well as its unitary character as provided in our Constitution, we need to keep our country functional."
She added that there are many lessons to be learned from previous situations in the region, such as Bosnia and Herzegovina and that it is essential not to accept solutions that could cause future problems.
"We will continue to be constructive, to be open, to be creative, and also to make compromise when needed, but never in a way that would make Kosovo a non functional state. That is the red line," she said.