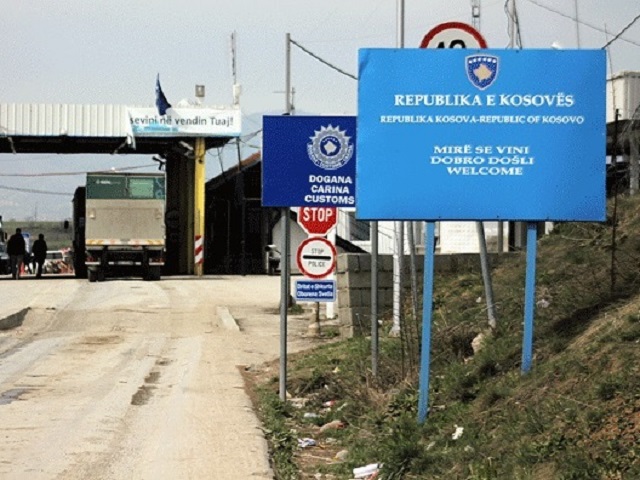 It is essential to find a solution to the license plate issue that respects Kosovo's sovereignty and the rule of law, something that should be done with the backing of the US,  argues Faton Tony Bislimi.
Faton Tony Bislimi, PhD, is a former member of the parliament of the Republic of Kosovo and an executive board member of the Albanian American Civic League.
In democratic societies, there is no place for ethnic or other preferences regarding the rule of law. The Republic of Kosovo is a sovereign and democratic country and, as such, has the right to act to ensure the full extent of the rule of law is applicable anywhere within its territory.
Fortunately, all of Kosovo's key allies and especially the United States of America, have clearly declared that they recognise Kosovo's right to act in implementing its own laws.
But, the same key allies and friends of Kosovo have also asked the Government of Kosovo to postpone the implementation of their decision to seize illegal license plates for about ten months.
Serbs throughout Kosovo, especially those in the north, have been using Serbian-issued license plates to drive their vehicles in Kosovo since the end of the war—an illegal undertaking and an explicit breaking of Kosovo's applicable laws. 
The Government of Kosovo has decided that after October 31, 2022, any vehicle on Kosovo's roads with such illegal license plates will be seized.  There is no doubt that the request for postponement from Kosovo's allies comes based on some rationale that Kosovo must consider seriously.
Kosovo has historically faced challenges, but every time it has sided with the US, it has overcome any challenge victoriously. Once again, Kosovo must find the most suitable option to overcome the challenge of the hour, and there is no better way to do so than by fully and closely coordinating with Washington.
Obviously, it was Washington that came out in support of a final comprehensive agreement between Kosovo and Serbia centred on mutual recognition, and it has continued to support it unwaveringly in other matters.  
The question of the hour, whether to postpone or not the decision to implement the rule of law in the context of illegal license plates, must be considered from a substantial perspective, not a technical one.
The first key element for consideration is that of the rule of law domestic enforcement capacities. Do we have the necessary capabilities, without the help of KFOR and EULEX (that are very likely not to interfere in this process given their respective mandates, which have nothing to do with vehicle registration or license plate issues/regulations), to fully implement the rule of law in this case?
Usually, the Kosovo Police has shown it is capable, ready, and willing to undertake severe missions in the north, but for a minimal time and scope. This illegal license plate mission would be much more prominent in scope and could take way longer to implement fully. So, what if the Kosovo Police ended up needing additional support to do its job in enforcing this law? Would we be able and willing to send in the Kosovo Security Force to help? And could we actually do it? The questions here are challenging and too complex for easy answers.
Yet, the answers could be quite clear to those who want to address such issues rationally. We may act on our right to work and realise we have created even more problems. So, it is preferable to avoid learning this the hard way.
The second key element is the ultimate outcome of an action to enforce the rule of law vis-à-vis illegal license plates. It is a public secret that Belgrade is very interested in spurring up trouble, unrest and even conflict in Kosovo's north, mainly inhabited by local Serbs, so it would try to blame Prishtina for its destabilising actions in the region.
One can quickly see how the decision of Kosovo to enforce the rule of law on illegal license plates in the north would be met by organised Serbian resistance and an immediate anti-Albanian and anti-Kosovo propaganda campaign by Belgrade focused on how Kosovo Serbs' very existence is threatened at the hands of Prishtina's authorities.
While Kosovo is used to such Serbian propaganda, we must remember that the public opinion battle is no longer only between Kosovo and Serbia but is international. Hence, Kosovo's primary interest is in winning this battle of informing the international public opinion about the actual truth – the fact that Serbia, not Kosovo, have always caused trouble in the Balkans.
Herein, we are to add another significant factor – the stance of the international community. While the US and EU may not harshly condemn Kosovo for using its right to act to ensure the rule of law is implemented in this case, at the same time, they will not either defend or support such an action at this time since they have jointly requested a postponement for ten months beyond the October 31 deadline.
Moreover, let's not forget that we live in very turbulent times with an open European-Russian front over Ukraine and the only country in Europe – Serbia – remaining loyal to Russia. Considering all of this, it becomes clear why tensions in Kosovo and the potential for unrest in the Balkans go directly against the geopolitical interests of the United States and the EU.
Therefore, Kosovo must find a modality, in full and close coordination with the United States, which strikes two birds with one shot: avoids increasing tensions in the north and ensures a feasible implementation of the rule of law for all. This is achievable, but it requires serious commitment, creativity, and responsibility by all in Kosovo's political elite.
Kosovo is in its own right to act immediately after the October 31 deadline passes, but the same remains valid if it chooses to work in June 2023, for instance. The right to act does not necessarily mean a good act.
In this case, the right act, the better course of action would be one that avoids tensions in the north and secures the continued support from our allies while ensuring a feasible enforcement of the rule of law for all. Finding this modality of action would be a success, and I firmly believe this can be done in close cooperation and coordination with our friends in Washington, DC. The focus here must be on what is of substance, not on technicalities.
The ultimate outcome of our actions is more important than the date on which we ac