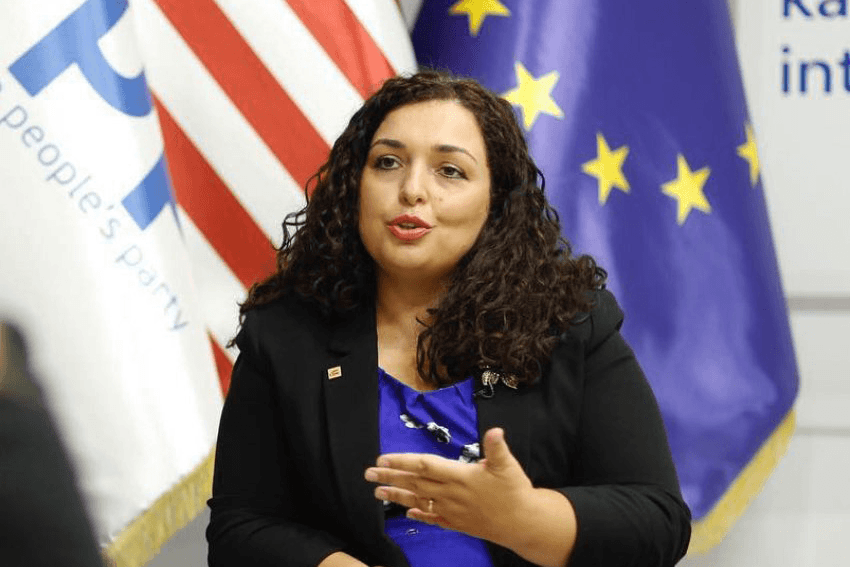 President Vjosa Osmani has called on the European Union to exert pressure on Serbia against its use of Kosovo's Serbian political parties to destabilize the country and the wider region.
"Serbia's destabilizing policy in Kosovo and in the region for their hegemonistic policy [of expansion] related to the so-called "Serbian World" marks a return to their mindset during the '90s, which led to many victims in our region," Osmani wrote on her social media on Monday, following the blocking of roads by some Kosovo Serbs and politicians of Lista Sprska party.
Their move came after the Kosovo government reciprocated with a tax for Serbian-licensed cars entering Kosovo. The same tax has been implemented by Serbia on Kosovo-licensed cars since the country declared independence in 2008.
Serbian President Aleksandar Vucic called Kosovo's tax "brutal" and announced an urgent meeting of the highest body dealing with security and military affairs – the national security council. He threatened Kosovo with "painful measures".
"No threat by Serbia can stop our will to implement the law, in compliance with our international obligations, to the benefit of the citizens of our republic, regardless of ethnicity," Osmani stated.
She stressed that the government decision to put in place the same measure implemented by Serbia was a result of an agreement signed in Brussels between the two countries. 
In 2016, Kosovo and Serbia agreed to allow cars from both sides to pass after covering national symbols on plates. Serbia did not implement this, and instead kept replacing the plates of Kosovo cars entering the country with temporary Serbian plates. Meanwhile, Serbian-licensed cars entered Kosovo freely. That is, until yesterday, 5 days after the agreement expired.