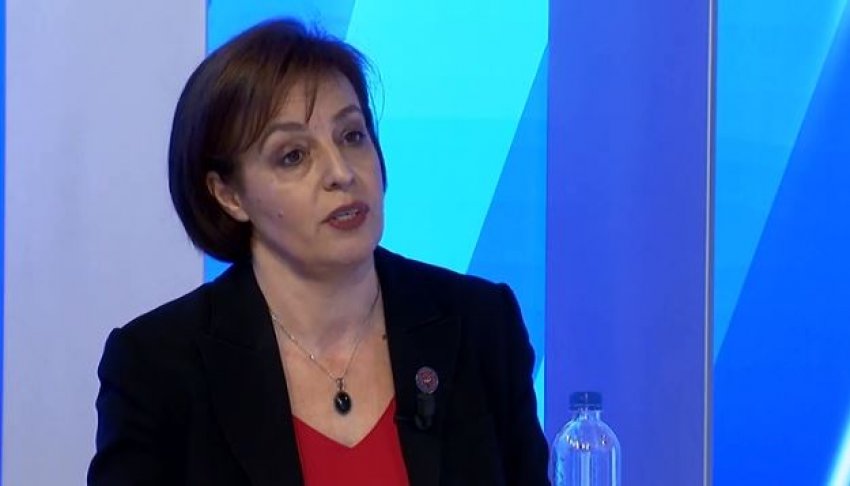 The opposition Democratic Party of Kosovo has requested the resignation or dismissal of Foreign Minister Donika Gervalla-Schwarz amid a tense parliamentary debate on Thursday.
The heated debate followed the resurfacing on media outlets during this week of a Gervalla-Schwarz's interview in 2017, in which she speaks of her position on The Hague-based Specialist Chambers of Kosovo.
"Kadri Veseli is the former head of an organization which committed crimes against its political opponents," Gervalla had stated back then in the interview, over which she was asked to resign from her post now.
Veseli is the former head of Kosovo's post-war intelligence service, the "organization" mentioned by Gervalla-Schwarz in her 2017 interview. He later became the leader of PDK, and Speaker of Parliament.
The minister told the PDK MPs today that they are responsible for why their former leaders, Veseli and Hashim Thaci are now facing war crimes charges in The Hague.
"This Special Court is not installed by Serbia, it is installed by you, because not only did you do nothing to prosecute post-war crimes but you actually tried to avoid for these crimes to be prosecuted in Kosovo," Gervalla-Schwarz said, reminding the PDK that they voted for the creation of the Specialist Chambers.
Abelard Tahiri, head of the parliamentary group of PDK called Gervalla a "representative of Serbia in Kosovo", and referred to her as "Kosovo's biggest shame".
"Today you showed us that Serbia does not need to deal with us because they have you here[…] Today [Serbia's parliament speaker, Ivica] Dacic does not need to talk because Donika Schwarz is here. And I am ashamed to mention your other family name," Tahiri said.
Gervalla-Schwarz is the daughter of Jusuf Gervalla, an Albanian dissident, allegedly assassinated by the Yugoslav secret service in Germany in 1982.
Tensions led to verbal confrontations between the position and opposition MPs when they were leaving the parliament hall.
Previous to today's session, when asked to clarify the issue, Gervalla-Schwarz told the media that she "is not and was not" a witness in any case being under trial in The Hague.
Veseli, alongside former President Hashim Thaci, former Speaker of Parliament Jakup Krasniqi, and former Vetevendosje's MP Rexhep Selimi are indicted for war crimes and crimes against humanity.
The indictment alleges that these former Kosovo Liberation Army (KLA) leaders are responsible for nearly 100 murders, with victims including political opponents.
The Hague-based chambers were established in 2015 to try wartime and post-war crimes allegedly committed by KLA members during 1998-2000.