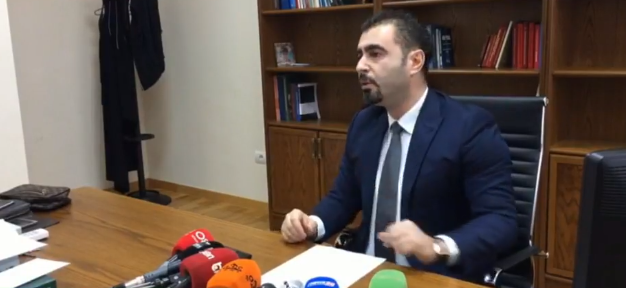 Two prosecutors recently dismissed by Temporary Prosecutor General Arta Marku have challenged her decisions, arguing that they are invalid.
Prosecutor Rovena Gashi has today filed a lawsuit against Marku at the Administrative Court after she was dismissed from her post as director of the decriminalization sector at the Prosecution Office. Gashi was a close collaborator of former Prosecutor General Adriatik Llalla and responsible for the request to revoke the mandates of deputies Aqif Rakipi (PDIU) and Gledion Rehovica (LSI), which was recently granted by the Central Election Commission.
Gashi has called the decision to fire her invalid, because it has no basis in the law:
The decision to remove me from office is absolutely invalid. The decision of my dismissal should be suspended. Prosecutor General Arta Marku has usurped the competences of the High Prosecutorial Council.
Today Marku also fired Dritan Gina, Gashi's husband, from his post as Director of Prosecution Office Elbasan. In a press conference, Gina, who was nominated by former Prosecutor General Llalla on November 3, 2016, stated that Marku doesn't have the right to fire him:
I refuse to implement the decision of the Temporary Prosecutor General. […] The Temporary Prosecutor has no legal right to remove me from office. This decision belongs to the High Prosecutorial Council. I do not abandon my duty.
Gina also called upon his colleagues not to allow their positions to be "used for favors," but to follow the law:
I also call upon my colleagues who are in the same position as me to remain on top of their duty and figure as prosecutor of the Republic, not to allow that their position is used for favors, or to turn the prosecution into a prosecution of favors. […] We are the prosecution and we should implement only the law.
Besides Gani, Temporary Prosecutor General Marku has also fired the directors of the Prosecution Offices in Kukës and Fier, replacing them with "temporary directors."
As Exit has clarified before, there is no possible legal interpretation of the role of the Temporary Prosecutor General that would allow Marku to dismiss and replace prosecutors.
Constitution, art. 149/a(1)(a), clearly states that "appointment" and "transfer" of prosecutors is the task of the High Prosecutorial Council (KLP) and not the Prosecutor General.
Moreover, the EURALIUS and OPDAT missions have argued that a Temporary Prosecutor General is like a deputy Prosecutor General in an opinion used by Prime Minister Edi Rama to defend her unconstitutional election. Such a job description would give her even less leeway in reorganizing the Prosecution Officer according to her whims.