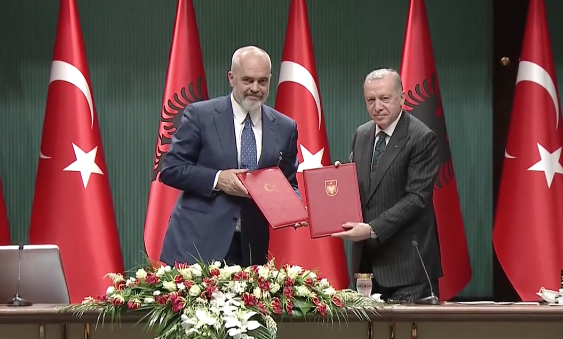 Prime Minister Edi Rama and Turkish President Recep Tayyip Erdogan signed an agreement on establishing the High Council for Strategic Cooperation between Albania and Turkey.
The deal was signed on Monday during Rama's two-day visit to Turkey at Erdogan's invitation. It aims at deepening cooperation between the two countries.
Erdogan said that with the latest agreement "Albania becomes a strategic partner for Turkey."
In his speech, the Turkish President stressed that Turkey is the biggest foreign investor in Albania when contractual services are also accounted for. The investments amount to 3.5 billion dollars, he said. More than 600 Turkish companies are settled in Albania, with over 15,000 employees, he added. The president said Turkey is expected to increase investments in Albania in infrastructure and tourism.