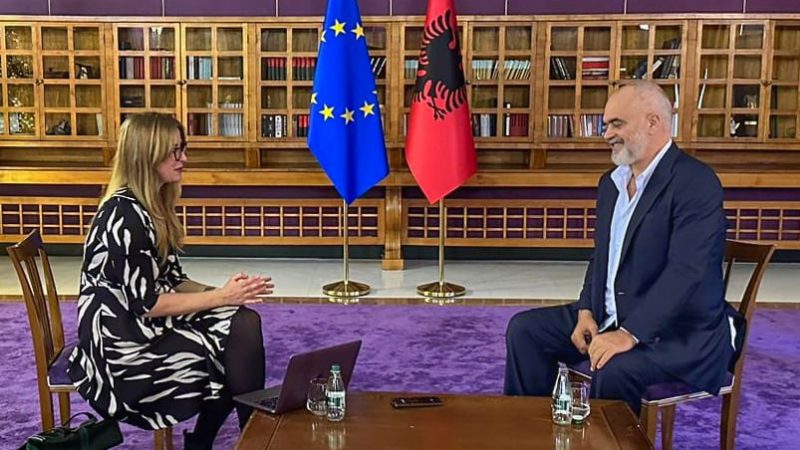 The EU accession process of the Western Balkans is not an exam you can cheat on, and its importance has increased because of the geopolitical situation facing the region and the bloc, Albanian Prime Minister Edi Rama told EURACTIV in an exclusive interview on Monday (5 December).
On Tuesday, Albania will host the EU-Western Balkan summit bringing together leaders from the EU27 and the Western Balkan six, along with European Commission and Council officials.
Rama spoke on the eve of the summit about enlargement, regional tensions, and the need to push ahead with reforms to ensure the authenticity of the enlargement process.
"We should not forget that the integration process is an individual-based, merit-based process. We have to fulfil homework criteria standards, and it's not an exam to be cheated. Even, even if the professors are very inclined to give you a way out. It's in your best interest that you get this exam right," Rama said.
He added that it is crucial to have working institutions and not to "cheat a lot as some neighbouring countries did in the past, Greece".
Albania finally opened accession negotiations in June 2022 and is set to start the process of aligning its laws with the EU acquis. But there are many areas that require reform, including rule of law, corruption, and media freedom, according to the latest European Commission progress report published in October.
Asked if he feels his government bears any responsibility for slow progress in key areas, Rama conceded that mistakes had been made.
"With hindsight, there are always things that could have been addressed better and there are always problems that could have been dealt with better, no doubt," he said, adding that there are initiatives afoot to improve media freedom.
Tuesday's summit will take place amid protests led by former prime minister and president Sali Berisha who accuses the Rama government of corruption and driving and doing nothing to prevent mass emigration.
Summit is a commitment
As for the summit, Rama believes that the fact it is being held outside of Brussels and in a non-EU country, speaks volumes about the current situation in Europe and a renewed appetite for enlargement.
"Just the fact that we have a summit in Tirana – who could imagine just a few years ago, that the EU would get out of its perimeter, and the Council would move in a non-EU country to have a summit. And it's not just a manifestation, an event, it's more than that. It's a commitment, it's a message," he said.
He said that the pandemic, climate change, and then the Russian war in Ukraine, have driven the EU to better grasp the geopolitical and strategic importance of the Western Balkans.
"This shocked Europe… I see much more interest, much more awareness, they know very well that the region is vulnerable. They know very well that the region has the most Putin influence in the continent, which is, let's say, Serbian territories, Serbia and Republika Srbska and so on."
Franco-German support
For all these reasons, although the EU has become much more committed to the concept of enlargement, Rama is less convinced when it comes to actual integration.
"I believe it's more than just nice words, in terms of the genuine interest now, but will the general interest transform into action? And will the action be sufficient? I don't know."
Rama continued that while support from Germany is not unexpected as Berlin has "for a long, long time been very committed," he said the recent supportive stance of France is a "surprise".
"France is a surprise as it has never been so in the past. It has suddenly understood the region's strategic importance. And it's the credit of the French president who from the beginning to now has changed a lot in terms of the depth of understanding of this region," he said.
Earlier this year, French President Emmanuel Macron mooted the idea of a European Political Community bringing together member states, EU candidate countries, and hopefuls. The first meeting was held in early October.
"Now, this is a very new thing, and it's all to be seen and tested…We need to get together beyond the perimeter of the European Union. Because these other countries may not be in our union, and may not be eligible to be part of this union for different reasons, but they are Europeans," said Rama.
Be aware of the danger
Regarding regional stability and Russia's influence, Rama said it is essential not to alienate anyone in the region, even the likes of Serbia, which have pro-Russian public opinions and different histories and backgrounds.
"We must be aware of the danger…We should not contribute in any shape or form to alienating Serbia, we need to get Serbia engaged."
"It's about pro-Russian opinion, public opinion and about total public opinion. It's about different histories, backgrounds, and ways to look at the world and at each other. And all this makes it very difficult," Rama added.
Dialogue between Serbia and its former province of Kosovo is set to be high on the summit's agenda amid continually rising tensions. Serbia's President Alexander Vučić initially cancelled his visit last week but has since confirmed he will attend.
After 11 years of EU-led dialogue and little progress, all eyes are on current attempts led by the US and EU, with backing from Paris and Berlin. Furthermore, recent tensions have emerged between Pristina and Brussels, due to allegations of 'mistakes' and even favouritism towards Serbia from the EU.
But it will not be easy, Rama said, stressing that Serbia was the aggressor in Kosovo during its crackdown in 1998-99, and nothing can change that fact.
"The only way to fix it is through dialogue, dialogue, dialogue…The solution is to tirelessly exchange with the other side's counterpoint until you settle it in one way or another."
Asides from current political differences, wounds of the past are still fresh as the conflict finished in 1999, with Kosovo's independence being declared nine years later.
"I think more and more that maybe this generation is still very near to the heat for blood and killings and disruption. And it's not easy to overcome all of it and become rational and cold-blooded and sign a deal," said Rama.
For this reason, he believes the recent French-German plan, which foresees acceptance of independence without mutual recognition, is a good one.
"It doesn't seek a final solution in terms of mutual recognition, which will come one day, but it seeks a path towards it, so let's see."
In Albania, Rama has been widely criticised for fostering a close relationship with Serbian President Vucic including economic initiatives such as Open Balkan. But Rama said that while they will never agree on the Kosovo issue, they have found a way to cooperate which is something essential for the region.
"We have found a way to be very open and very blunt with each other. We have understood that there is only one chance to have a relation – to agree to not disagree on Kosovo because there is no way we can agree on that so far…it's much better this way then to turn the back."
As for relations with his Kosovo counterpart, Albin Kurti, which some believe is frosty at best, Rama said they also have their differences, but their similarities bring them together.
"Albin is different- he's naturally closer because he's an Albanian leader, prime minister, but also we have our difference."
Looking ahead to the conference, Rama was not sure of concrete outcomes but stressed the symbolism of it taking place in the region as one of the most important parts.
"The summit can do a lot of good things. But at the end, none of the things will be as great as the summit happening in Tirana."