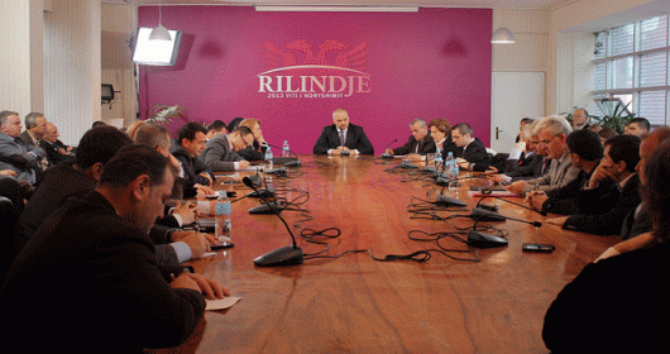 How is Rama governing? This question that I got a few days ago from an important Kosovar businessman made me reflect a bit to improve my answer.
Rama doesn't govern at all!
When I say "does't govern" I don't mean that Rama and his team are not going to their office; or that they don't the bureaucratic work of any government. What I mean is that since the beginning of his second term as head of the government, Rama has fallen into the trap of non-governance, stagnation, and chaos, more than any prime minister before him.
Albanian political history has shown us that second terms have been more difficult than the first ones. Fatos Nano remained only 2 years and 10 days prime minister after he was reelected in March 1991. Aleksandër Meksi less than 7 months after he was reelected in 1996. Ilir Meta didn't make it to 5 months in 2002, when he resigned and handed the baton to Pandeli Majko. The only one who managed to complete his second term was Sali Berisha in 2009. But even his second term was much worse than the first one from 2005 to 2009. Even he fell into routine and slowed down the second four years. Also Rama has started on this foot, but even weaker. Because the context in which he works is different from his predecessors'.
During the first 100 days, the news about Saimir Tahiri and the Habilajs, cannabis, wiretaps, and crime have dominated the news. There has been hardly any news about any results of the government. Stories about bandits and criminal turned into tv series. Promises about spectacular actions failed or were replaced chaotic moves, from the election of deputy minister who looked like Alice in Wonderland to prefects who don't understand why they're there, even though many of them are actually decent people.
The administration is completely disorganized and the dissolution or recreation of new administrative structures have not worked out in 90% of the cases.
Most of the ministers are out of play, and many of them are known by neither face nor name to the public.
But Rama seems to be unperturbed. Media statistics show that he has spent more time on TV than any news anchor and more than any TV personality(even when he inexplicably disappeared to New York for 10 days). But if you ask someone what they remember from these hundreds hours of Edi Rama TV, the only answer is: nothing! Anyone who reads this can answer for themselves.
If there is anything that symbolizes the failure of Rama's first 100 days, it is the departure of the most well-known tourism company in the world, Starwood, now part of Marriott International, which removed the Sheraton from Tirana.
Just a while ago, Rama considered tourism a challenge and he was right. He eased the tax regime for 5-star hotels managed by international chains, but ended up losing their only actual representative in Tirana, the Sheraton. Located in Albania since 2003, it was the only brand hotel in the city. Now that it has left, Tirana is the only city in the region, and perhaps in the world, where there is no brand hotel. Skopje has the Marriott and the Courtyard, Prishtina has Swiss Diamond, Podgorica a Hilton and Ramada, Ljubljana the Intercontinental, Belgrade the Hyatt and Luxury Collection, and even Sarajevo has a Holiday Inn. Tirana is the only city without any of them.
To claim to bring tourists to a country where there is not even a single serious international tourism company is more than ridiculous.
Another problem on the horizon will be the EU integration. Two days ago, Rama declared that the opening of EU accession negotiations may not happen. If this isn't a trick to give the news of them actually opening more weight, Rama's balance will be much worse than his predecessor's. During 2005–2010, Albania received a proposal to become candidate member of the EU, signed a visa liberalization agreement with the Schengen zone, and became a NATO member. During Rama's term, the country became an actual candidate member, and nothing more. Even though the international climate didn't work in his favor, Rama still has very little to show for.
His government still hasn't started, but the first 100 days have given the worst example of how to govern a country. So the question how Rama is governing may be answered, without hesitation, as follows: Rama doesn't govern, or he has not started yet!