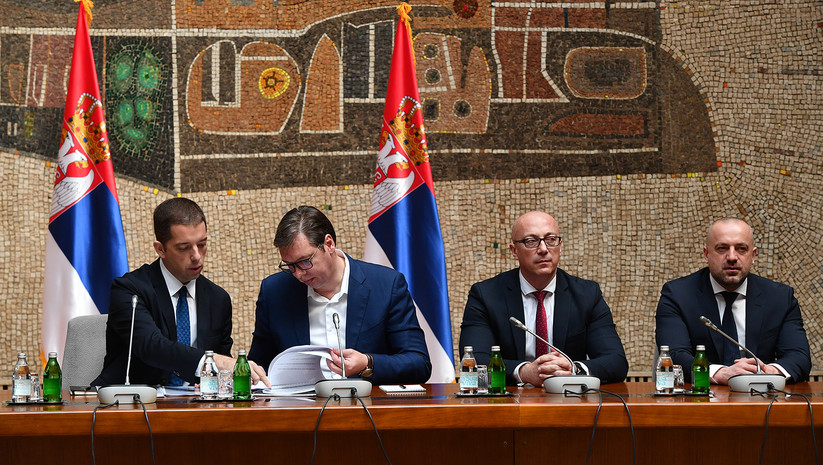 A number of Kosovo Serbs, including Belgrade-backed politicians of Srpska Lista party, have blocked the roads in two border crossings with Serbia since Monday. They raised tents to spend the night there after Kosovo started implementing a government decision demanding Serbian-licensed cars to get a temporary plate upon entering Kosovo.
The decision came after a 2016 agreement between the two countries expired on September 15. It required drivers to cover national symbols on plates. Serbia did not implement the agreement and always required Kosovo-licensed cars to put temporary Serbian plates upon entering the country, Meanwhile Serbian cars could freely travel in Kosovo.
With the agreement expired one week ago, Kosovo government decided to apply the same requirement. The move has angered Serbian politicians in Serbia and also those in Kosovo who are controlled by Belgrade.
A seemingly alarmed Serbian President Aleksandar Vucic announced that he had urgently called a meeting of the national security council for Tuesday after Kosovo announced the requirement for temporary plates costing 5 euro and valid for 60 days.
The national security council is the highest body dealing with security and military matters in Serbia.
The country has beefed up its military in the recent years of Vucic's rule with arm purchases from Russia and China. The government has called for the need of Serbs in the Balkans – Kosovo, Bosnia, Croatia and Montenegro – to unite under one state.
The situation at the border crossing seemed quiet this morning, according to Kosovo media. The security council meeting is set for 10am.
Serbs in tents have put up posters announcing the establishment of an institution called "Association of Serb Municipalities". While an entity with the same name was agreed between the two countries, Kosovo's Constitutional Court ruled that it was unconstitutional, and it should not have attributes of a second government within the Kosovo state. However, Serbia insists on implementing such an institution with executive powers.
On Monday, Vucic threatened to "take measures" that "will be painful" on Kosovo, after it reciprocated with the same requirement on Serbian-licensed cars.
The European Union and the United States have called on both countries to de-escalate tensions.
Kosovo's prime minister, Albin Kurti, assured Kosovo Serbs that they are under his government's care and the new rule does not apply to them. He said Kosov0 is an independent and sovereign country, and that he had to respond to Serbia with the same measure.