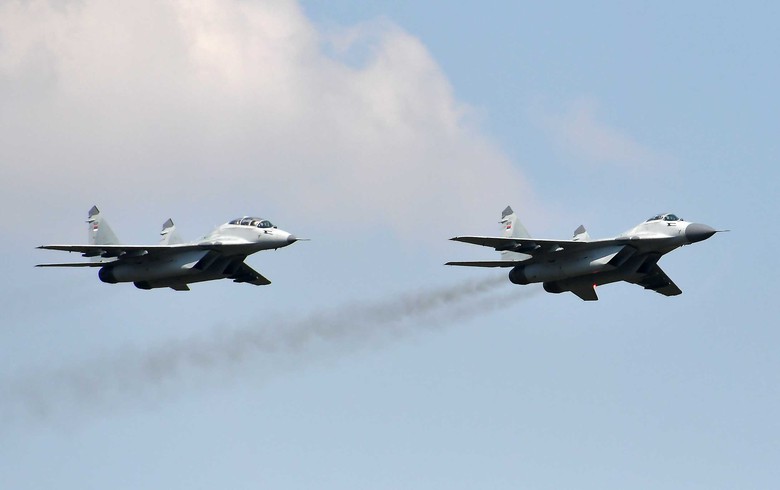 Serbia flew fighter jets near Kosovo border during the weekend, prompting a number of Western diplomats to call "on both sides" to de-escalate the situation.
Fighter jets were seen on Saturday and Sunday flying close to NATO helicopters that are monitoring the situation on the ground on the Kosovo side of the border.
The threat was followed by calls from the EU chief diplomat, the NATO secretary general, and the president of the EU Council, for both parties to de-escalate the situation and sit in talks.
Last week, Kosovo started imposing a rule for all Serbia-licensed cars to pay a 5 euro tax to get temporary number plates upon entering Kosovo. It came after an agreement between the two countries expired. Unlike Kosovo, Serbia never complied with the agreement and for 10 years imposed the said tax and rule on Kosovo cars.
On the same day the tax was implemented, a number of Serbs from the north of Kosovo, backed by the Serbian government, blocked the roads leading to two border checkpoints. Kosovo deployed special police forces to maintain order. 
Serbia and pro-government media falsely accused Kosovo police of exercising violence against Serbs on several occasions. After repeated rebuttals, an office for number plate registrations was burned down, and hand bombs were thrown on a second one. Fortunately, no one was hurt.
From the first day license plate reciprocity entered into force, Kosovo Prime Minister Albin Kurti, who imposed the measure, said he was ready to sit in talks and remove the tax immediately, if Serbia reciprocates.
Serbia has asked that Kosovo unconditionally withdraw its police from the north and that a controversial association of Serb-majority towns be created, amidst other requests, before it considers sitting in talks facilitated by the EU.
Meanwhile, Belgrade put its army on high alert over the weekend, deployed heavy armored vehicles near the Kosovo border, and flew jets, threatening Kosovo and NATO forces who are responsible for its neighboring country's security.
Russia also expressed concern over Kosovo police presence in northern Kosovo. During the weekend, the Russian ambassador and the Serbian Minister of Defense visited Serbian troops stationed near the Kosovo border, and the ambassador called on Kosovo police to withdraw from its own territory.
Following the latest military moves by Serbia, EU chief diplomat Josep Borrell specifically requested that Kosovo withdraw its police forces from its northern territory. He also asked Serbia to dismantle roadblock raised in the neighboring country by Serbs.
Borrell's statement did not mention the Serbian troops' heightened alert, Serbian warplanes flying near NATO helicopters, or the deployment of armored vehicles by the Serbian government near the border with Kosovo.
In its last war waged in the region, Serbia killed at least 8,676 Albanian civilians, expelled nearly half of the roughly 2 million population to neighboring countries, and several hundreds of thousands more were internally displaced.