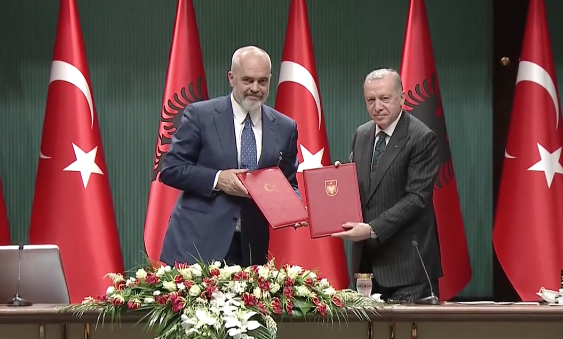 Turkish President Recep Tayyip Erdoğan will visit Tirana on Monday (January 17) and is scheduled to address the Albanian Parliament in its inaugural session for 2022.
Erdoğan is expected to arrive at Mother Theresa Airport at 9 a.m. where he will meet Albanian Prime Minister Edi Rama. Together they will travel to the northern city of Laç to inaugurate 524 apartments funded by the Turkish government.
They will return to Tirana around 2 p.m. for a joint press conference, after which Erdoğan will visit the capital's historic Et'hem Bey Mosque that is also being reconstructed with Turkey's financial support.
Finally, at 5 p.m. Erdoğan will address the Albanian Parliament before leaving Tirana around 6:30 p.m.
The relationship between Turkey and Albania has grown significantly during Prime Minister Edi Rama's terms in power. In addition to the homes in Lac, Turkey most recently built a hospital in Fier. Furthermore, Albanian authorities have expelled and tried to expel Turkish citizens and alleged Gulenists in what the UN calls "extraterritorial abductions".