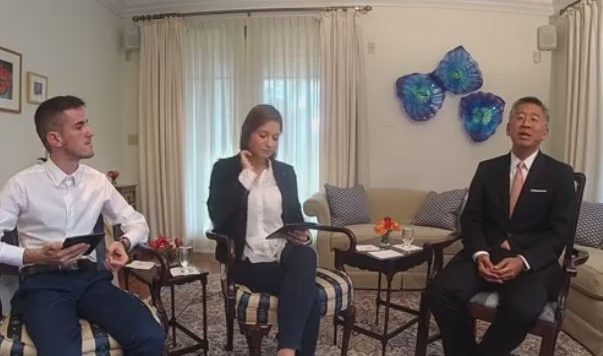 Yesterday, US ambassador Lu communicated directly with Albanian citizens through a live interview on the website of the US Embassy, addressing judicial reform, decriminalization, and the 2017 national elections.
About judicial reform and decriminalization:
As for the decriminalization, we have said farewell to a number of criminal and corrupt politicians, such as Shukri Xhelili, Mark Frroku, Gentian Muhameti, Ilir Petraj, Nard Ndoka, and Koço Kokëdhima. There are also a few which are criminally prosecuted – Armando Prenga and Elvis Rroshi – who are in court as we speak.
As for the justice reform, there will be big changes for Albania: the creation of the special prosecutor and the National Bureau of Investigation (BKH), which will be able to combat high-level corruption.
There are corrupt politicians and the should be afraid of what's coming at them.
If the [vetting] law is in concordance with the Constitution, it will be implemented. If the High Court says that there are problems, we will fix those.
About the battle against narcotics:
According to the Italian Guardia di Finanza there has been an increase in the surface on which cannabis is grown. The Albanian government should do more. The DEA is working with the government to capture the "big fish."
About Rama's government:
This government is doing important work in the field of reforms, but there also some parts of the government that disappoint the Albanian citizens and that don't fulfill the expectations.
There are some ministries in this government that I'll give an A, some others should get an F.
For those with an F, I can't say which. I think that it's up to the Albanian public, investigative journalists, and civil society to find out who they are.
About the 2017 elections:
Since December 2015, Albania has approved the strictest legislation in Europe as regards decriminalization.
I think that the legislation will help the Albanian institutions and the Albanian democracy to defend itself against criminal who want to enter politics.
I hope that the US Ambassador and the US Embassy will play a less prominent role than in the previous elections. During the past election we spent a lot of time trying to convince party members not to candidate criminals for officially elected positions.
I hope that we will be active in looking for what type of changes will prevent the buying of votes; will prevent intimidation by criminals at the voting centers; and will prevent the types of fraud we have seen in the last few years.