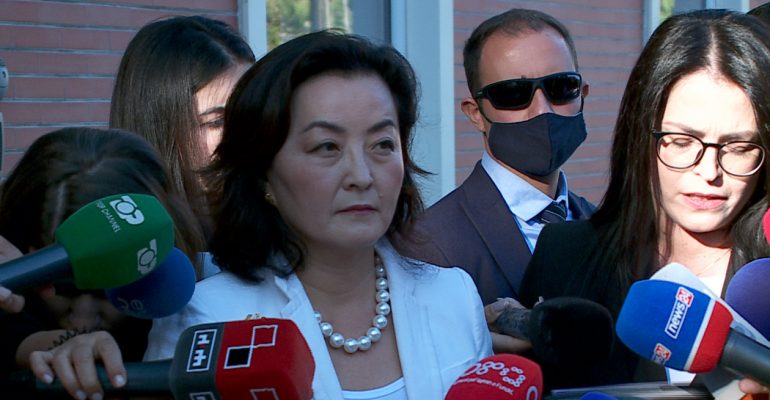 United States Ambassador to Albania Yuri Kim said that the U.S. continues to support the Democratic Party (PD) and its chairman Lulzim Basha.
On Friday, Kim met with Basha for the first time since this latter dismissed former Prime Minister and founder of the party Sali Berisha from the PD's parliamentary group. Basha made the decision at Kim's request, following a meeting between the two in late July.
Kim spoke to journalists after the Friday meeting, saying that Washington is committed to collaborating with the PD.
She also said that while she understands that the PD is in a tough spot, she hopes that this decision will strengthen their position and steer them towards a future electoral victory.
She took the opportunity to dismiss claims that the U.S.'s request regarding Berisha's dismissal infringed on the sovereignty of Albania, given that Berisha was elected democratically as MP during the April 25 elections.
Kim confirmed that the PD will remain in Parliament, where she hopes they will focus on electoral and territorial reform, as well as the fight against corruption.
Basha has called for a meeting of the PD's parliamentary group this Saturday to discuss the Socialist Party's request to conduct parliamentary committee meetings online. Territorial reform is also on the agenda since Basha has highlighted it as one of PD's priorities for the upcoming legislature.
In 2014, the PS approved a new territorial configuration for Albania, splitting the country into 12 counties and 61 municipalities. The PD abandoned parliament and did not participate in the vote. Over the years, the party has criticized this new territorial configuration, arguing that it favors the PS during elections.