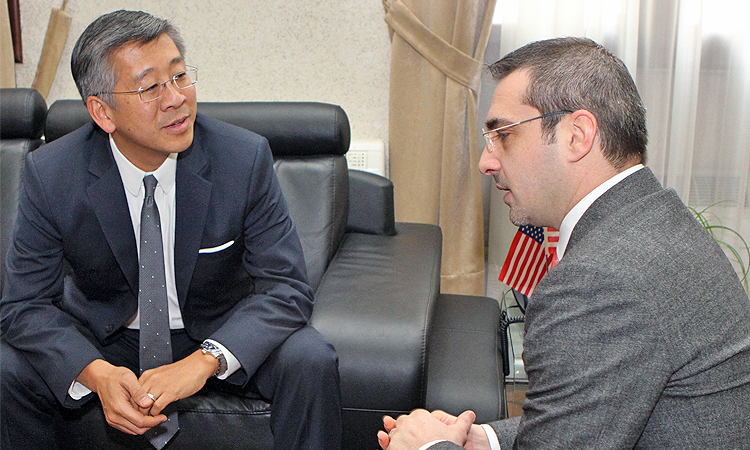 The US Embassy in Tirana published a comment today regarding some of the main organized crime cases currently under investigation or on trial:
The Albanian Serious Crimes Court has convicted Emiljano Shullazi and his group, but we expect continued progress on Albania's path towards strong rule of law. Yesterday, the Appeals Court of Tirana heard arguments from prosecutors about the detention of Ervis Martinaj. We expect a full investigation of him, just as we expect the rule of law to apply to the ongoing investigation of Saimir Tahiri. The United States remains committed to Albania's future. #WhosNext.
This kind of comment is a novelty and marks a clear departure of the US Embassy from the defense it had previously offered to Saimir Tahiri when Donald Lu was Ambassador.
Investigations into former Minister of Interior Saimir Tahiri for supporting a criminal organization involved in drug trafficking were initiated in September 2017 by the Serious Crimes Prosecution, after Tahiri's name was mentioned in Italian prosecution wiretaps of several drug traffickers.
Starting from his first statement on the issue, Donald Lu depicted it in political fight colors, implying that Tahiri was just an innocent victim of this fight. Lu even reached to a point where he made a shameful and inexcusable comparison for an ambassador whose country fought communism by any means: Lu compared Saimir Tahiri with the victims of the communist regime who were prosecuted and murdered because they wanted freedom and democracy. In front of a youth audience, he commented on the Tahiri case:
But first, allow me to say two words about the current polemics surrounding former Minister of Interior Saimir Tahiri. All you are seeing how history is being written. What you know is that during communism innocent people were sent to the worst prisons: in Spaç, in Burrel, and in Qafë Bar.
Lu then went on to say:
It is not up to me to say whether Saimir Tahiri is guilty or not. But it is extraordinarily important that you as leaders of civil society, you as youth and as citizens of Albania, uncover the truth. The right to know the truth doesn't belong to any political party. It belongs to the citizens of Albania. No one should be above the law. You are not judges or prosecutor, but people who vote. You've given your trust to this person as member of Parliament and as important minister in the government. It is your responsibility to demand that the public knows the truth about this issue. If he is innocent, the people need to know this. If he is guilty, he has to face justice.
Lu repeatedly defended Tahiri in private, in all his formal and private communications with Albanian politicians and foreign diplomats. In a stark contrast with his statements on several other investigations into other criminals like Klement Balili, Lulzim Berisha, and Emiljano Shullazi, or high public officials like Adriatik Llalla, Lu's statements on Tahiri always carried an extremely careful and correct language; his statements seemingly called for an independent investigation but essentially emphasized the fact that the investigation against Tahiri was done under politically influenced by opposition's pressure.
In fact, Lu continuously repeated that the prosecution was under political influence in its investigation into Tahiri. Mr. Lu expressed this viewpoint openly and clearly in April 2018 during a TV interview:
[T]he case against Saimir Tahiri deserves a ruling by a judge, not a ruling by politicians, not a ruling by prosecutors who haven't done their job, but a ruling by a judge who will look into the evidence for this case with transparency.
Despite having portrayed himself a fighter for independent justice and for bringing to justice high-level politicians, Donald Lu kept silent in front of repeated and open attacks by Edi Rama and Saimir Tahiri against the prosecutors of this case. While Lu vowed that justice reformed through his support would soon "catch the big fish" of Albanian politics, he never referred to Tahiri as "big fish."
In fact, apart from his close relationship with Prime Minister Edi Rama, Saimir Tahiri was the closest politician to Ambassador Lu. When investigations into him started, Saimir Tahiri expressed his disappointment not only with Edi Rama, who allowed the investigations to open, but also with Ambassador Lu. In his first TV interview after the initiation of investigations, in October 2017, Tahiri made direct ironic insinuations toward Ambassador Lu:
I have great respect for Ambassadors in general, although I have known them in a different way – each one with their own; they are human beings, too.
While Tahiri went on with insinuations about "Ambassadors with their own troubles," a journalist asked if he was talking about the US Ambassador, to which Tahiri immediately replied "the American one as well."
Later on, in December 2017, Ambassador Lu was behind a legal opinion of the OPDAT in Tirana, which recommended electing a Temporary General Prosecutor – in violation of the Constitution – solely with votes of the Socialist majority. This General Prosecutor is now in charge of the official investigation into Tahiri.
Hence, yesterday's statement by the US Embassy in Tirana might mark its final departure from the path defined by its previous leader, Ambassador Donald Lu.