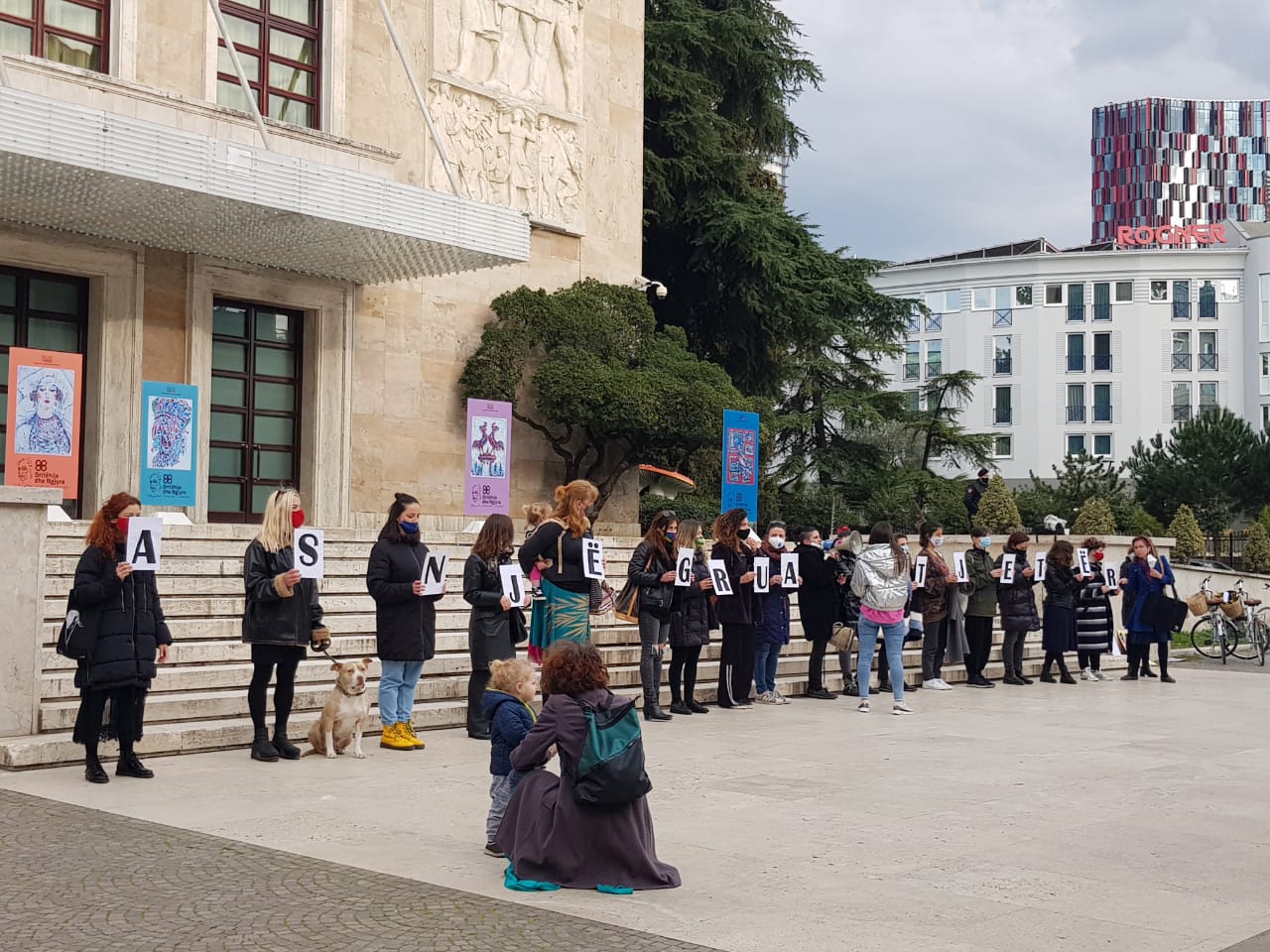 Following the brutal murder of a pregnant woman by her husband this week, women protested last night in front of the Prime Minister's Office in Tirana.
The 28-year-old woman from Fier was stabbed 31 times while six weeks pregnant. The atrocity took place in front of her two young children. The assailant then fled the scene and is believed to have killed himself. His body was found in a field the next day.
The group of activists and citizens assembled in front of the Office, each holding a letter to spell out the phrase "Asnje grua tjeter", meaning "no other women" as well as a sign with the phone number that women and girls experiencing violence can call and an email address.
Activist Gresa Hasa read the following speech:
"Murder has become a normalized social routine within our oppressive and patriarchal system. We will not be silent. Women are human, not a man's possession. they deserve equal human rights; freedom, dignity, and above all, the right to life; to enjoy every day in peace, without fear, without anxiety, without exploitation, without threats, without feeling in debt to anyone, and feeling that their existence is nothing.
A woman's life is not a man's possession, a woman's body is not a man's possession. A woman does not belong to anyone but herself. The protection of our lives, the protection of each other is an institutional duty and social responsibility.
But this state has long abandoned us. It's failed to set up well-functioning social structures which address gender-based violence and work to prevent murder This state, where life has so little value has refused to pursue social policies that would educate women and men to be allied with each other, not enemies. Education is on its knees in 30 years of extortion, economic discrimination, and lack of critical thinking. A situation from which the woman is particularly affected.
Even in the family, the woman is not safe. The family as such serves the head patriarch and every other man who accompanies the woman inside the house. Even outside the home where she is forced to work for a wage below the minimum wage, it does not serve her liberation or emancipation. For slave wages do not contribute to a woman's freedom and her social welfare. Divorce from a violent man or abandonment of her oppression cannot save her from the greatest historical trap of the perpetuation of violence; the patriarchal family.
This economic and social situation as intensified misery until the final blow; 31 times as was the case for Irvana Hyka Medinaj.
The police remain another mechanism of violence and an instrument of an equally savage state. Usually, protection orders are not worth the paper they are written on and when women ask for help, they are told to return home, preferably with their mouths shut and ready to endure the beating from their husbands until the police are called again to retrieve their body.
As the courts deepen their bureaucracy and unreasonable delays, it increases the number of murderers and victims. The victim is always the woman.
What the institutions have failed to do, we will do ourselves, all together, body to body. Solidarity between us, collaborative activity, we will be the missing institution that will offer protection, love, rest, and we will be the first collective revolt of our sisterehood.
We are here, we have each other, we are not alone."
In 2020, only 13% of domestic violence reports were prosecuted. Out of 4701 reported cases of domestic violence during the year, the police prosecuted 615. They also issued 2816 protection orders, equating to 59.9% of the reports.
As Exit has argued, this is a violation of human rights and the duty of the state to protect citizens.